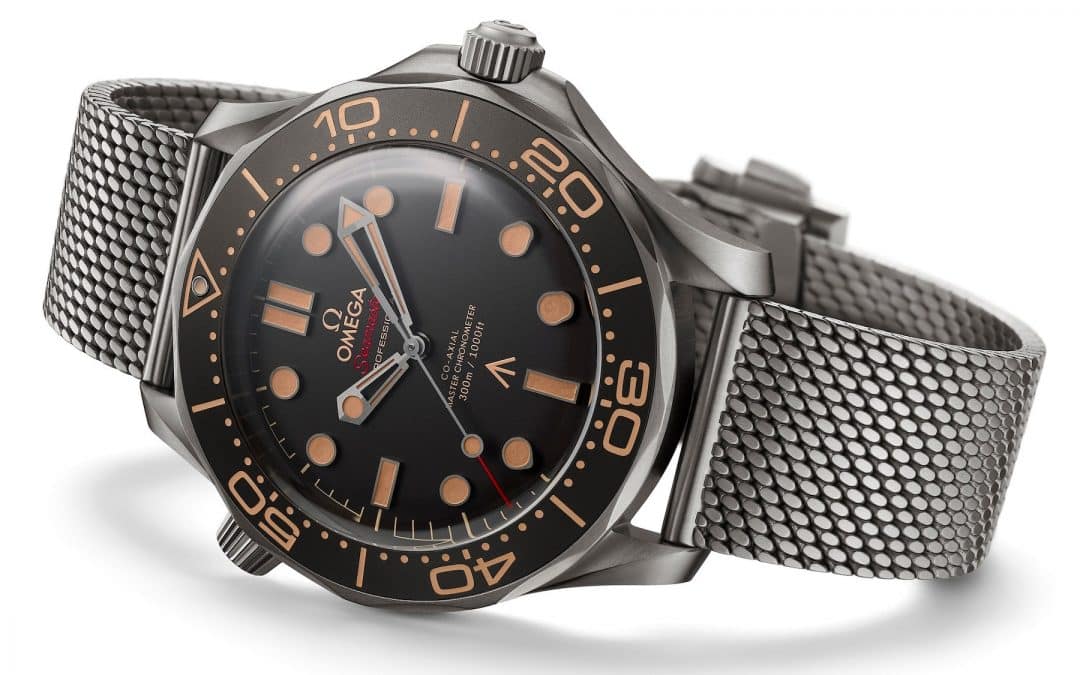 El Seamaster 300M James Bond No Time To Die es el último reloj de la colaboración entre Omega y el agente 007, del que caben destacar dos cosas, y es que está fabricado en titanio grado 2 y diseñado en colaboración con Daniel Craig, actor que interpreta a Bond en las últimas películas de la legendaria saga.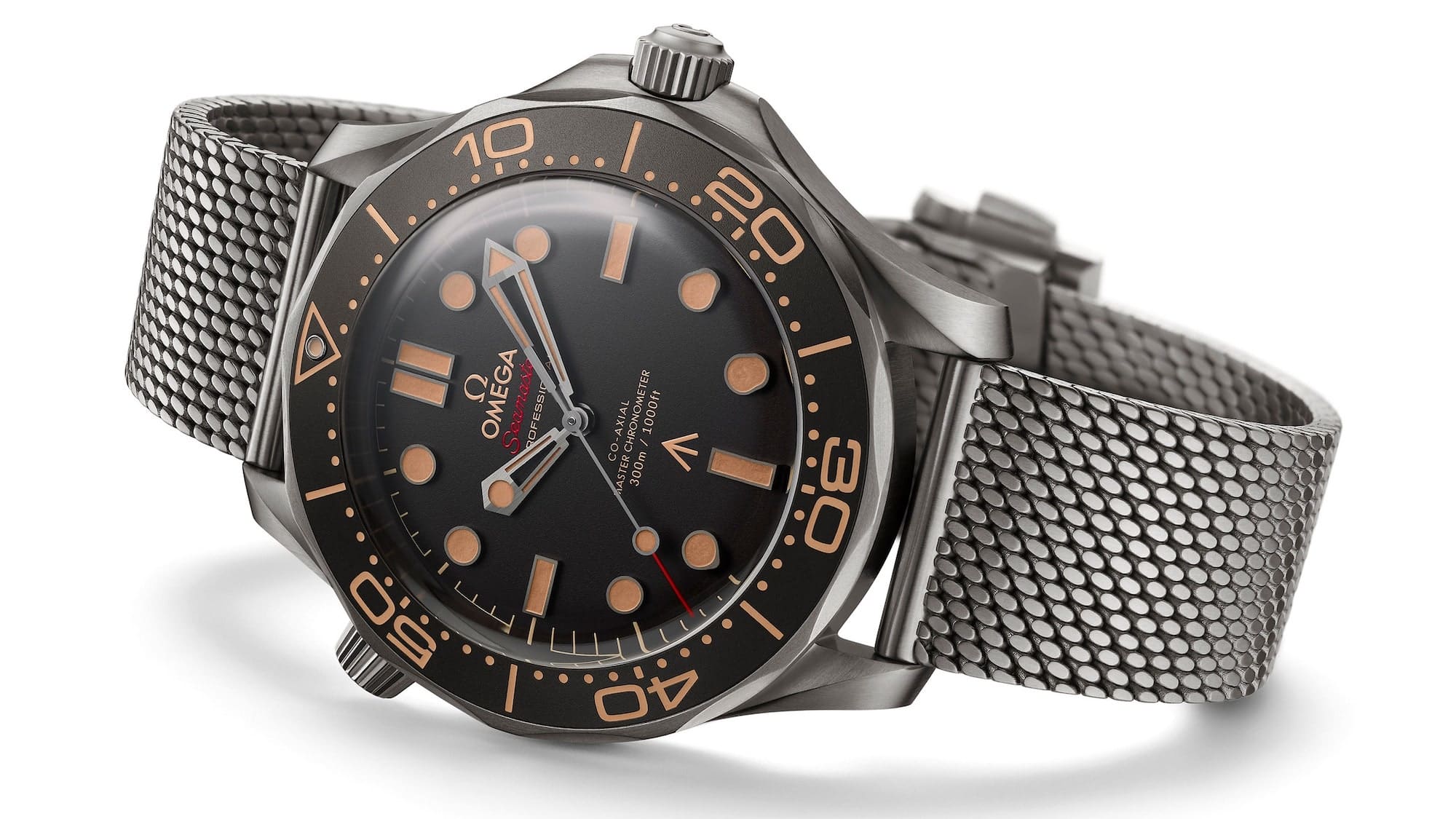 El reloj que Daniel Craig lleva en «Sin tiempo para morir», presentado el pasado año 2020 no se trata de una edición limitada. Se encuentra disponible con correa de tipo milanesa de titanio, usada por James Bond en la película y con varias correas NATO, como la que lleva Nomi, también en No Time To Die, a rayas en colores marrón, gris y beige. El Omega Seamaster No Time To Die se entrega en una exclusiva bolsa de tela marrón
En No Time To Die, James Bond lleva el reloj en Londres (Whitehall, sede del MI6, escenas del Támesis) y en Jamaica, cuando conduce un Land Rover Serie III, encontrándose con su viejo amigo Felix Leiter. También usa el reloj con su atuendo de Comando cuando está en una misión con su compañera, la agente Nomi.
El nombre y número exactos del modelo es el Omega Seamaster Diver 300M Co-Axial Master Chronometer 42 mm 210.90.42.20.01.001 (correa de malla o milanesa) y 210.92.42.20.01.001 (correa NATO).
El nuevo Seamaster Diver 300M 007 Edition se ha construido teniendo en cuenta las necesidades militares del personaje, e incluso se ha diseñado con las aportaciones de Daniel Craig y los productores de 007. Omega permaneció en estrecho contacto con el actor durante todo el proceso de diseño, refiriéndose a su conocimiento especial de James Bond para comprender el tipo de características que podría requerir el reloj.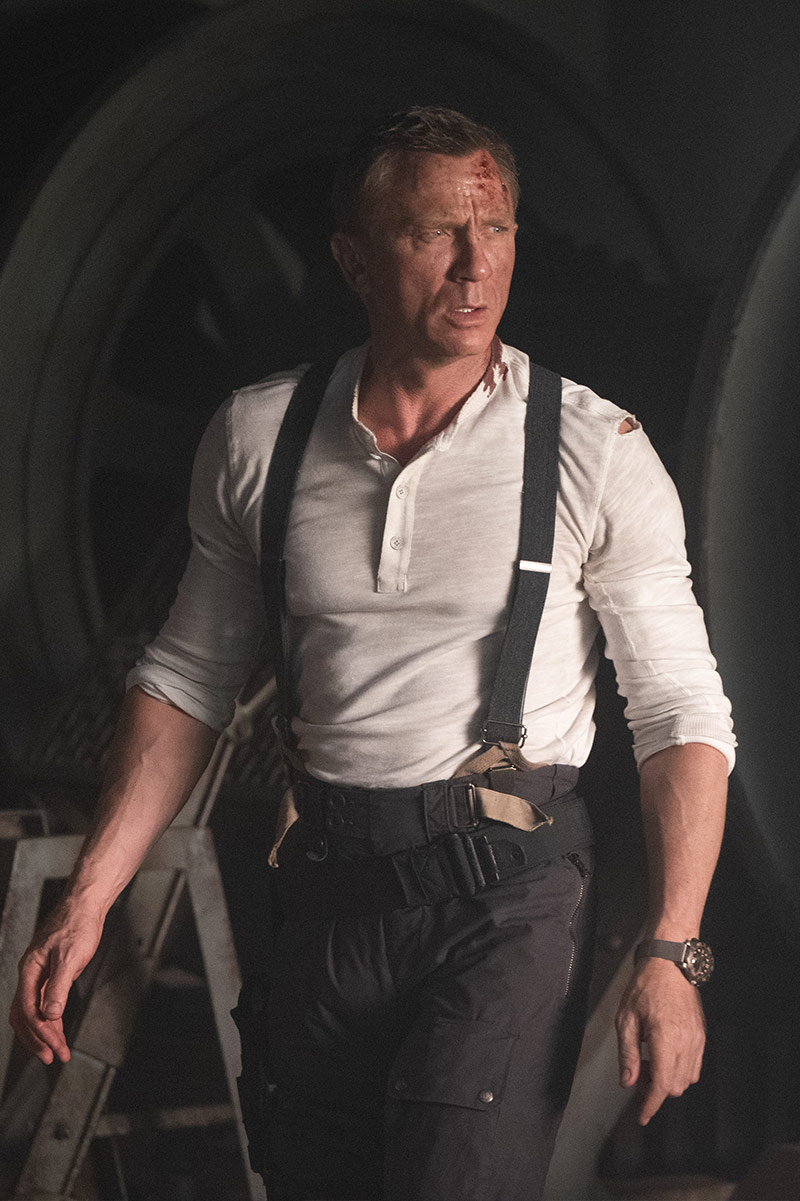 La influencia y los consejos de Craig jugaron un papel importante en el resultado final. Según sus propias palabras: «Cuando trabajamos con OMEGA, decidimos que un reloj liviano sería clave para un militar como 007. También sugerí algunos toques y colores vintage para darle al reloj un toque único. La pieza final se ve increíble». James Bond es comandante del Cuerpo de Marines, por lo que necesita un reloj ligero y delgado. Nada mejor que un fiable y resistente Seamaster, perfecto también cuando es necesario sumergirse.
El reloj, de 42 mm de diámetro, ha sido elaborado con titanio de grado 2, que se utiliza tanto para la caja como para el brazalete milanesa, con su innovadora hebilla ajustable. Este material es resistente y liviano, lo que lo hace perfecto para un agente encubierto.
Para reducir aún más el peso, Omega ha utilizado aluminio marrón "tropical" para la esfera y el insert del bisel. A estos elementos se les ha dado un aspecto clásico, gracias a la Super-LumiNova vintage, aplicada a los indicadores en el bisel, agujas e índices ennegrecidos.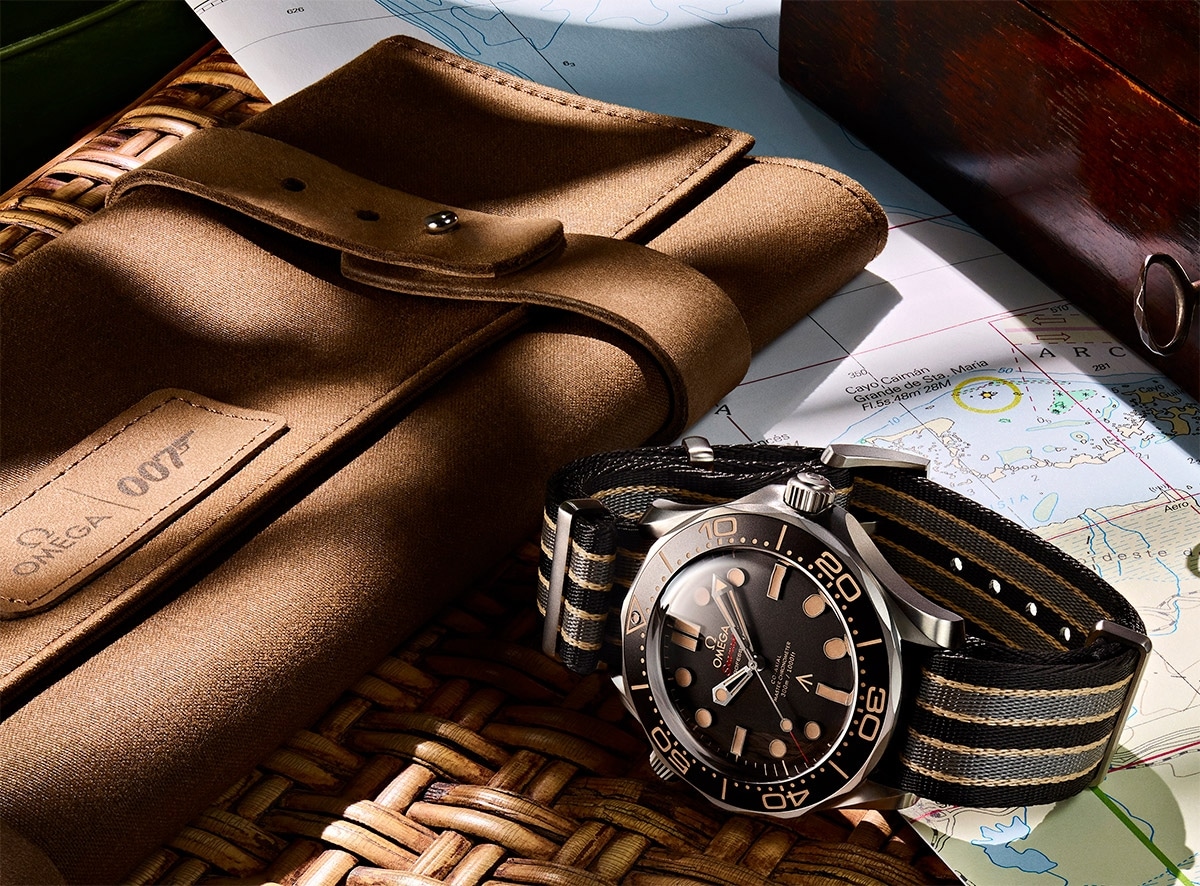 En el fondo de la caja se encuentran una serie de números que siguen el formato de los relojes militares genuinos. «0552» es el número de código especificado para el personal de la Marina, siendo «923 7697» el número para un reloj de buceo. La letra «A» es un código que se utiliza para indicar un reloj con una corona atornillada, mientras que «007» es el número de agente icónico de James Bond. Finalmente, el número «62» es el año de la primera película de James Bond.
El reloj presenta un ícono de triángulo o logotipo justo encima del indicador de las 6 en punto, que es el símbolo de la 'Broad Arrow' utilizado por las Fuerzas Armadas Británicas y visible en algunos relojes antiguos, emitidos y propiedad del Ministerio de Defensa británico (especialmente la W.W.W.). relojes de la Segunda Guerra Mundial).
El nuevo reloj se completa con un fondo de caja NAIAD LOCK, que mantiene todos los grabados en la alineación correcta. El movimiento que monta el Seamaster Diver 300M No Time To Die, realmente impresionante, es el Calibre 8806 de Omega, Co-Axial y Master Chronometer certificado por el METAS, que ha alcanzado los más altos estándares de precisión, rendimiento cronométrico y resistencia magnética de la industria.
El precio del Omega No Time To Die Watch es de 9.100 euros.
Omega y James Bond
James Bond ha estado usando relojes Omega desde la película GoldenEye, en 1995, pasando por modelos Seamaster, primero de cuarzo y más tarde automáticos, un Planet Ocean de los primeros modelos, Seamaster Planet Ocean cerámicos y los Seamaster Diver 300M.
Características técnicas del Omega Seamaster Diver 300M Co-Axial Master Chronometer 42 mm 210.90.42.20.01.001
Ancho entre asas: 20 mm
Brazalete: Titanio
Caja: Titanio, con válvula de escape de helio
Diámetro de la caja: 42 mm
Bisel giratorio unidireccional
Corona atornillada
Antimagnético
Esfera: Marrón
Cristal: Cristal de zafiro, convexo, resistente al rayado y con tratamiento antirreflejos en la cara interna
Estanqueidad: 30 bar (300 metros / 1000 pies)