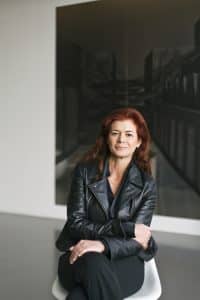 Lady Foster, Fundadora y Directora general de IvoryPress, recibirá su Premio el próximo Jueves 12 de Mayo del 2016 en una Cena de Gala en el Museo Guggenheim de Bilbao.
En esta 25ª Edición de los Premios Montblanc de la Culture – la Maison Montblanc rinde homenaje a los mecenas actuales de las artes en 16 países y celebra los casi 4 millones de euros donados a proyectos artísticos en los últimos 25 años.
Con sus orígenes en la cultura de la escritura, una de las piezas fundamentales de la civilización humana, Montblanc siempre ha valorado las artes y la cultura y las ha apoyado activamente durante los últimos 25 años. Reconociendo que las artes no pueden prosperar sin el apoyo de personas comprometidas, la Fundación Cultural Montblanc introdujo en 1992 un premio que pondría el centro de atención, no en los artistas ni intérpretes, sino en los mecenas actuales del arte. Desde entonces, cada año, el prestigioso 'Premio Montblanc de la Culture Arts Patronage' ha reconocido los grandes logros e importantes contribuciones de los mecenas modernos, reforzando la importancia actual del mecenazgo haciendo a las artes y la cultura accesibles a un público más amplio.
Con motivo de su 25 aniversario, dieciséis mecenas de todo el mundo se unen a una notable lista de anteriores ganadores que incluyen a SM la Reina Sofía, la Baronesa Thyssen, SAR el Príncipe de Gales, el director de orquesta británico Sir Simon Rattle, el arquitecto italiano Renzo Piano y la artista japonesa Yoko Ono. El 25º 'Premio Montblanc de la Culture Arts Patronage' presenta a mecenas de España, China, Francia, Alemania, Hong Kong, Italia, Japón, Corea, México, Rusia,Suiza, Reino Unido, Estados Unidos y, por primera vez, de Brasil, Colombia y Grecia.
Los ganadores son elegidos a partir de una preselección realizada por un jurado internacional de personas influyentes del mundo del arte. Este año, el jurado está compuesto por 44 miembros procedentes de todos los países participantes en el premio. Cada miembro es invitado a votar por los nominados en cada país, incluyendo el suyo propio.
Cada año, Montblanc rinde homenaje a un mecenas histórico de las artes con un instrumento de escritura de edición limitada. La 'Patron of Art Limited Edition 2016' es un homenaje personal al legado excepcional de una de las coleccionistas y expositoras del arte del siglo XX más influyentes, Peggy Guggenheim, quien dedicó la mayor parte de su vida a descubrir y cultivar nuevos talentos, mientras construía una importante colección de obras alojadas hoy en el museo de Venecia que lleva su nombre.
En los eventos 'Montblanc de la Culture' organizados en cada país, se entrega a los ganadores una 'Patron of Art Limited Edition 4810' con un plumín grabado personalizado. Cada ganador es premiado con 15.000 euros a beneficio de la organización artística o proyecto de su elección.
A lo largo de los años, se han concedido casi 4 millones de euros y apoyado 230 proyectos como resultado del 'Premio Montblanc de la Culture Arts Patronage'.