La colección Spirit Of Big Bang también ha tenido su actualización en la pasada LVMH Watch Week, con una nueva referencia en carbono y otra en zafiro teñido. Material de competición en la muñeca.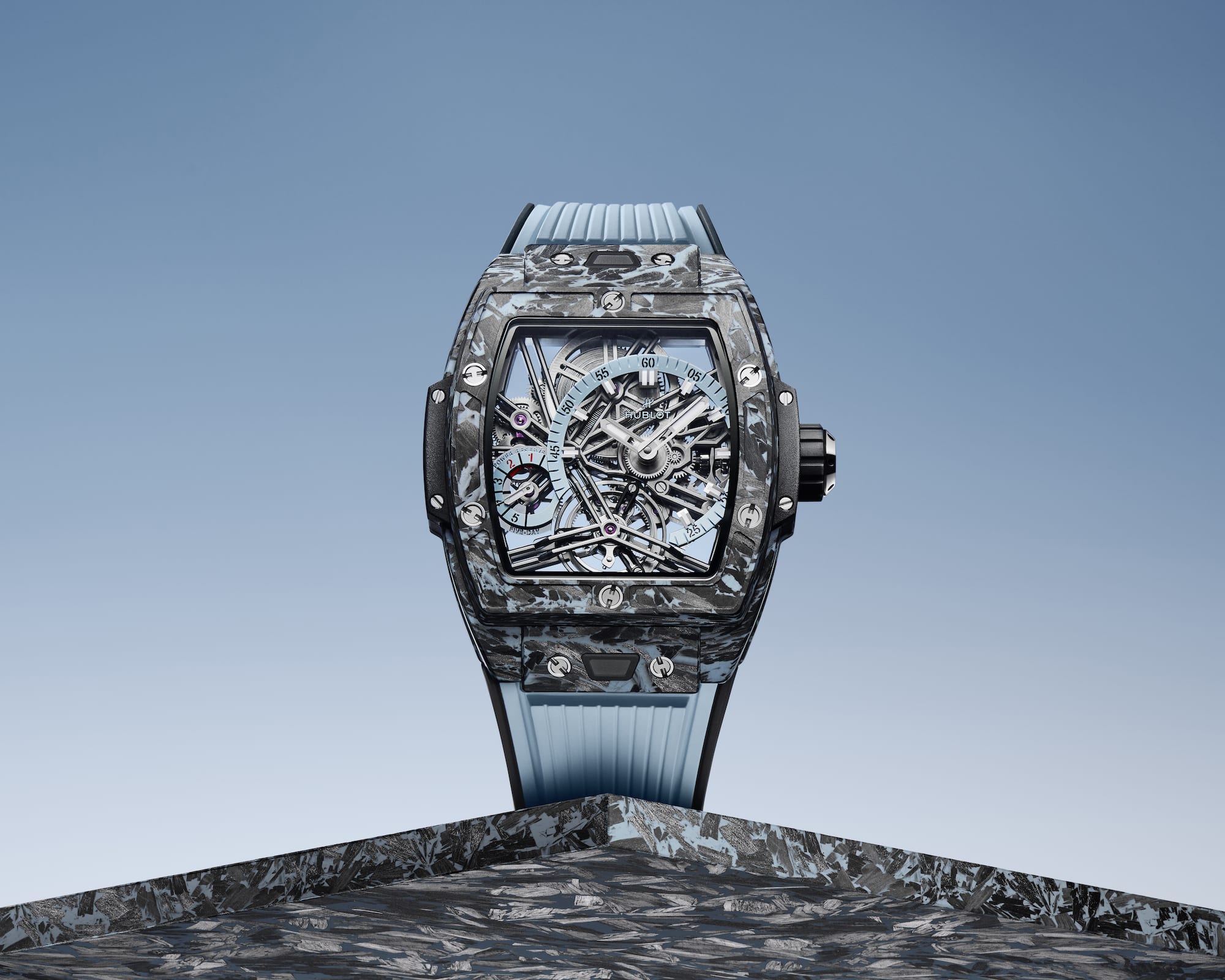 Hublot Spirit Of Big Bang Tourbillon 5-Day Power Reserve Sky Blue Carbon
Las propiedades mecánicas del carbono, en realidad la fibra de carbono, así como su gran ligereza, lo hacen ser el material más popular en el automovilismo de competición desde hace décadas. Su resistencia a la torsión en relación al peso lo hace óptimo para estas estructuras que soportan grandes cargas desde diferentes ángulos. El carbono que Hublot utiliza para la caja de este reloj es un material de alta tecnología, mediante una malla de fibra incrustara en una resina epoxy, además del carbono 3D en el que las fibras van entrelazadas en tres planos. Es similar al carbono con incrustaciones de colores, utilizado en otras referencias.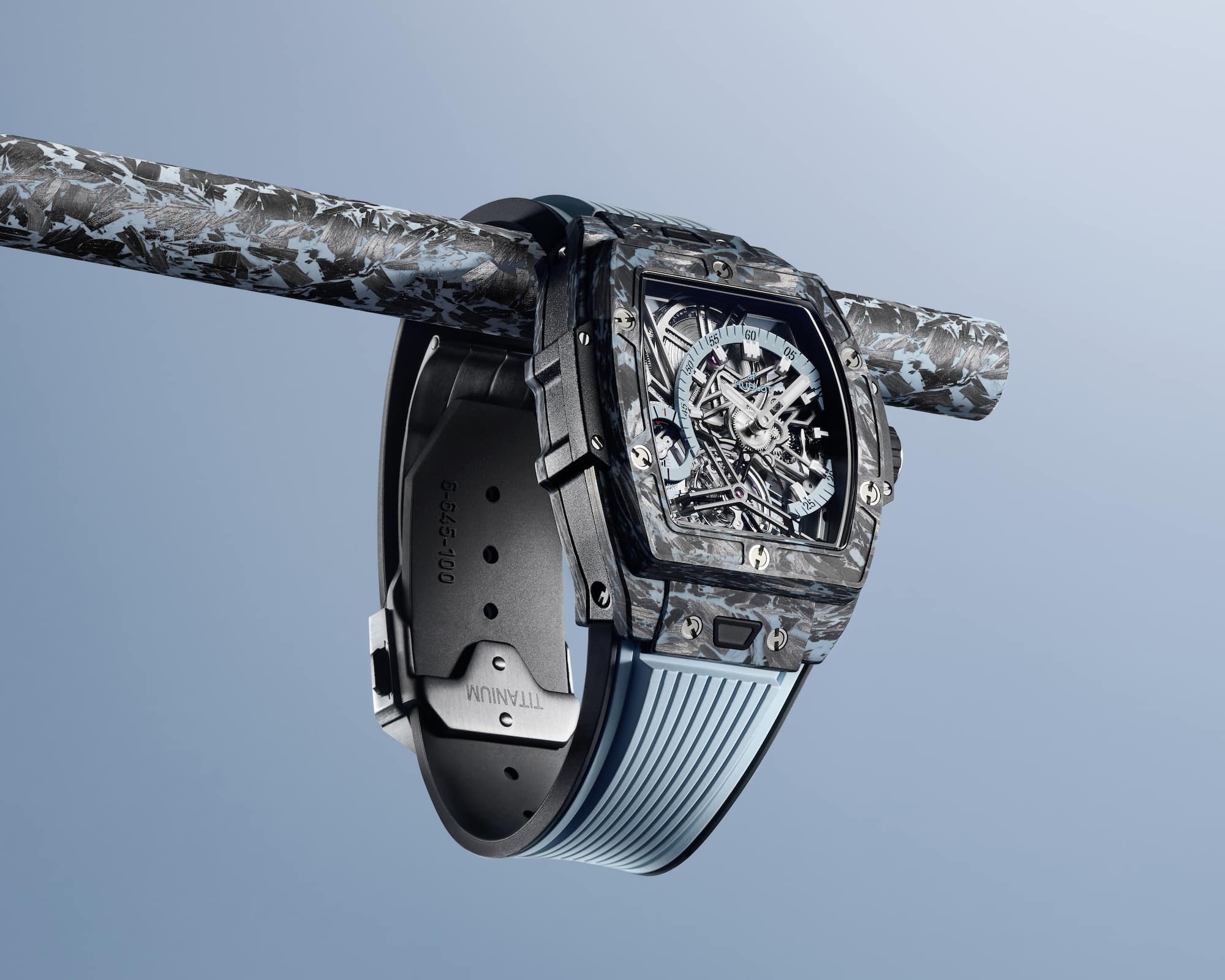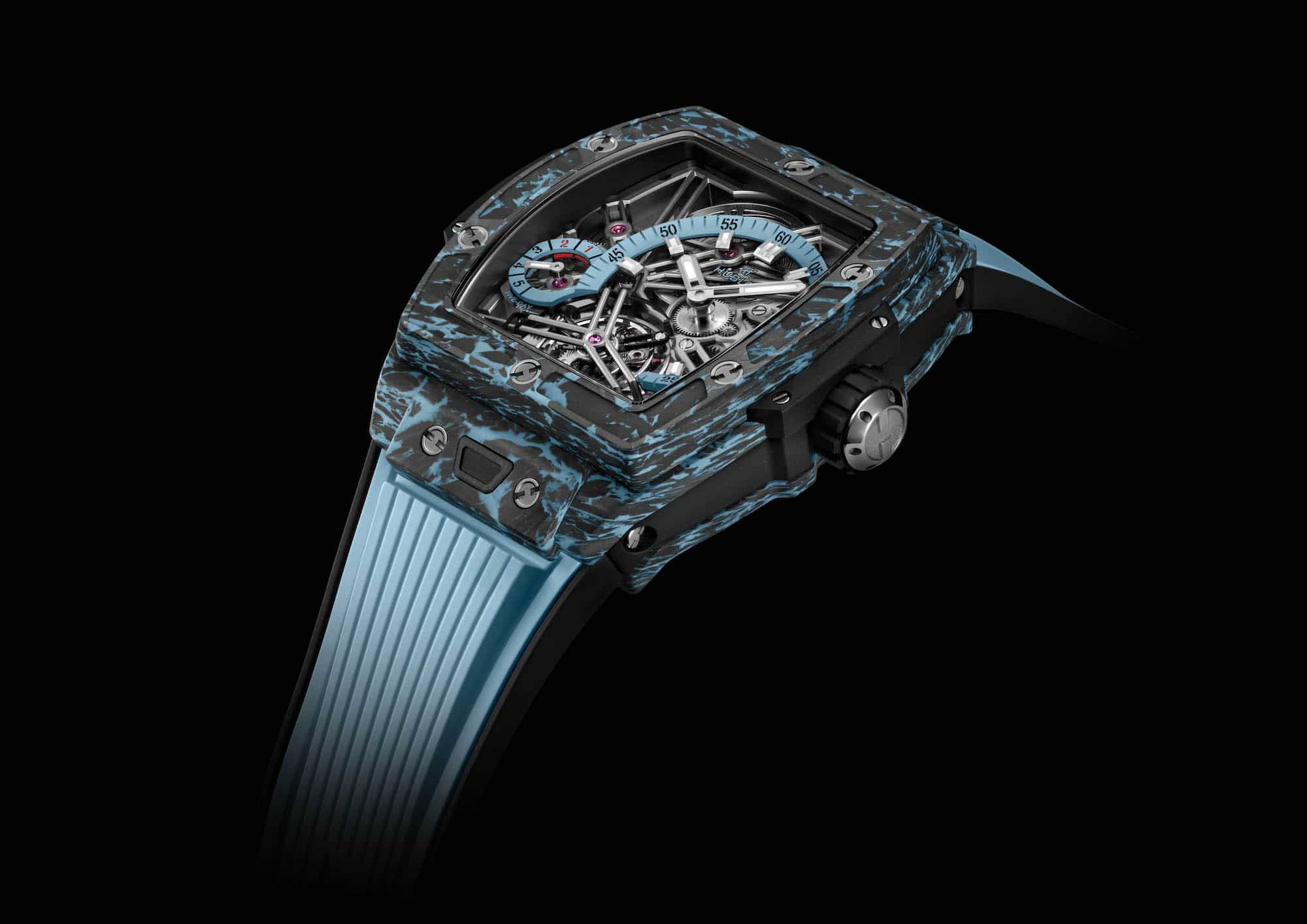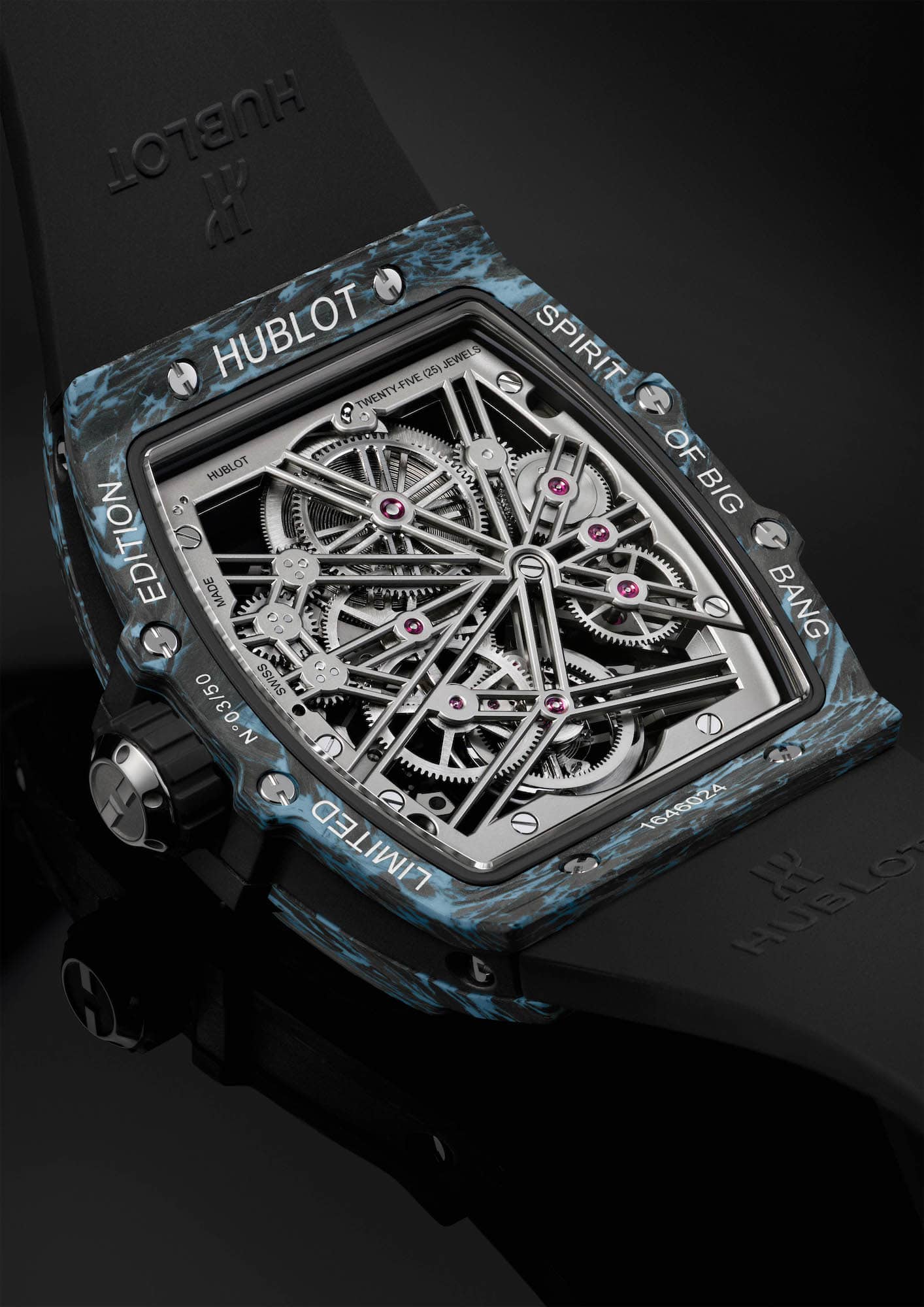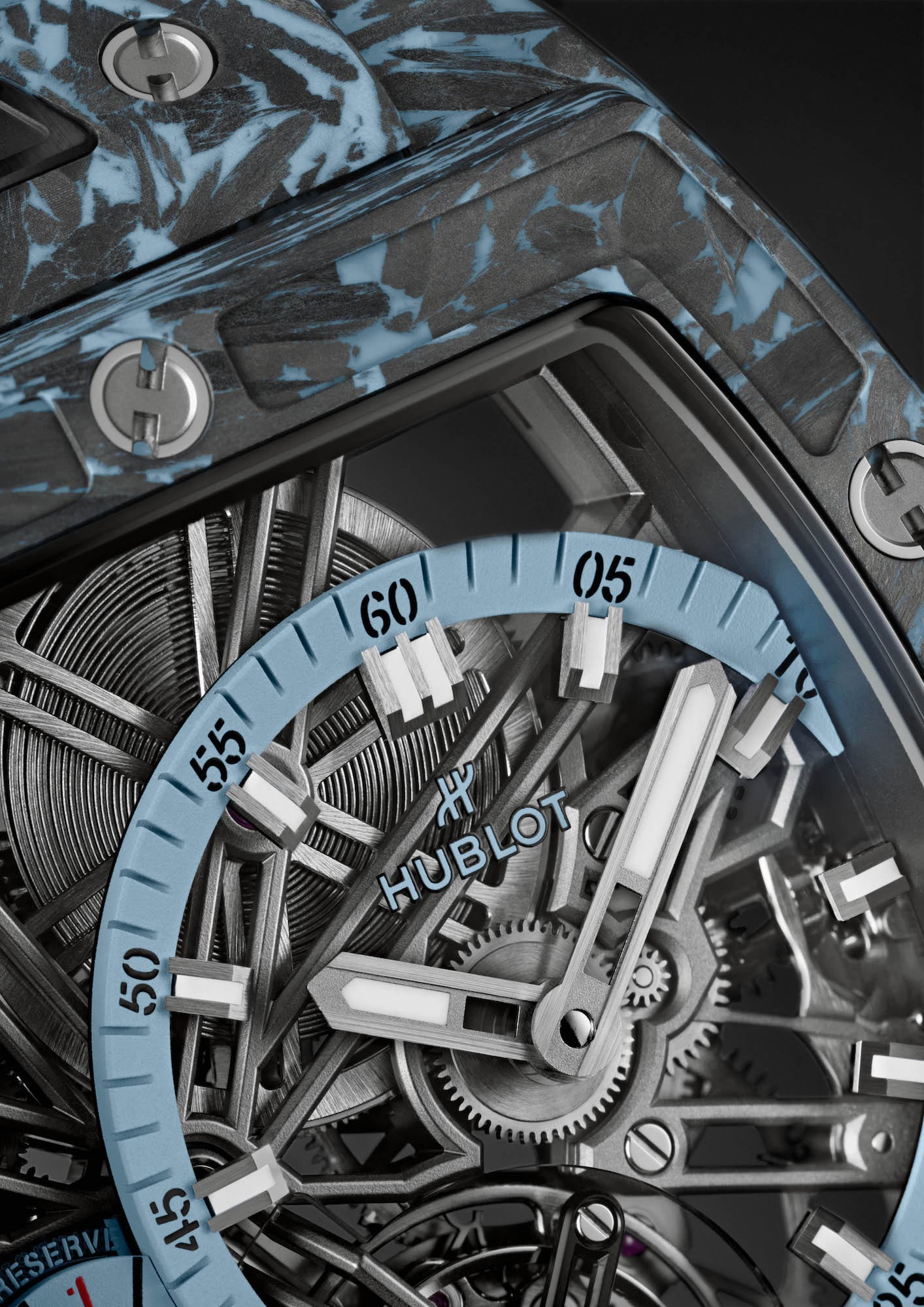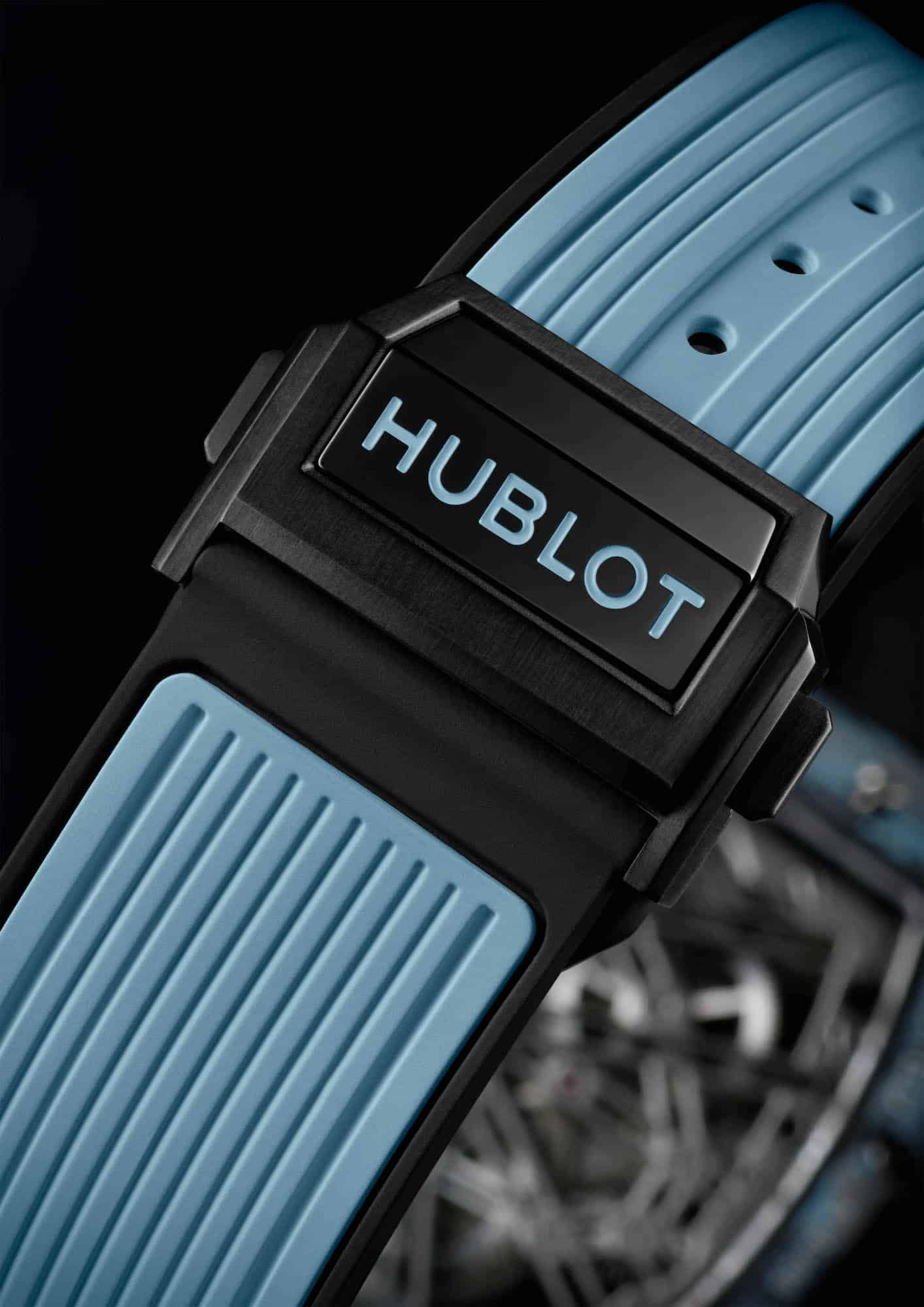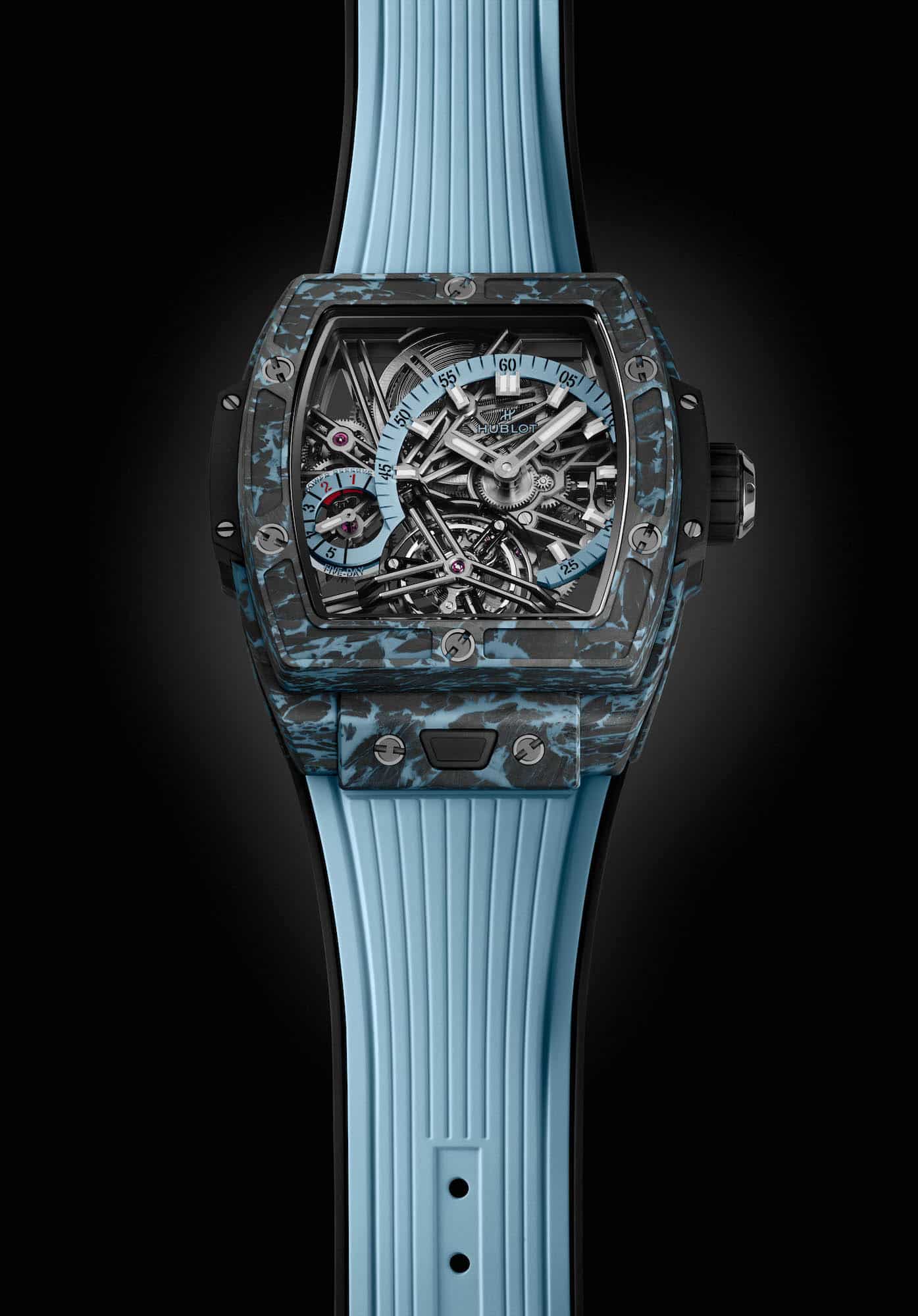 El tono de la fibra de carbono que Hublot ha logrado en esta fusión de materiales es azul claro, color que hace juego con la correa y parte de la visualización, como son los dos anillos de la esfera y el logo de la marca.
Hublot Spirit Of Big Bang Tourbillon 5-Day Power Reserve Purple Sapphire
Con el objetivo de conseguir el mayor grado de fusión entre la caja y el movimiento, esta otra referencia ha ocupado a Hublot en la creación de un material transparente que permite ver por completo la parte interna del reloj, contando al mismo tiempo con una gran robustez para proteger eficazmente el calibre. Expertos en el zafiro sintético, la marca ha logrado unas excepcionales cualidades estéticas para este material, formando una caja de gran belleza.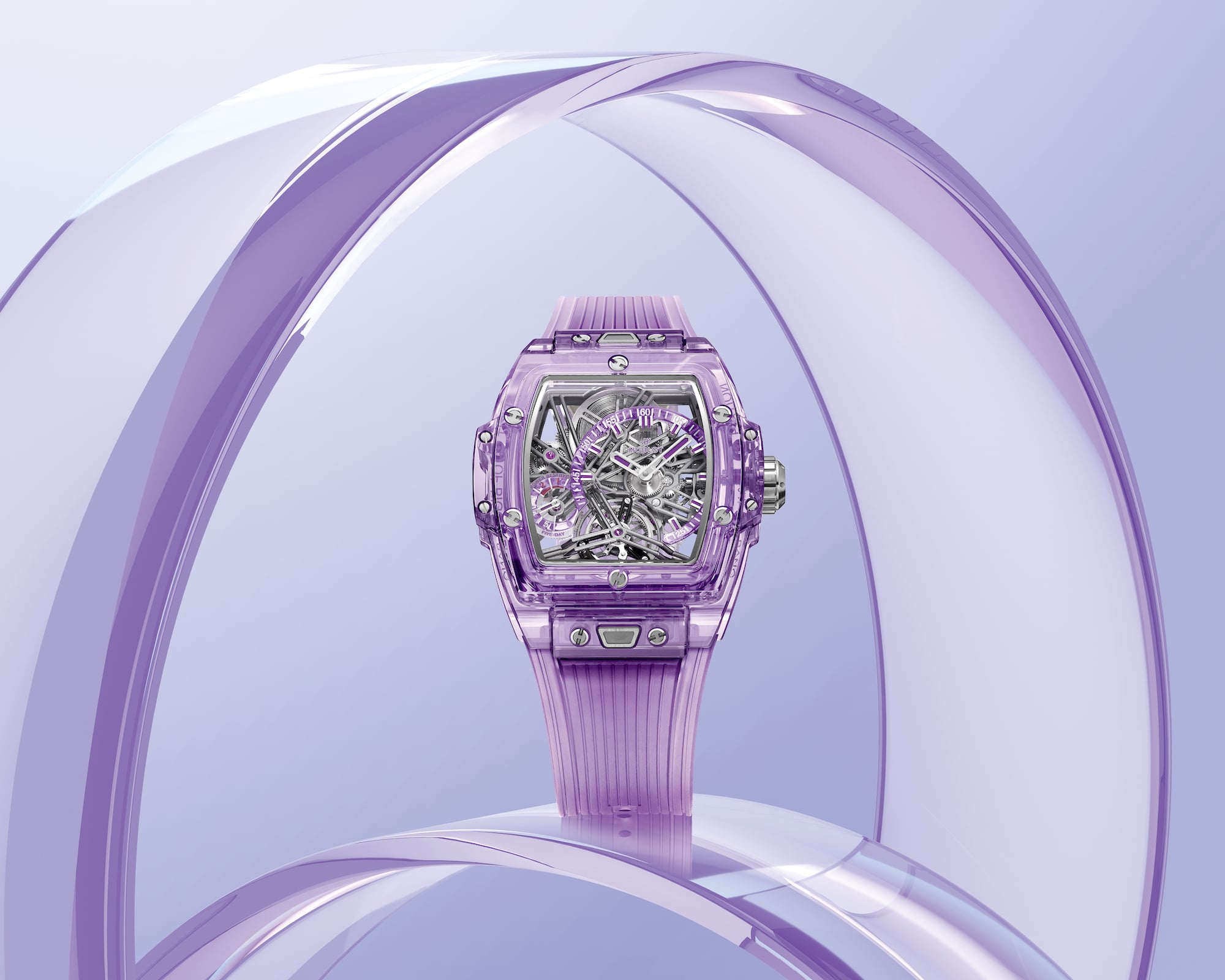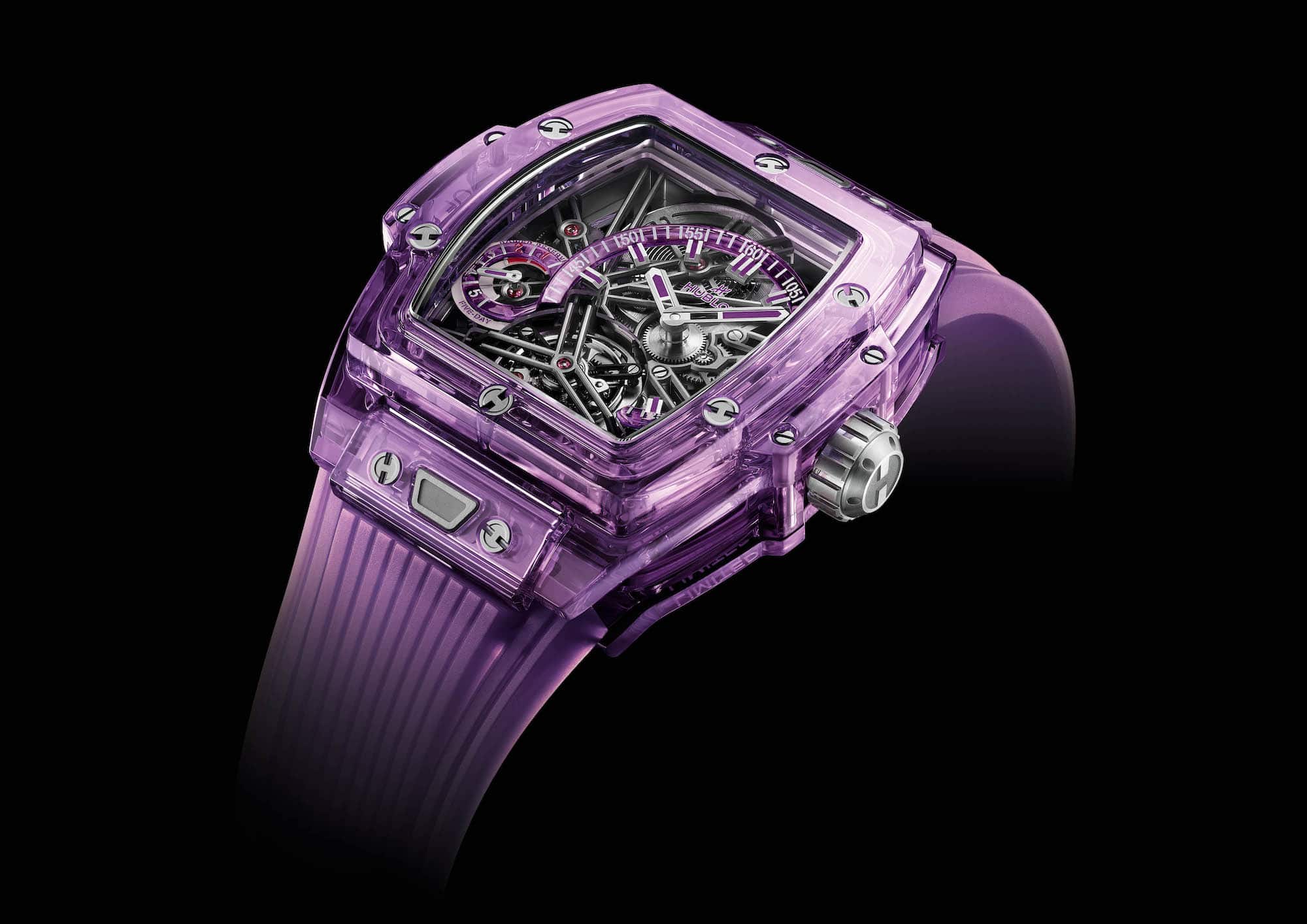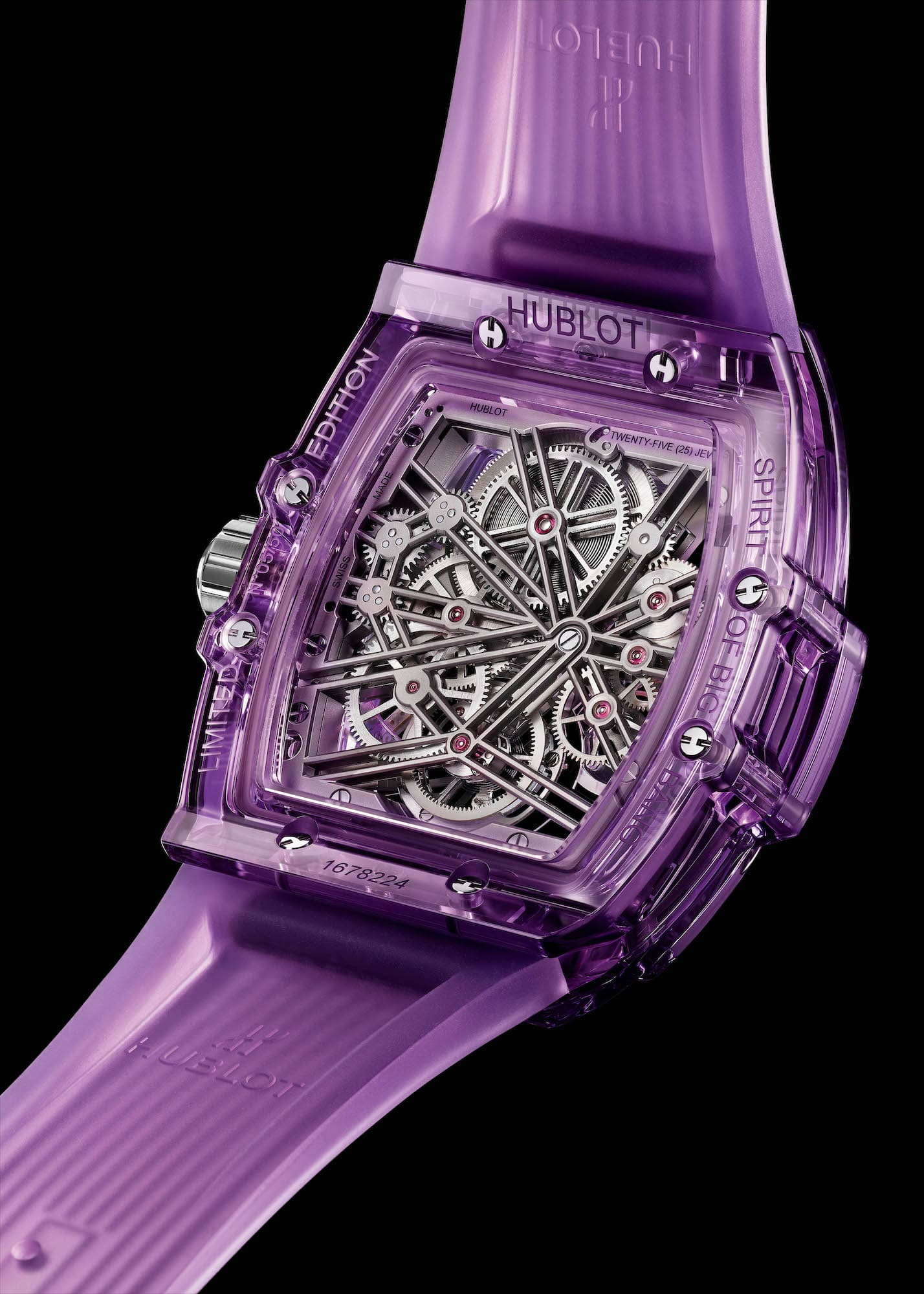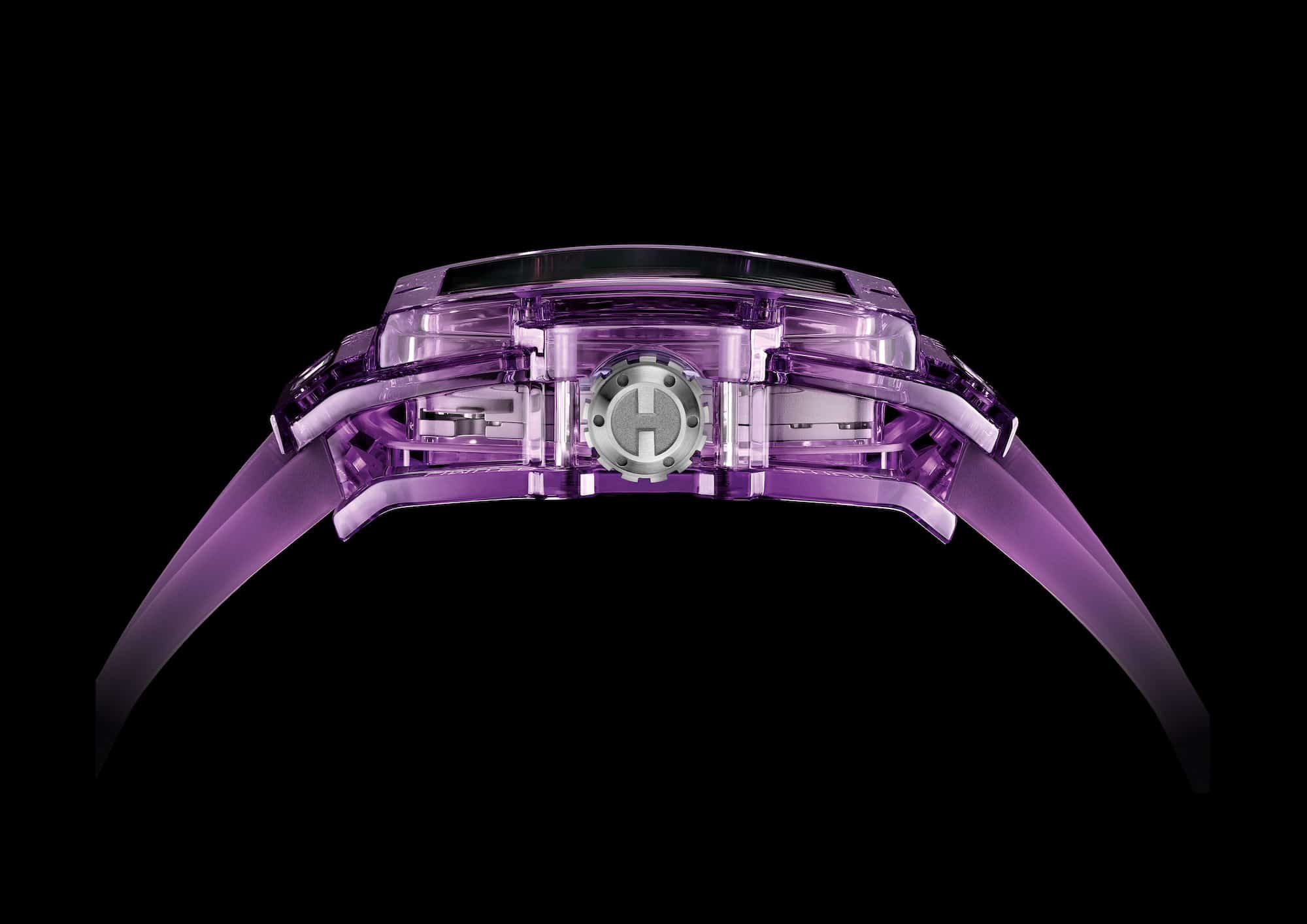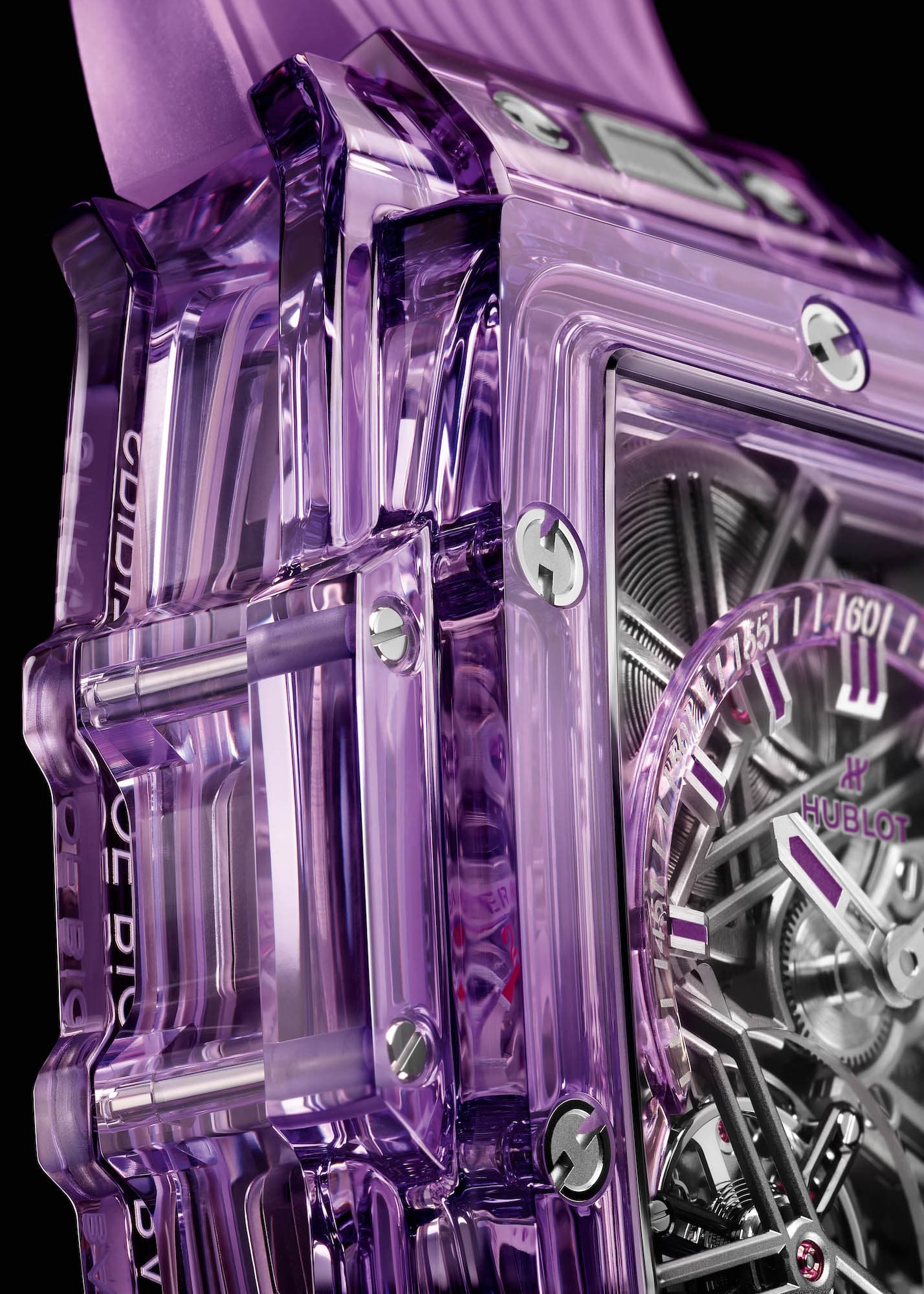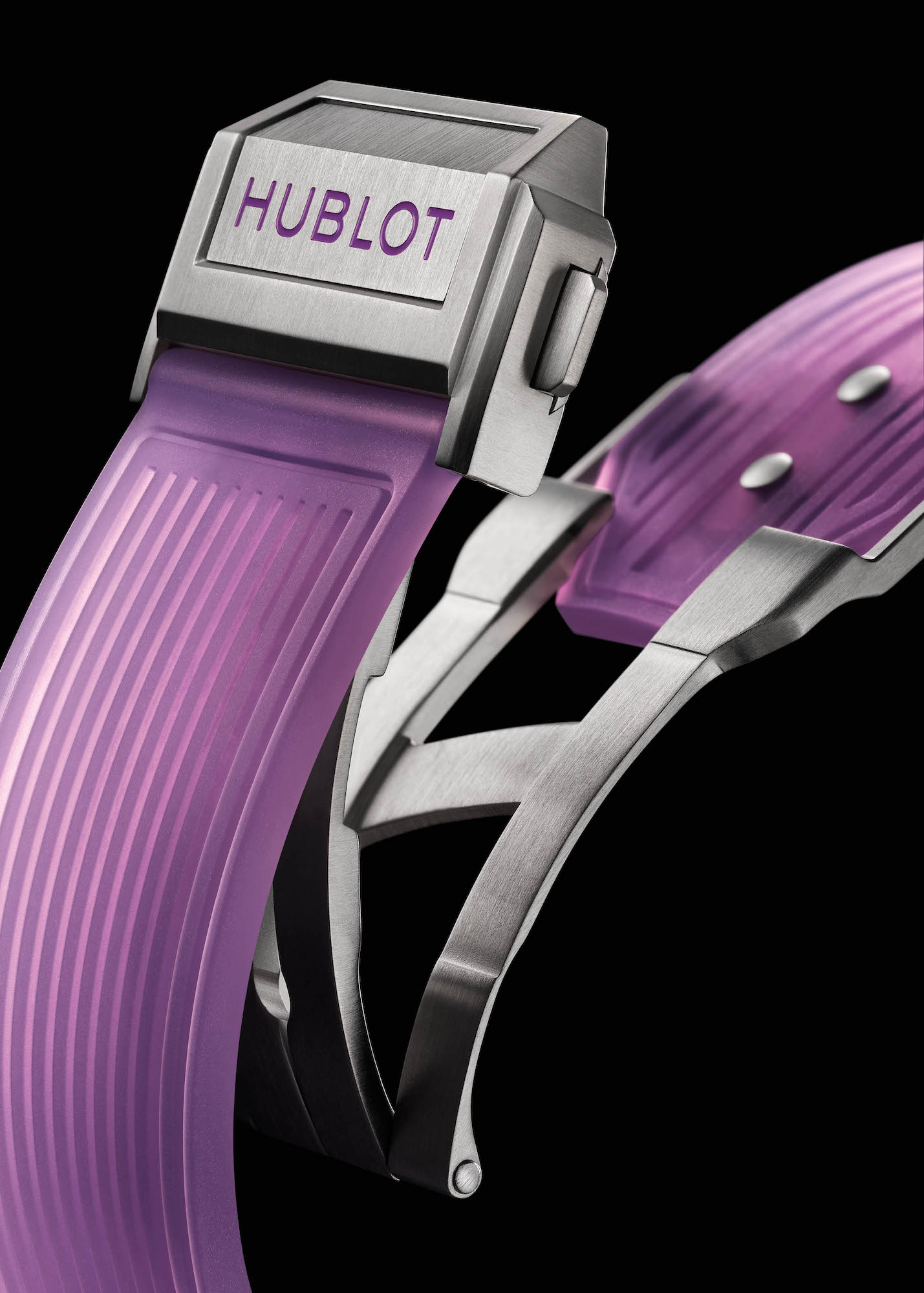 El movimiento en este Purple Sapphire monta una placa esqueletizada, fina y pulida con chorro de arena. La geometría del tourbillon, situado a las 6 horas, ha sido muy trabajada, sumergiéndose en el corazón del mecanismo. La esfera tiene una gran legibilidad gracias al revestimiento luminiscente de las agujas y los marcadores horarios. Se complementa con una correa de caucho violeta transparente y con relieve. Cuenta con el sistema One Click de intercambiabilidad de correas, patentado por Hublot, y un cierre de titanio.
El movimiento de ambas ediciones es el Calibre HUB6020, de cuerda manual y enorme precisión gracias al tourbillon. Los dos relojes son ediciones limitadas a 50 piezas para cada una. El precio del Spirit of Big Bang Tourbillon 5-Day Power Reserve Sky Blue, referencia 645.QL.5117.RX, es de 105.000 euros, mientras que la versión de zafiro púrpura, referencia 645.JM.0120.RT , puede adquirirse por 215.000 euros.