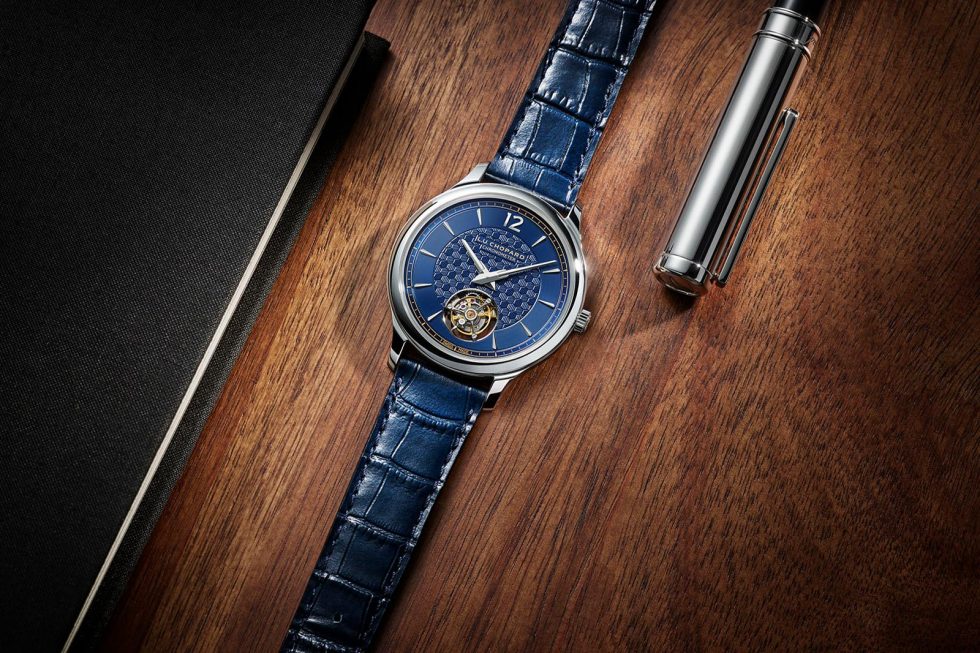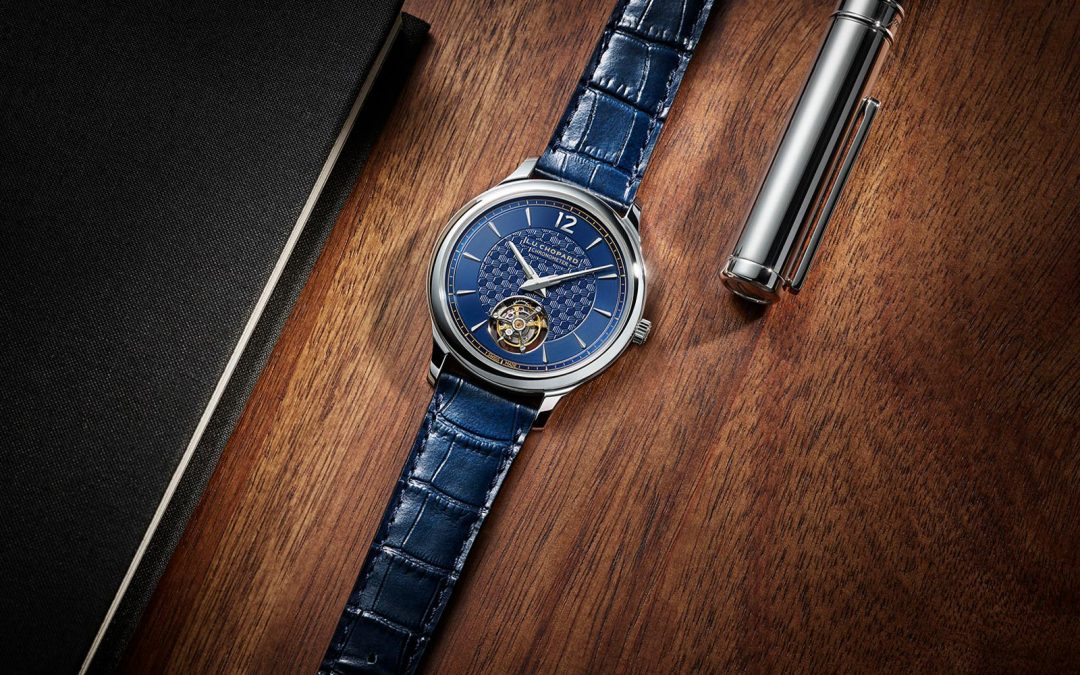 Chopard lanza una nueva edición limitada del L.U.C Flying T Twin, en oro blanco y esfera azul
Si bien Chopard es más famosa por sus joyas, también fabrica magníficos relojes tanto para hombre como para mujer, siendo la colección L.U.C de alta relojería prácticamente una marca de relojes en sí misma. Los L.U.C son un paso adelante estética y mecánicamente sobre otros relojes de Chopard, como el Happy Diamonds, algo realmente palpable en el último reloj, el Chopard L.U.C Flying T Twin White Gold and Blue Limited Edition.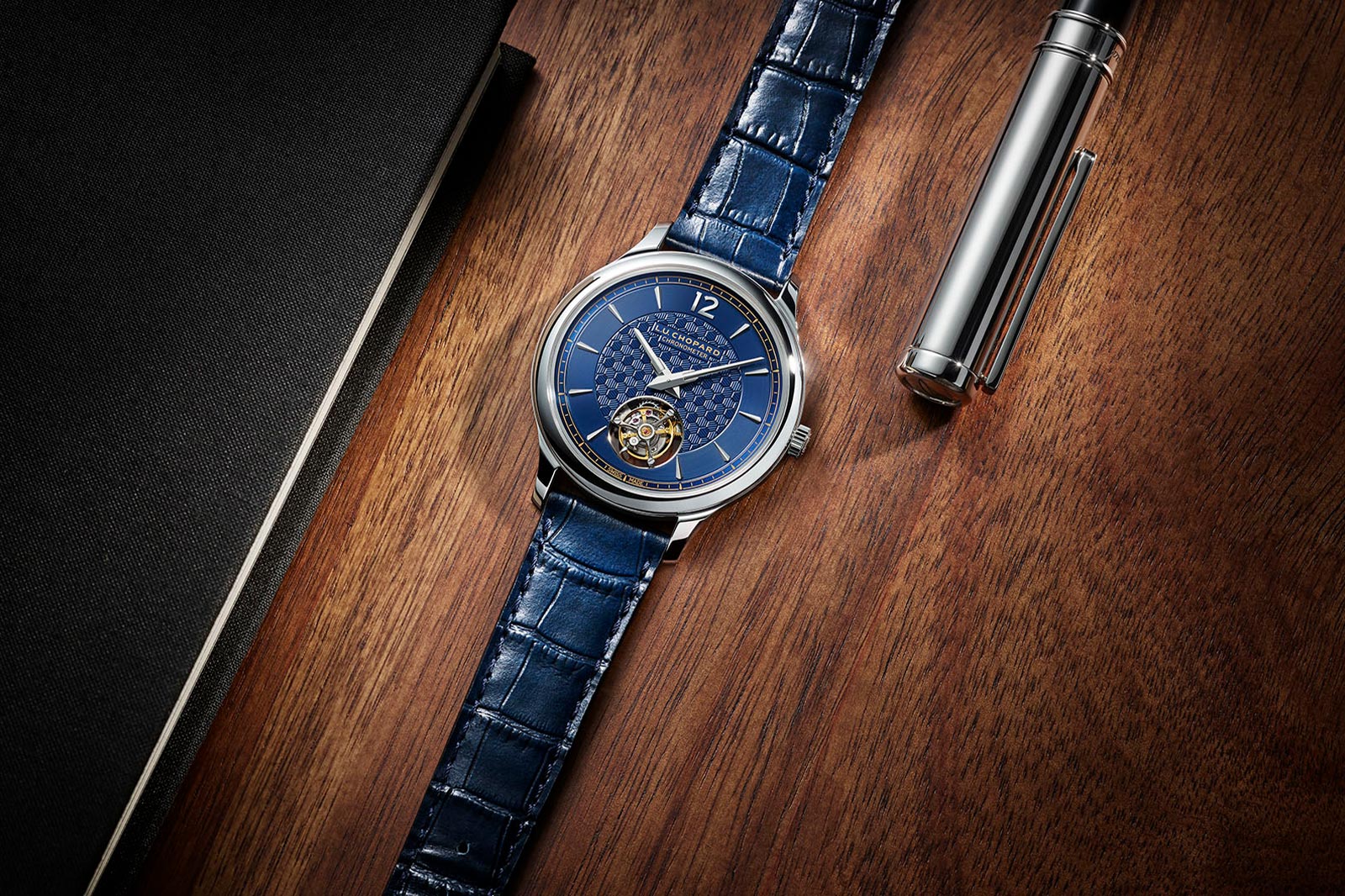 Diseño y decoración del más alto nivel se unen a un calibre tourbillon sobresaliente
Ya conocíamos el L.U.C Flying T Twin, ya que el modelo original (también una edición limitada) fue introducido en 2019, pero ahora está de vuelta con una excelente nueva combinación de colores. La ultradelgada caja, de 40 mm de diámetro, ahora está hecha de oro blanco de 18 quilates, en lugar de en oro rosa, y la esfera de oro ahora es azul. Si bien no es menos clásico que su predecesor, los colores más claros le dan una apariencia más fresca.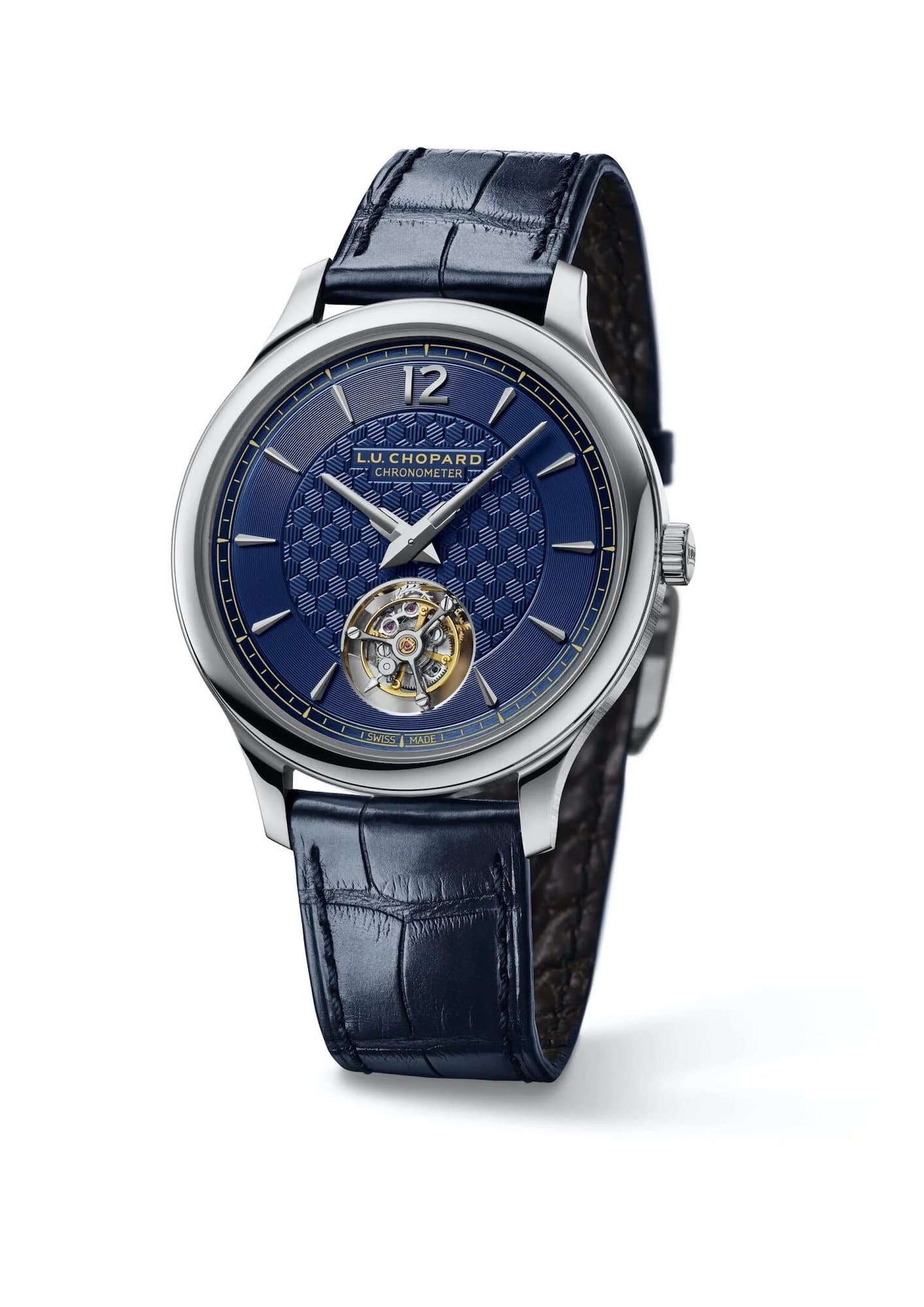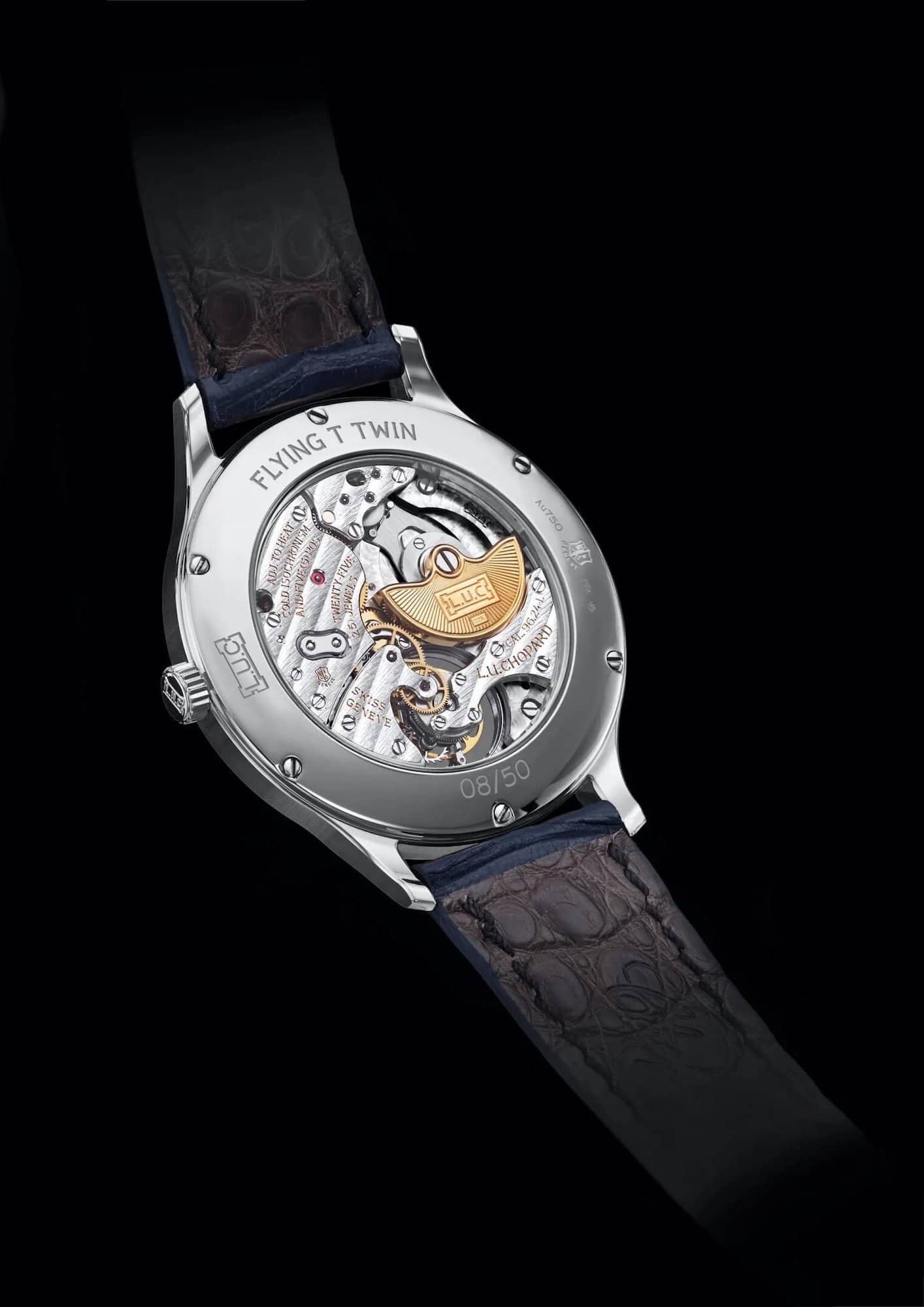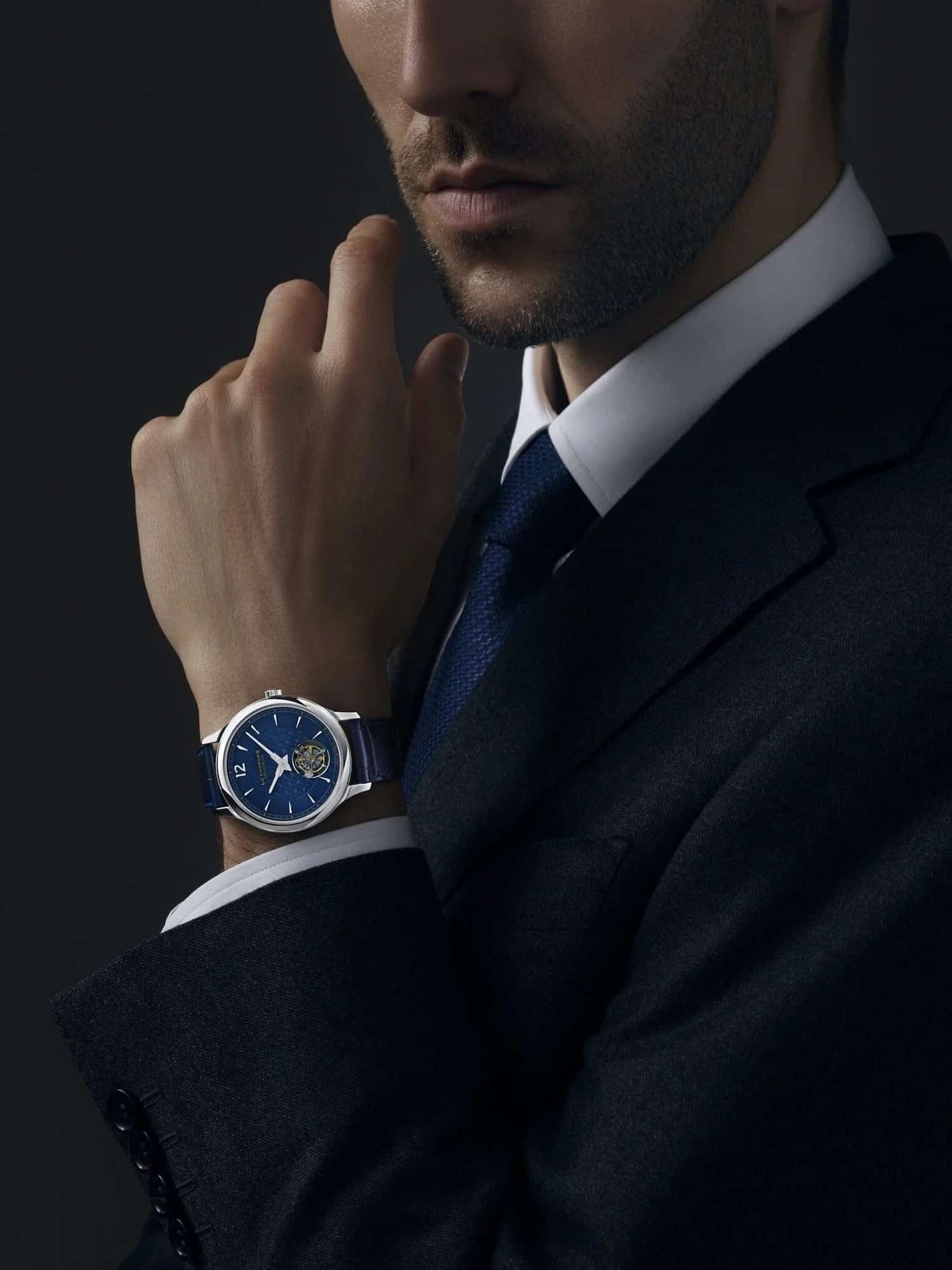 Este reloj tiene un exquisito guilloché en forma de panal alrededor de la pila de agujas central, con un flying tourbillon de corazón abierto a las 6 en punto. Combina estética y competencia técnica casi a la perfección, tanto en la ejecución del acabado como en el calibre.
Hablando del calibre, es el mismo movimiento tourbillon volante automático certificado como cronómetro por el COSC, el Calibre 96.24 L que se incluyó en el modelo original. Utiliza la característica tecnología Twin de Chopard para proporcionar una reserva de marcha de 65 horas, lo que implica combinar dos barriles. Además, el acabado del movimiento es impecable con Côtes de Genève. Ese acabado de maestría es la razón por la que el Chopard L.U.C Flying T Twin White Gold and Blue Limited Edition ha sido galardonado con el Poinçon de Genève (punzón de Ginebra), un sello de calidad superior, centrado en la fabricación y montaje.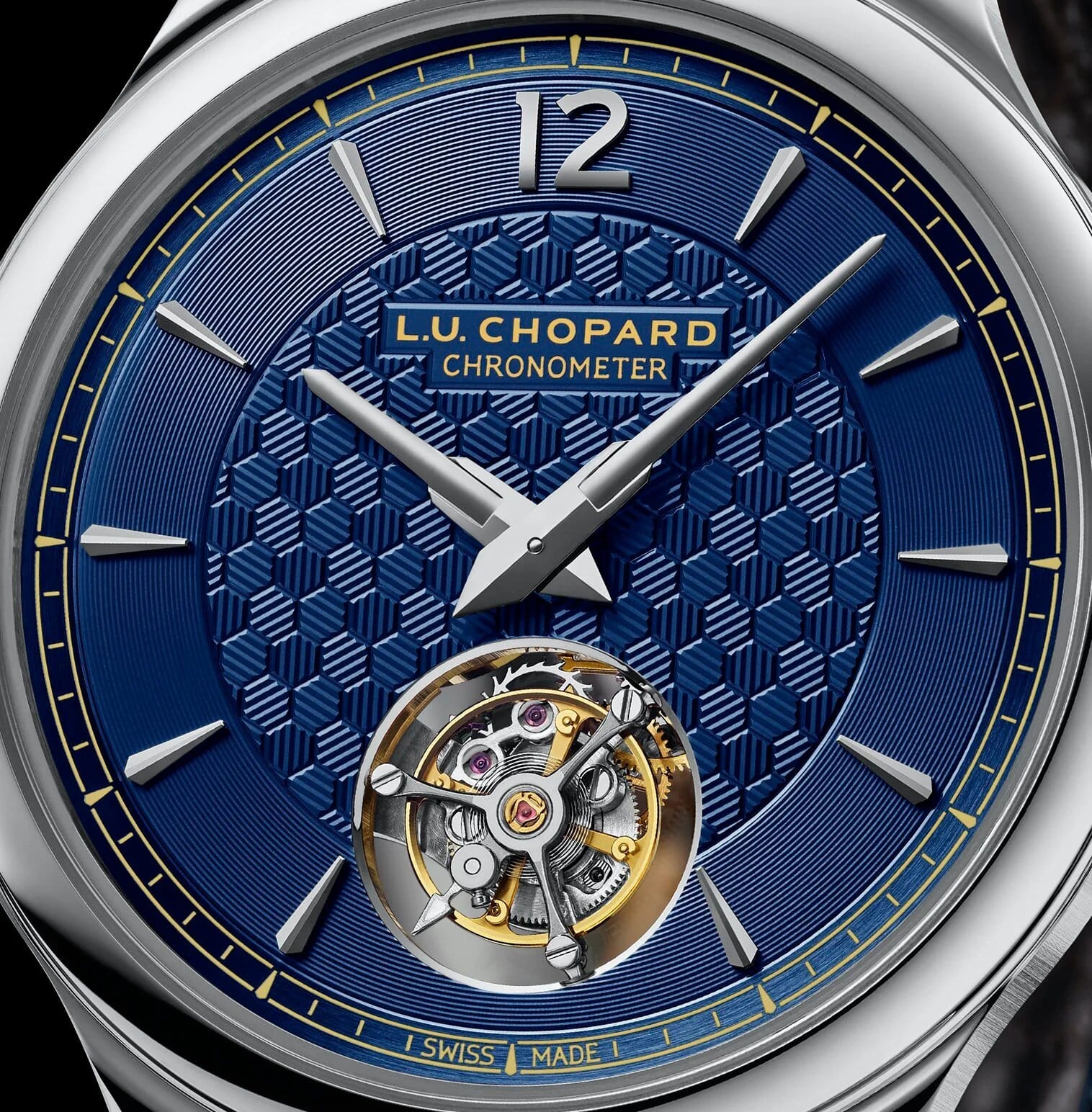 Al igual que la versión original, este reloj está limitado a sólo 50 piezas, lo que lo hace realmente exclusivo. El precio aún no está ha confirmado, aunque si sirve de orientación, la versión anterior rondaba los 109.000 euros. Dado el cambio de cambio de materiales en este nuevo modelo habrá que esperar y ver. En general, los nuevos colores son una buena incorporación a un reloj que evita con éxito cambiar demasiado el ADN de la pieza.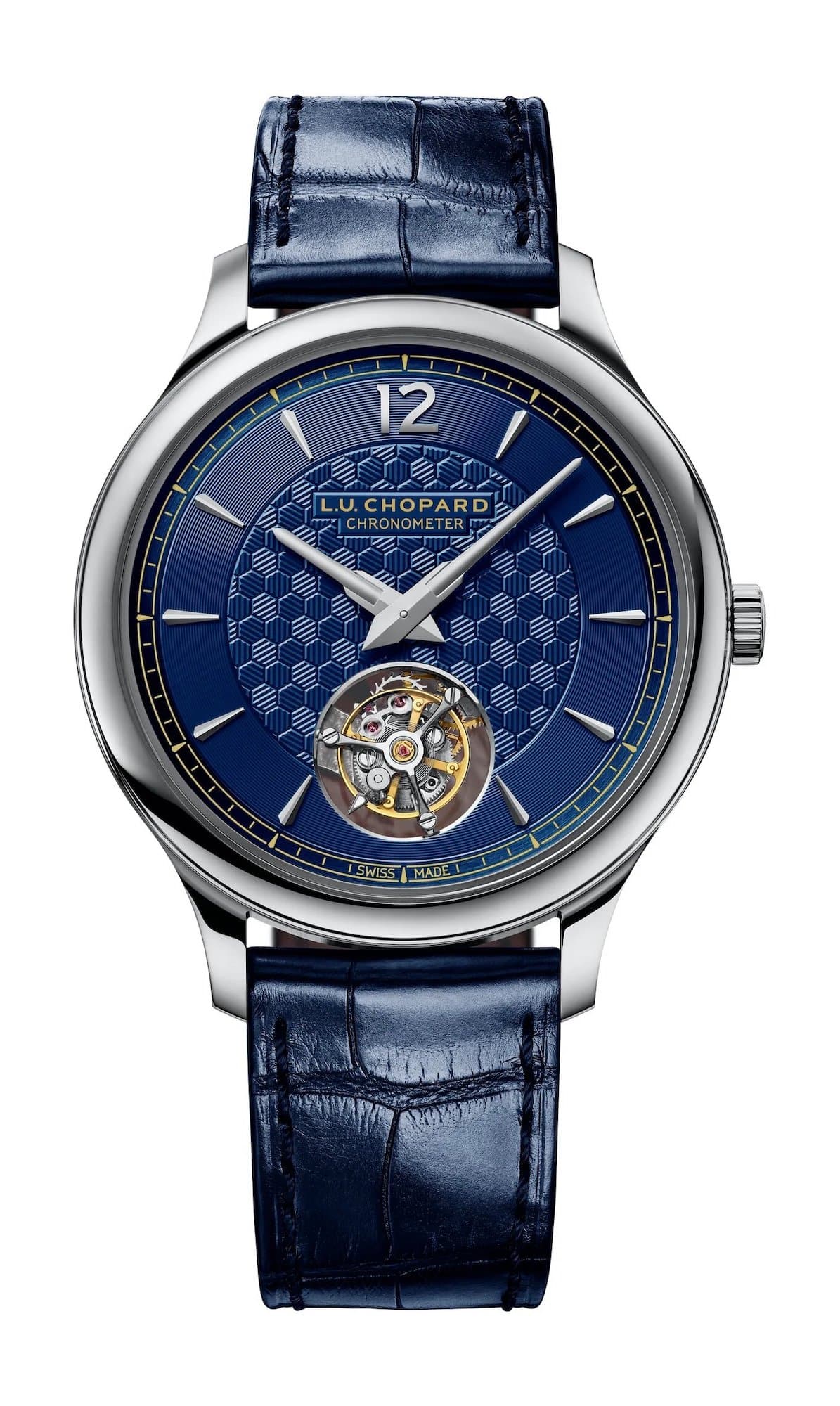 Características técnicas del Chopard L.U.C Flying T Twin ref. 161978-1001
Modelo: Chopard L.U.C Flying T Twin White Gold and Blue Limited edition
Caja / esfera: 40 mm de diámetro x 7,2 mm de altura, caja de oro blanco de 18 quilates, esfera negra de oro azul tratado galvánicamente con un centro estampado en forma de panal guilloché a mano
Resistencia al agua: 30 m (3 bar)
Movimiento: Calibre L.U.C 96.24-L, automático, 25 joyas, 189 piezas, sello de calidad Poinçon de Genève y cronómetro suizo certificado oficialmente por COSC
Frecuencia: 25.200 alternancias/hora (3,5 Hz)
Reserva de marcha: 65h
Funciones: Horas, minutos, segundero pequeño en tourbillon volante
Correa: piel de cocodrilo azul
Precio / disponibilidad: Precio a consultar, limitado a 50 piezas