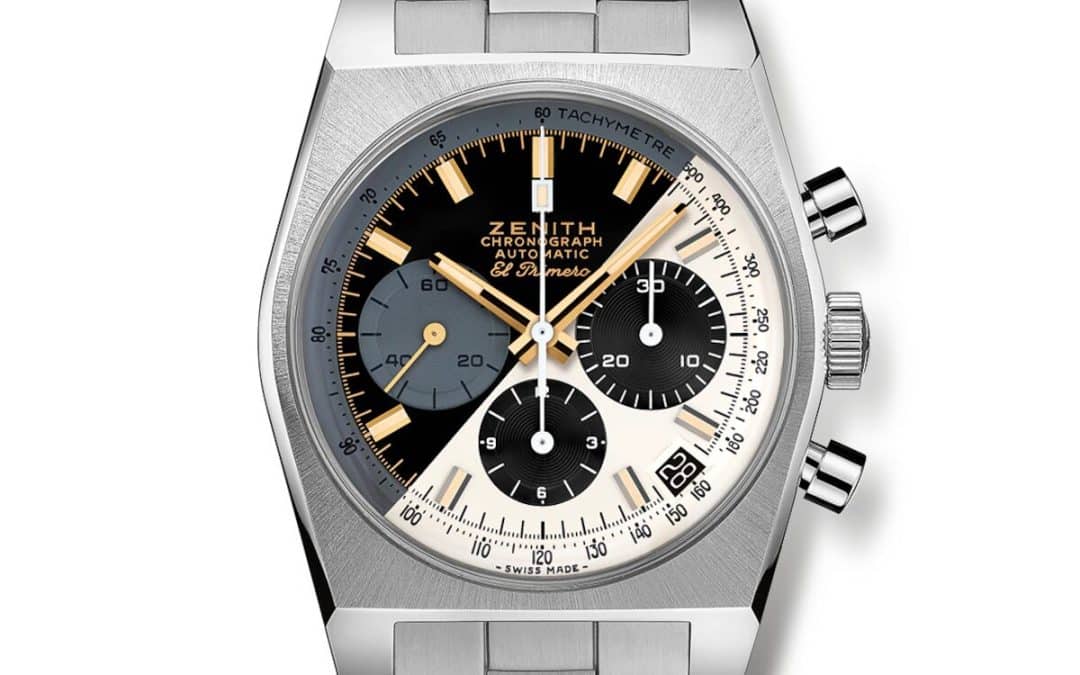 Una colaboración entre un fabricante de relojes suizo y una serie japonesa de manga y anime es una asociación única, llevada a término entre Zenith y Lupin The Third, que tomó una gran inspiración de El Primero, poco después de su lanzamiento en 1969, tanto que decidió incluirlo en la serie en dos ocasiones distintas. 50 años y dos ediciones especiales después, Zenith presenta la tercera y última edición limitada de la trilogía, el Chronomaster Revival Lupin The Third – Final Edition.
En 2019, Zenith se convirtió en el primer fabricante en producir un reloj inspirado directamente en la representación de una serie de anime y manga japonesa. En el primer episodio de la serie animada Lupin The Third, Daisuke Jigen, la mano derecha y mejor amigo del personaje principal, Lupin III, aparece llevando un reloj basado en el A384, con una esfera negra, gris y dorada que en realidad nunca existió, y en el episodio final de la primera serie, se representa nuevamente a Jigen usando otro cronógrafo Zenith pero con una esfera «panda» diferente que tampoco existió nunca.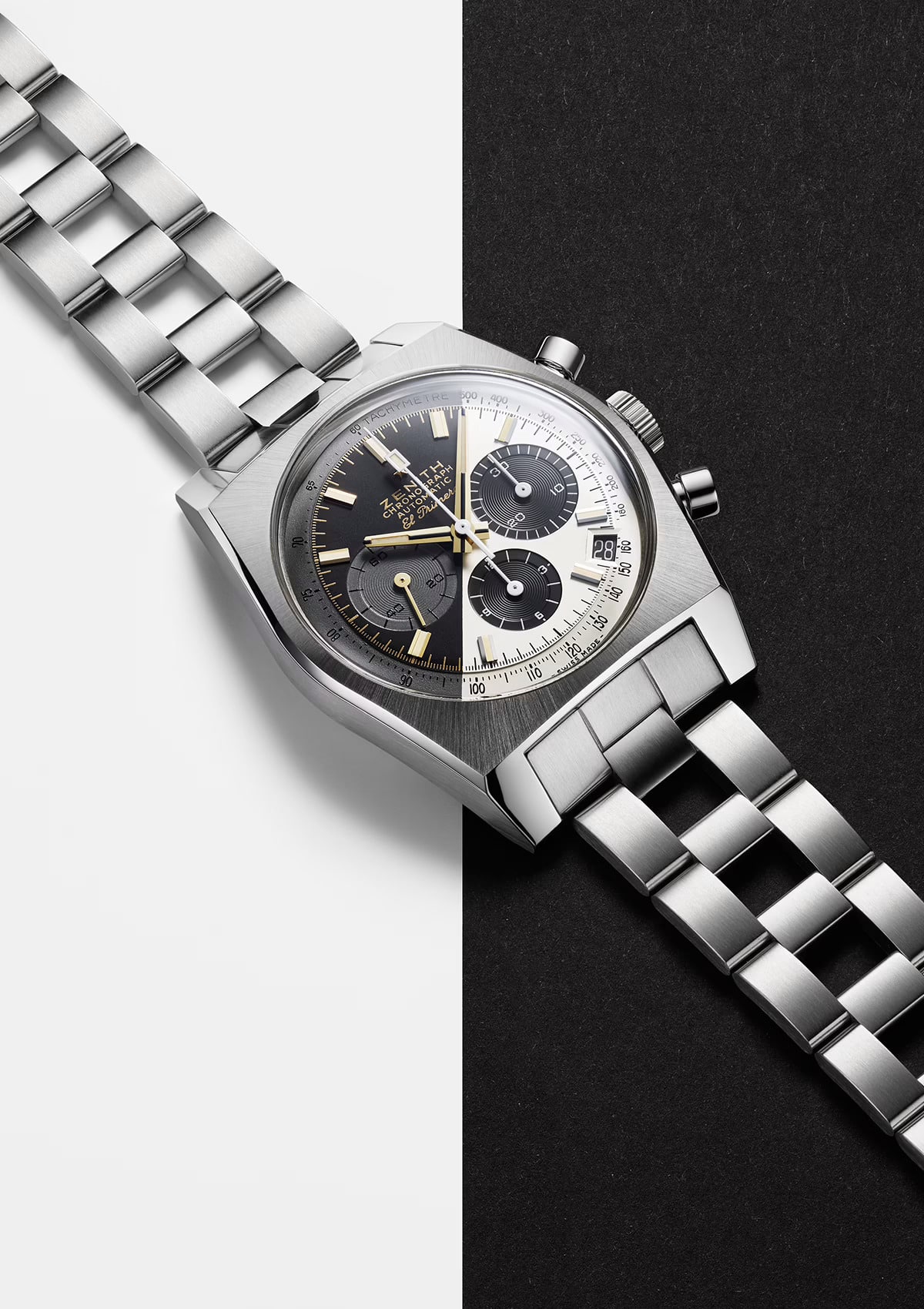 Casi 50 años después de la emisión inicial de la serie de anime, Zenith finalmente convirtió esta fantasía en realidad, en 2019, al producir el Chronomaster Revival Lupin The Third, utilizando la caja en forma de tonel del A384, reconocible al instante, y recreando la inusual esfera negra que se muestra en el primer episodio. Al año siguiente se lanzó la segunda versión, de esfera blanca y «panda». Ahora, ha llegado la tercera y última edición limitada de esta excepcional colaboración, un reloj que, sorprendentemente, combina ambas esferas en una.
Una sorprendente combinación
Limitado a 250 piezas, el Zenith Chronomaster Revival Lupin The Third Final Edition combina dos esferas, con dos mitades distintas y asimétricas, que combinan todos los elementos de los cronógrafos Zenith representados en el primer y último episodio de la primera temporada de la legendaria serie de anime. Por un lado, la esfera negra semibrillante de la primera edición del Chronomaster Revival Lupin The Third, con contadores de color gris intenso y marcadores y manecillas dorados aplicados, y por otro lado, la esfera de color blanco crema de la segunda edición, con contadores negros en contraste en forma de «panda», configuración con SuperLumiNova beige. Caprichoso, juguetón y ciertamente polarizante, hay más de lo que se ve a simple vista cuando se trata de crear una esfera tan singular, elaboración que presentó a los equipos de la Manufactura Zenith un desafío nuevo y sin precedentes.
En un proceso delicado y largo, la esfera en blanco se termina primero completamente en un color blanco plateado en la mitad derecha, luego se fresan los contadores negros del cronógrafo mientras que el resto de la esfera se protege con una capa de laca transparente e incolora. Como la segunda mitad de la esfera debe pintarse de negro, la otra mitad blanca de la esfera ha de llevar una capa protectora. Si la protección no se aplicara correctamente los colores podrían mezclarse entre sí, arruinando la esfera. Se agrega otra capa de complejidad en la que se debe aplicar un tercer color gris para las subesferas. Con cada paso del proceso aumentan las posibilidades de que algo salga mal. Completar con éxito una de estas esferas es ya lo suficientemente desafiante, pero reproducir el efecto de doble dial con elementos perfectamente separados en una serie completa de esta edición resultó casi imposible. El intrigante pero único resultado hizo que valiera la pena el esfuerzo.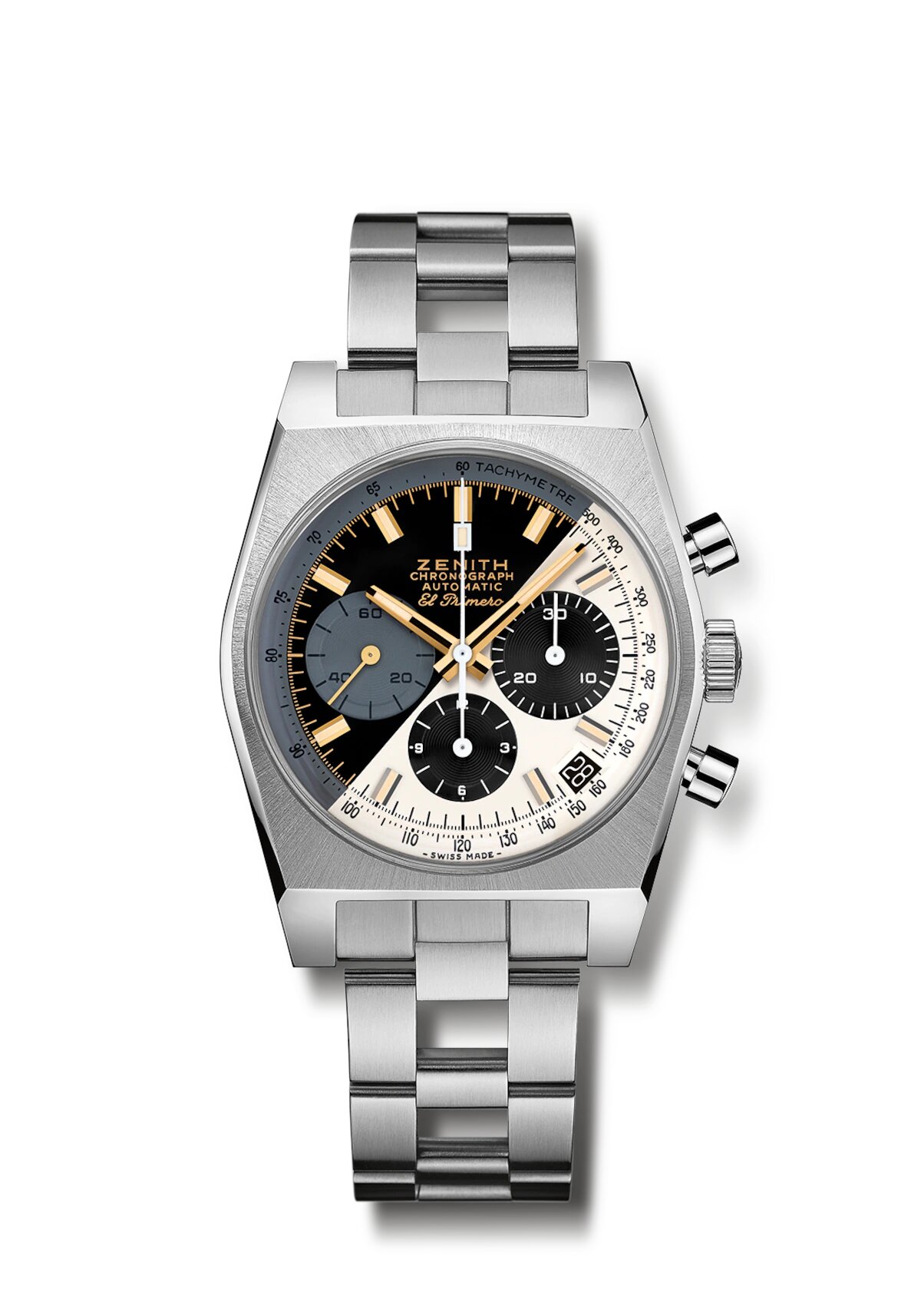 Calibre El Primero
Esta esfera es verdaderamente inigualable, y está alojada en una caja de titanio en forma de barril, de 37 mm, que es una reproducción de la caja del A384 de 1969, tanto en proporciones como en acabado. Se combina con un brazalete de tipo escalera, de titanio, diseñado originalmente por la famosa compañía Gay Frères con un toque claramente retro. En su interior, como no podía ser de otra manera, late el movimiento automático con cronógrafo integrado de alta frecuencia de Zenith, el legendario Calibre El Primero, visible a través de la parte posterior, con cristal de zafiro grabado con un dibujo de Daisuke Jigen.
Para aquellos que se perdieron la primera y la segunda ediciones especiales, o simplemente desean completar su conjunto y disfrutar de la doble personalidad de esta singular esfera, el Chronomaster Revival Lupin The Third Final Edition está disponible en las boutiques y en la tienda online de Zenith para todo el mundo. El precio es de 9.700 euros.
Especificaciones técnicas del Zenith Chronomaster Revival Lupin The Third Final Edition ref. 95.L384.400/50.M384
Caja original de 1969 de 37 mm de diámetro
Movimiento cronógrafo automático El Primero con rueda de pilares
Esfera partida inspirada en las 2 ediciones anteriores
Edición limitada de 250 piezas
Movimiento
Calibre El Primero 400 Automático
Frecuencia: 36.000 alternancias/hora (5 Hz)
Reserva de marcha: Un mínimo de 50 horas
Funciones: Horas y minutos en el centro. Pequeño segundero a las nueve. Cronógrafo: manecilla de cronógrafo central, contador de 12 horas a las seis en punto, contador de 30 minutos a las tres en punto. Escala taquimétrica. Indicación de fecha a las 4:30
Caja
Diámetro: 37 mm
Material: Titanio
Resistencia al agua: 5 ATM
Esfera
Blanco y negro
Índices: rodiados o dorados, facetados y recubiertos de Beige SuperLuminova ®SLN
Agujas: Rodiadas o doradas, facetadas y recubiertas de Beige SuperLuminova ®SLN
Brazalete y cierre
Brazalete "escalera" de titanio con doble cierre desplegable