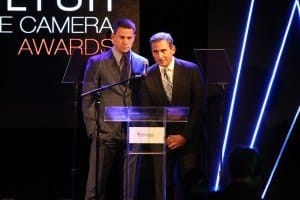 HAMILTON Y LA REVISTA LOS ANGELES CONFIDENTIAL PRESENTARON LA 8o EDICIÓN DE LOS PREMIOS HAMILTON BEHIND THE CAMERA AWARDS, CELEBRADOS EL PASADO 9 DE NOVIEMBRE DE 2014 EN EL TEATRO THE EBELL DE LOS ANGELES, EN EL QUE SE PREMIARON EL TALENTO DE QUIENES TRABAJAN DETRÁS DE LA CÁMARA.
La firma de relojes Hamilton, conocida por su importante papel en el mundo de la aviación y del cine, así como por su innovadora tecnología de medición del tiempo, tuvo el honor de presentar, en colaboración con la revista Los Angeles Confidential, la principal publicación sobre moda de Los Angeles, la 8o edición de los Hamilton Behind the Camera Awards, el pasado 9 de noviembre de 2014 en el teatro The Ebell de Los Ángeles. Como cada año, en esta ceremonia se rindió homenaje al brillante talento que hay tras los escenarios y al trabajo individual que contribuye a la calidad de una imagen en movimiento, así como a la impresión que causa en los espectadores de las películas. Este año, Hamilton celebra también las apariciones de sus relojes en más de 400 películas, siendo la más reciente Insterstellar. Este año, entre premiados y presentadores, sumaron más de 86 nominaciones y premios como los Oscar, Emmy, BAFTA y/o SAG. Sylvain Dolla, CEO de Hamilton, comentó: «La relojería y el cine son similares, ambos comparten una pasión para crear algo de una belleza única que inspira a la audiencia.»
Los divertidos, Channing Tatum y Steve Carell, estuvieron bromeando durante la entrega del premio al director Bennett Miller por Foxcatcher: «¡Bennet Miller da miedo!» añadió Tatum, «el personaje de Steve en Foxcatcher es un reflejo del propio Bennett Miller.»
El nominado a un Globo de Oro y Premio Emmy, Matthew Morrison, fue el maestro de ceremonias de los premios este año y estuvo acompañado por un conjunto de élite de actores, actrices y cineastas galardonados para presentar estos ilustres premios.
Los presentadores de anteriores premios fueron entre otros: Harrison Ford, Robert Pattinson, Antonio Banderas, Amy Adams, Ewan McGregor, Christoph Waltz, Christopher Nolan, Diane Kruger, Jeremy Renner, Lenny Kravitz, Jon Hamm, Zoe Saldana, Michael Bay, Jon Favreau, Viola Davis y J.J. Abrams.
Los premiados se seleccionaron de películas presentadas este año y/o cualificadas y presentadas en los festivales de cine más prestigiosos y recientes de Cannes, Toronto y Venecia así como el Festival organizado por el American Film Institute.
La lista de premiados para los Hamilton Behind the Camera Awards 2014 incluyó:
– Director: Bennett Miller, "Foxcatcher". Presentado por el ganador de un Globo de Oro al mejor actor, Steve Carell, y el premiado actor Channing Tatum.
– Productores: John DeLuca, Rob Marshall y Marc Platt, "Into The Woods". Presentado por la ganadora de un Globo de Oro a la mejor actriz, Emily Blunt.
– Montador cinematográfico: Sandra Adair, "Boyhood". Presentado por la actriz ganadora de un Premio Emmy y nominada a un Globo de Oro, Patricia Arquette.
– Productores revelación: Nora Grossman, Ido Ostrowsky y Teddy Schwarzman, "The Imitation Game". Presentado por el premiado actor, Allen Leech.
– Efectos Visuales: Dan Lemmon, "Dawn of the Planet of the Apes". Presentado por el premiado Andy Serkis.
– Diseñador de producción: Donald Graham Burt, "Gone Girl". Presentado por la actriz nominada a un premio, Michelle Monagham.
– Guionista: J.C. Chandor, "A Most Violent Year". Presentado por el nominado a un Emmy, Will Arnett.
– Director de fotografía: Robert Yeoman, "The Grand Budapest Hotel". Presentado por Tony Revolori.
– Atrecista: Ellen Freund, "Mad Men". Presentado por la actriz nominada a un premio, Keirnan Shipka.
– Premio a la trayectoria como compositor de música de cine: Alexandre Desplat, "The Imitation Game", "The Grand Budapest Hotel", "Unbroken", "Godzilla", "The Monuments Men". Presentado por el actor nominado a un premio Matthew Goode.
Hamilton se fundó en 1892 en Lancaster, en el estado de Pensilvania (Estados Unidos). Sus relojes aúnan el espíritu americano y la precisión incomparable de los mecanismos y de la tecnología suiza más actual. Desde 1951, los relojes de la marca llevan seduciendo a los principales estilistas del cine a nivel mundial. Sus atractivas formas, modernos materiales y diseños únicos le han garantizado apariciones en más de 400 películas. A lo largo de los años, Hamilton ha creado una tradición de integrar sus estilos insignes con historias épicas, desde la futurista película de Stanley Kubrick en 2001 "A Space Odyssey" a los éxitos de ciencia ficción "Soy leyenda" y la trilogía favorita de sus fans, "Men In Black". En 2014, la marca cuenta con un importante papel en Interstellar, filme en el que uno de los protagonistas, Cooper, interpretado por Matthew McConaughey, lleva en su muñeca un Khaki Pilot Day Date. www.hamiltonwatch.com
Los Angeles Confidential es la primera revista de moda de Los Ángeles que publica sobre lo más distinguido en moda, arte, belleza, cultura, restauración, entretenimiento, diseño interior, vida nocturna y viajes. Los Angeles Confidential tiene en cuenta las mejores tendencias y agentes más influyentes desde el punto de vista del que conoce bien lo que hace. Los Angeles Confidential es publicada por Niche Media Holdings LLC., cuyas publicaciones específicas de ciudades incluyen Aspen Peak, Austin Way, Boston Common, Capitol File, Gotham, Hamptons, Los Angeles Confidential, Michigan Avenue, Ocean Drive, Philadelphia Style, y las distintas revistas Vegas. Gracias a un modelo de distribución estratégico y una gran inversión en el contraste de información llevado a cabo por Nielsen Claritas, el grupo Niche Media es la única empresa local sobre moda que tiene garantizada una determinada audiencia en cada una de las ciudades donde sale publicada. Los títulos de Niche Media superan las 14.000 páginas, con una distribución anual combinada de 4,6 millones de copias nacionalmente.