La campaña «The Pink Dial Project», organizada para conmemorar el Mes de Concientización sobre el Cáncer de Mama, tiene lugar en octubre de este año.
El año 2021 marca un renacimiento en todo el mundo, a medida que la creatividad y el eterno impulso humano por la supervivencia encuentran sus voces una vez más. Sin embargo, entre bastidores, enfermedades como el cáncer de mama siguen siendo un desafío, estimulando los esfuerzos de la comunidad médica y provocando numerosas campañas para garantizar que el tema permanezca en el ojo público.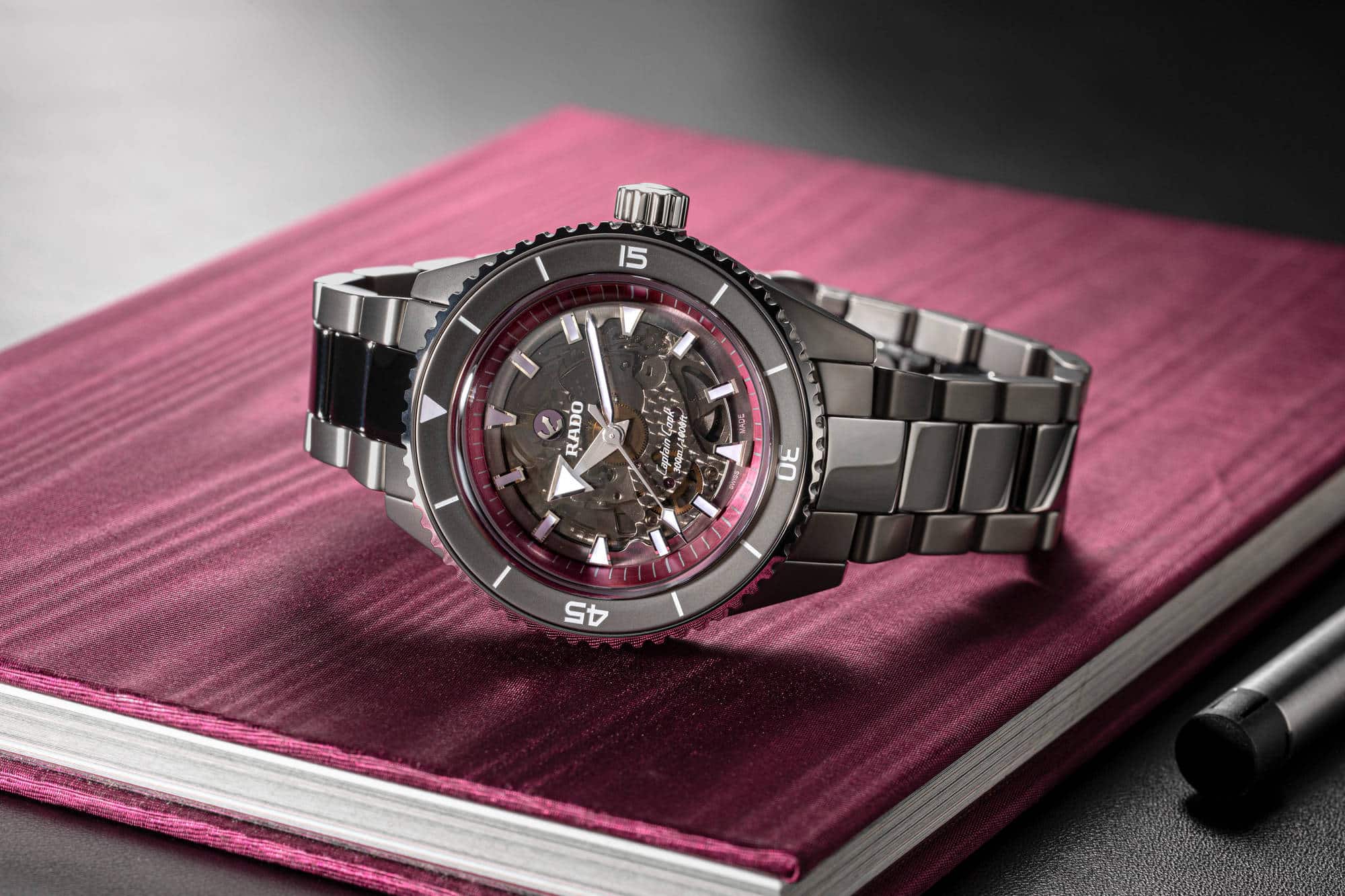 Una de esas campañas es «The Pink Dial Project», organizada para conmemorar el Mes de Concientización sobre el Cáncer de Mama, en octubre de este año. Creado por las publicaciones Time + Tide, Fratello, Eye of Jewelry, Revolution, The Rake y Eric Ku, este proyecto especial presenta una subasta para recaudar fondos para la investigación, el tratamiento y una mayor conciencia sobre la enfermedad. Se contactó a fabricantes de relojes de alta gama, incluido Rado, para solicitar que se subastara una pieza singular y única en el evento de octubre, y la totalidad de las ganancias se donará a la caridad. La promoción del proyecto es un asunto multimedia amplio, en forma impresa, online y en las redes sociales, y brindará una excelente oportunidad para que las marcas globales favoritas muestren públicamente su solidaridad colectiva.
Rado se enorgullece de participar en esta subasta especial, ya que su propia conexión con la innovación y los ideales de coraje y determinación son atributos que han acompañado siempre a la marca. La dedicada e incansable investigación médica, los descubrimientos científicos y los viajes extremos a través de la agreste naturaleza comparten muchos fundamentos, nunca lejos de la auténtica y profunda valentía. Este exclusivo adorno rosa, creado en torno a nuestro modelo Captain Cook High-Tech Ceramic, es el reloj más poderoso e impresionante que se adapta a la solicitud de los organizadores. Estamos deseando que llegue la subasta, seguros de que será un éxito rotundo y positivo para apoyar esta noble causa.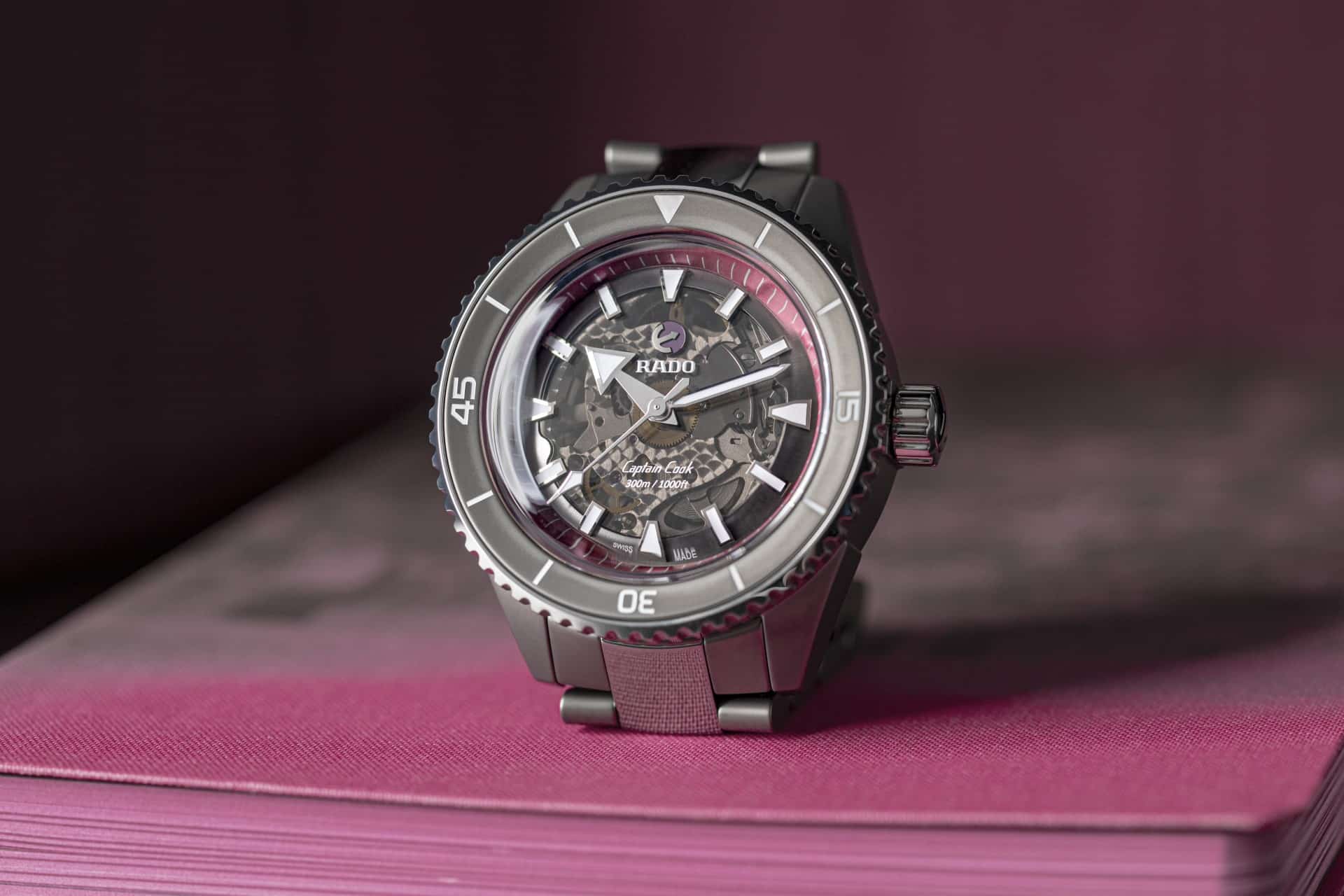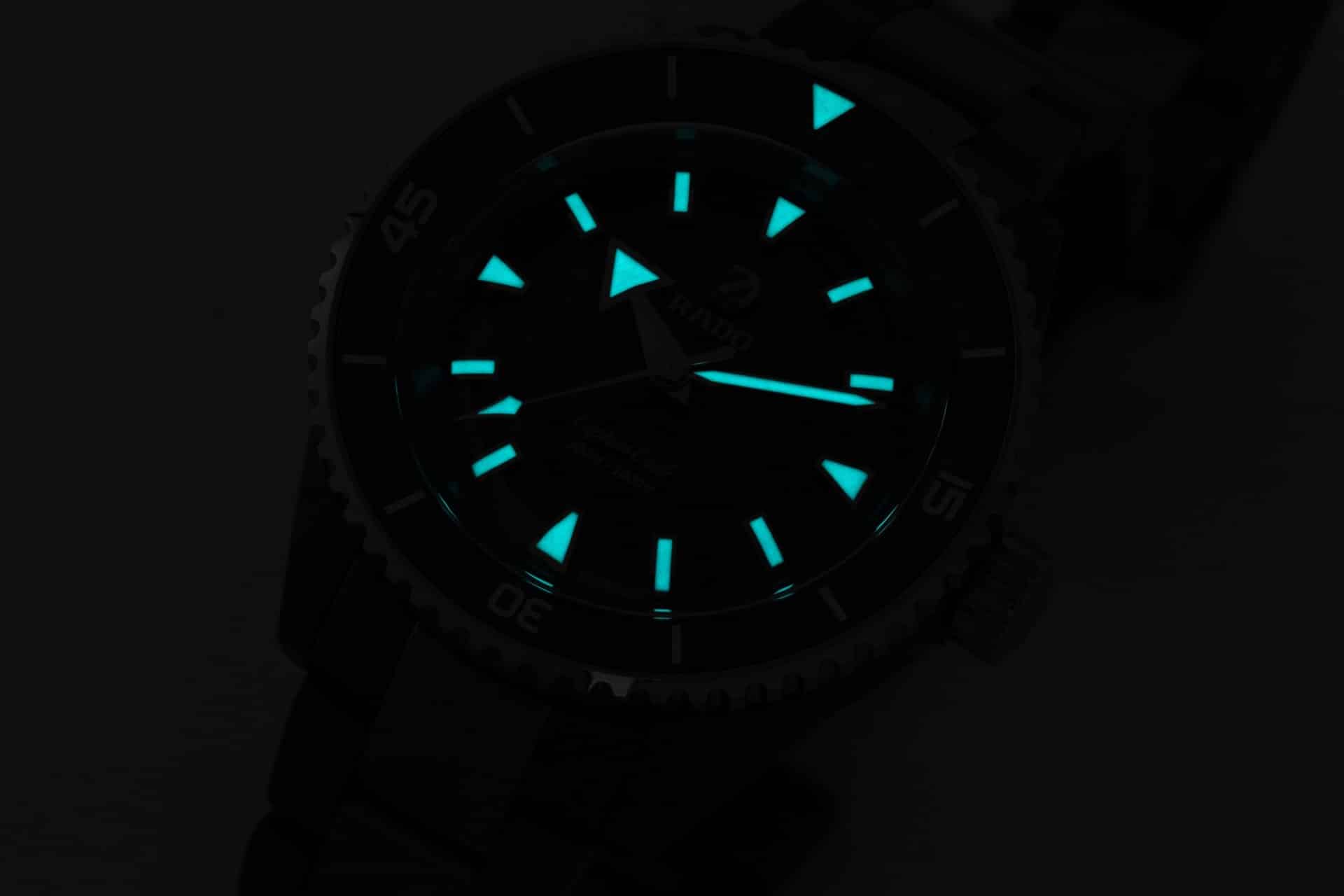 Diseño del Rado Captain Cook High-Tech Ceramic "The Pink Dial Project"
El modelo Captain Cook es uno de los relojes más emblemáticos de Rado. Tiene un diseño atrevido y expresivo, pero también está construido con las tecnologías más vanguardistas: una caja de cerámica de alta tecnología de plasma mate con construcción monobloque, un movimiento automático R734 con una reserva de marcha de 80 horas y espiral antimagnético Nivachron™, así como un brazalete de eslabones de cerámica de plasma en contraste mate/pulido, y un cierre triple de titanio con apertura Ceramos™.
Para el evento especial de recaudación de fondos "The Pink Dial Project", el reloj único que se subastará contará, dentro del bisel de acero inoxidable e inserto de cerámica de plasma mate, con un impresionante bisel interno rosa para honrar el color internacionalmente asociado con el cáncer de mama. A la perfección, el color complementa maravillosamente la placa posterior rubí y el tono rodio del símbolo del ancla móvil. Su fondo de caja también llevará una decoración especial, grabado con el logo «REVOLUTION» del organizador y la mención «UNIQUE PIECE» para asegurar que el evento y la causa benéfica serán recordados por mucho tiempo. Otras características, como el cristal de zafiro, abombado y con revestimiento antirreflejos por ambas caras, los índices aplicados y las agujas de color rodio, ambos tratados con Super-LumiNova® blanca, y la resistencia al agua hasta una presión de 30 bar (300 m), son idénticas a los de otros modelos de Captain Cook.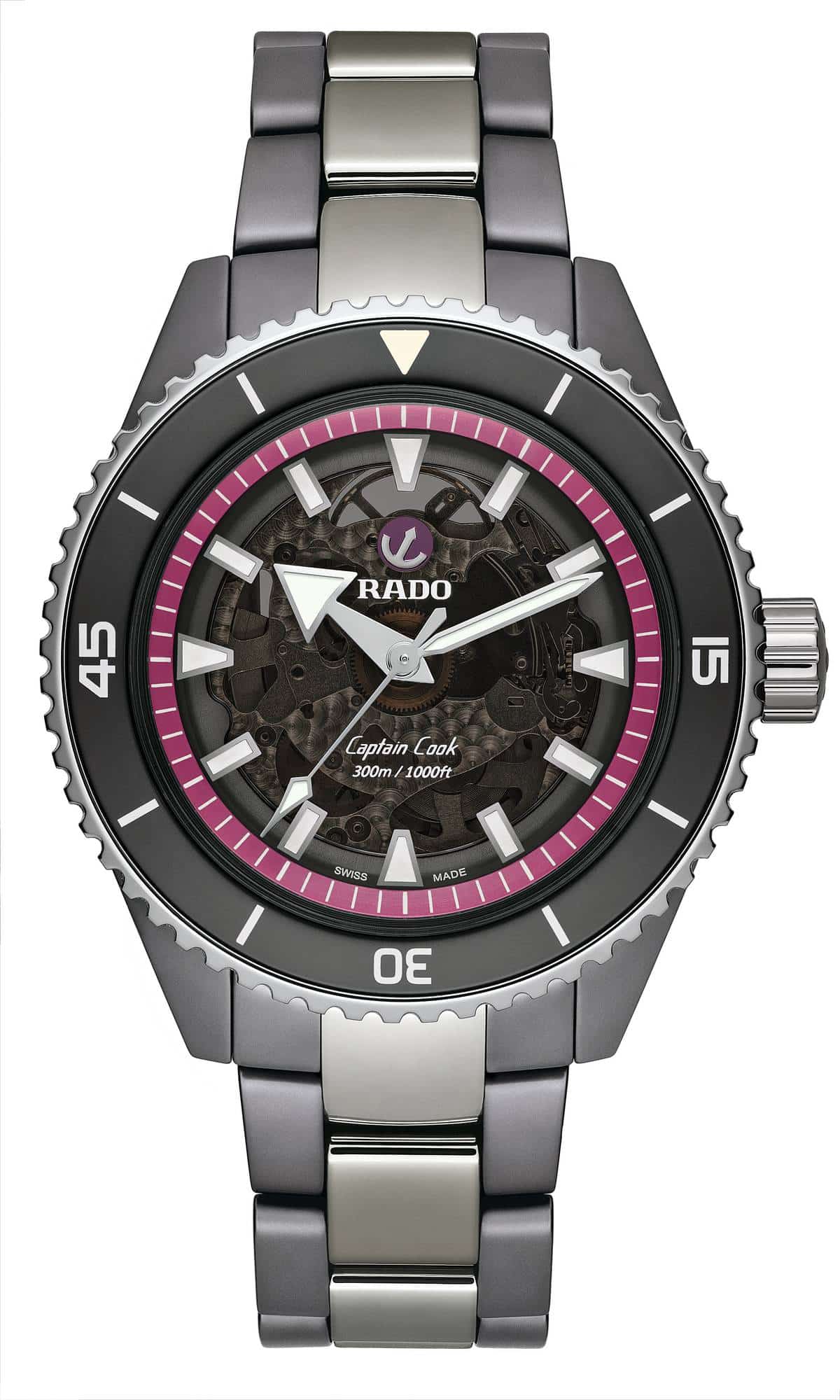 Datos técnicos del Rado Captain Cook High-Tech Ceramic Pink Dial Project ref. R32128102
Movimiento
Calibre Rado R734, automático, 25 joyas, 3 agujas, reserva de marcha de 80 horas, espiral antimagnético Nivachron ™, supera los requisitos de prueba estándar de 3 a 5 posiciones para una mayor precisión
Caja
Caja de cerámica de alta tecnología de plasma mate, construcción monobloque
Bisel de acero inoxidable endurecido con inserto de cerámica de alta tecnología de plasma mate, con números y marcadores lacados en blanco grabados, triángulo en blanco Super-LumiNova® Fondo circular de titanio cepillado con ventana de cristal de zafiro tintado en negro la mención grabada «UNIQUE PIECE» y el logotipo «REVOLUTION» del organizador
Corona atornillada de acero inoxidable pulido endurecido
Cristal de zafiro abombado con revestimiento antirreflejos por ambas caras
Resistente al agua hasta 30 bar (300 m)
Esfera
Cristal de zafiro teñido de gris oscuro y negro
Índices aplicados con tratamiento Super-LumiNova® blanca
Símbolo de ancla móvil de color rodio con placa posterior de rubí
Bisel interior rosa para subrayar el evento «The Pink Dial Project»
Logotipos de Rado y Captain Cook impresos en blanco
Manecillas
Color rodio con Super-LumiNova® blanca
Brazalete
Eslabones exteriores de cerámica de alta tecnología de plasma mate, con eslabones intermedios de cerámica de alta tecnología de plasma pulido
Cierre triple de titanio con apertura Ceramos™
Dimensiones
43,0 x 49,8 x 14,6 (ancho x largo x alto en mm)