Rado se suma a su serie de colaboración de diseño con una nueva aportación, esta vez realizada con el dúo de artistas de Nueva Delhi Thukral y Tagra. Presentamos el True Square «Over the Abyss»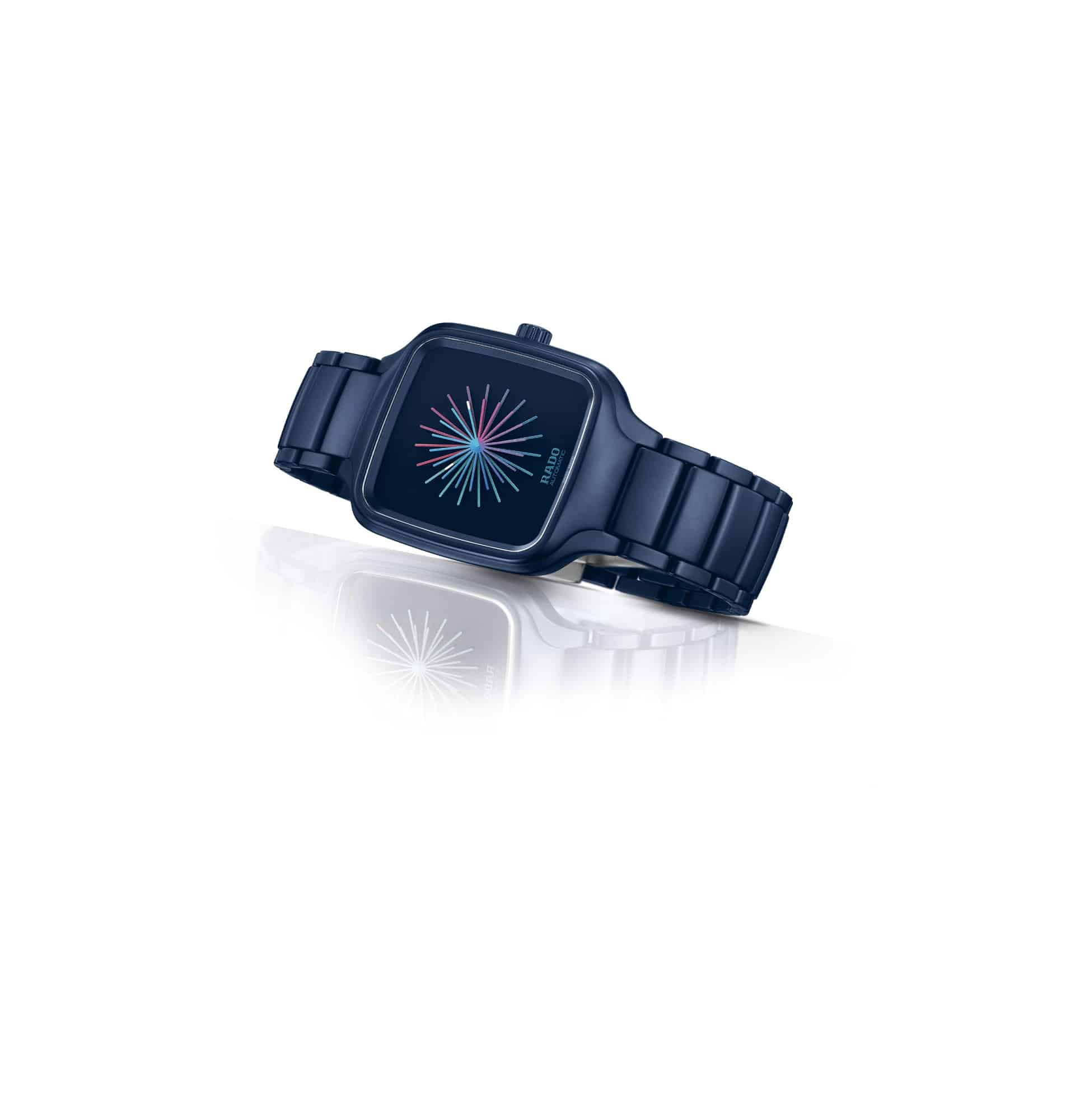 El trabajo de Jiten Thukral y Sumir Tagra se centra en algo que es intrínseco a los humanos pero que a veces se olvida en las sociedades modernas: la relación de los individuos con nuestras comunidades. Es por eso que su trabajo a menudo se describe como diseño social. Este dúo siempre intenta comprender su existencia, cuestionando el status quo, nombrando así su trabajo: Over the abyss.
El dúo indio se centró en el diseño social para crear, junto con el maestro de materiales, un reloj con una visualización única de la hora, que superpone la hora local del usuario a varias zonas horarias del mundo. Estas diferentes zonas horarias están simbolizadas por 37 manecillas que están pintadas en una gradación de colores que van del azul al rosa, y que parecen encantadores fuegos artificiales en el medio de la esfera. Dos puntos de SuperLuminova discretos pero poderosos indican la hora local.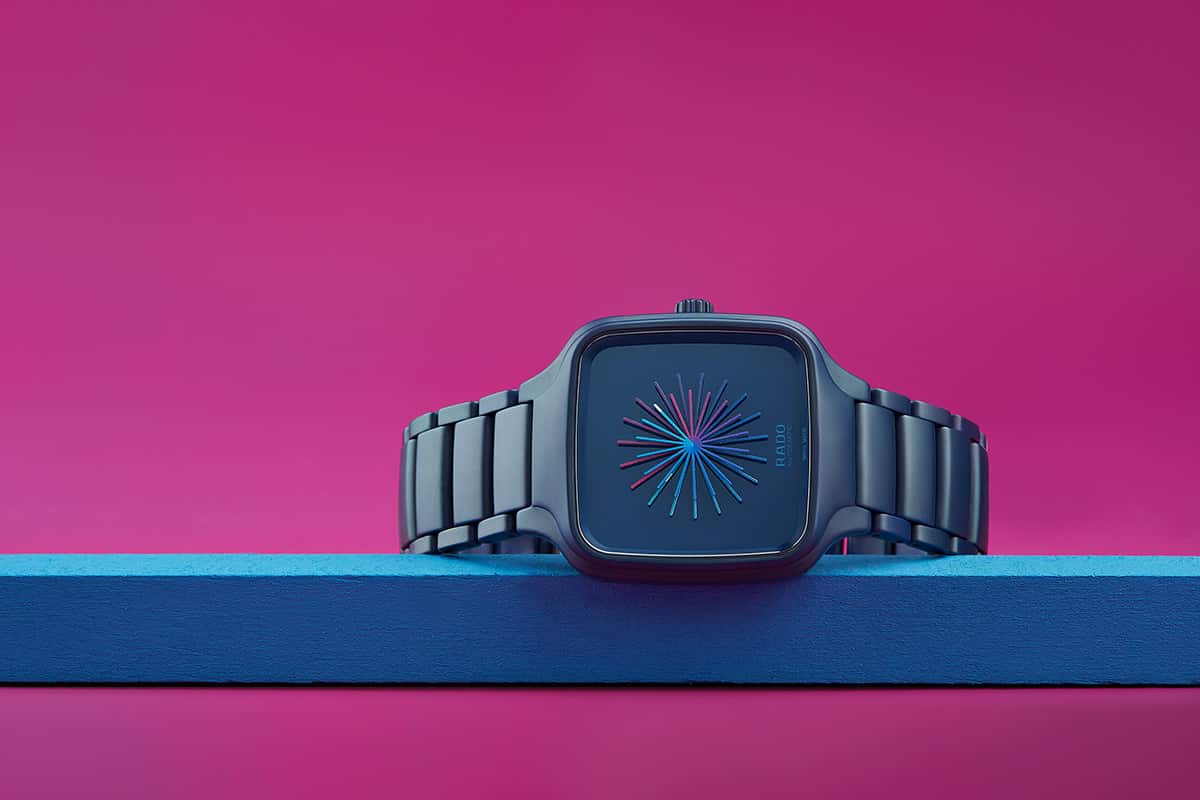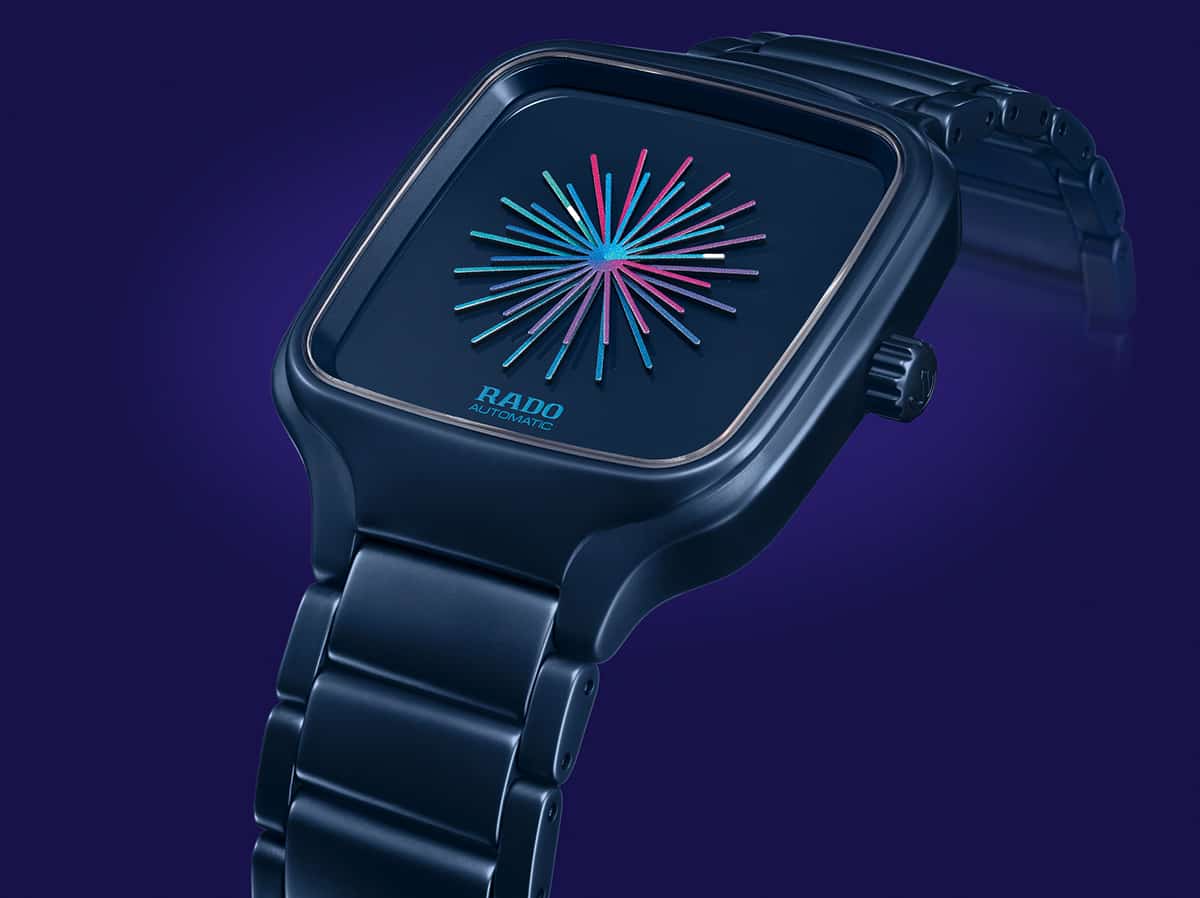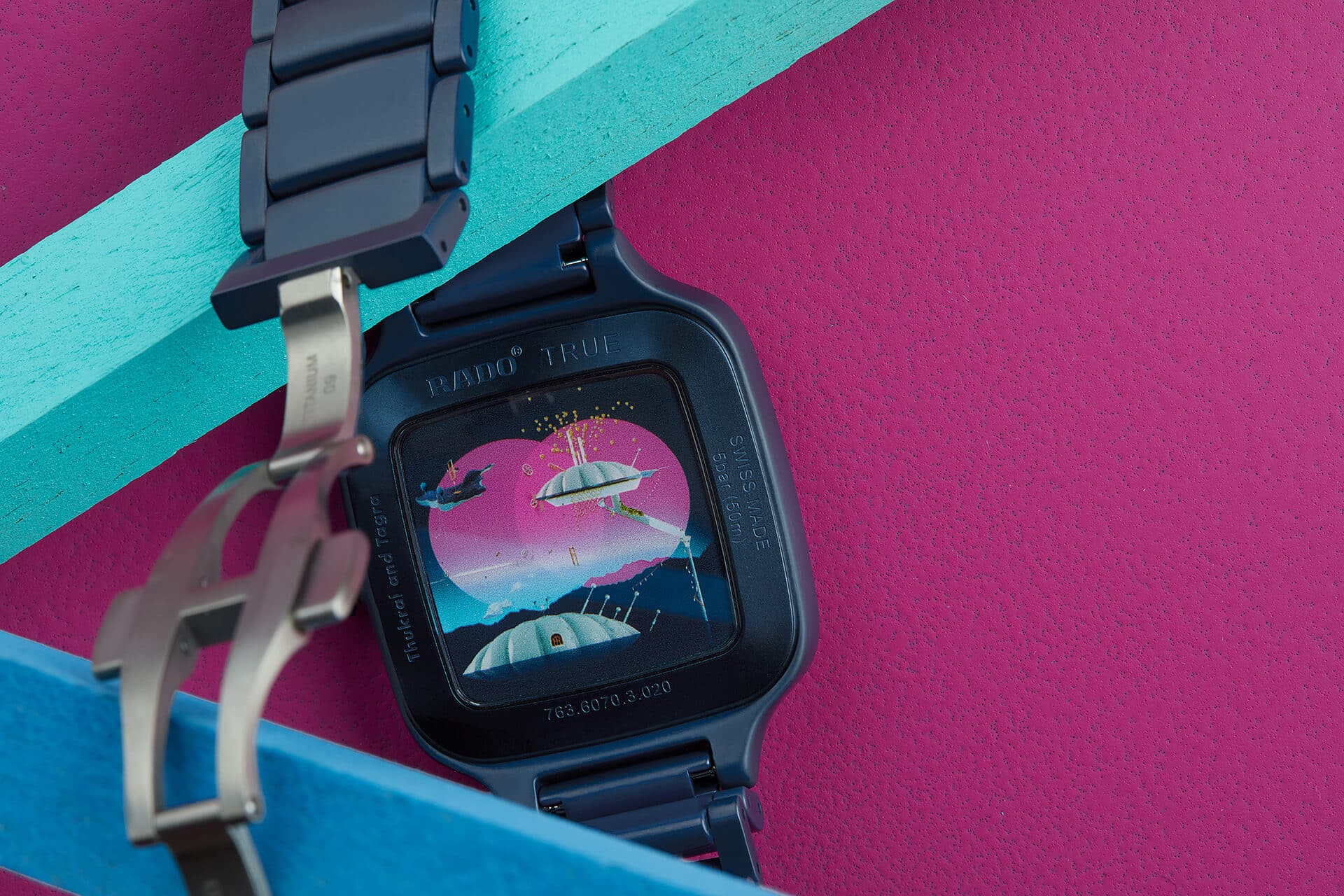 La cautivadora esfera, con toques de color, está encapsulada por una caja de cerámica de alta tecnología en color azul mate, de 38 mm y forma cuadrada con esquinas suavemente redondeadas, un homenaje a la forma icónica de los Rado de los años 70 y actualizada para el siglo XXI. El fondo de la caja presenta una pintura del dúo, llamada Dominus Aeries, que explora visiones del futuro con referencias del pasado. Por lo tanto, tanto el anverso como el reverso son hermosas expresiones artísticas de Thukral y Tagra.
Con el True Square Over the Abyss, Rado, Thukral y Tagra tienen como objetivo conectar a las personas a través de un reloj que es universal, único y, por supuesto, suave, cómodo y duradero, como siempre ocurre con la marca suiza de Lengnau. El precio del Rado True Square Over the Abyss es de 2.770 euros.
Especificaciones técnicas del Rado True Square «Over the Abyss»
Referencia: R27070202
Movimiento: Calibre Rado R763, automático, 25 joyas, 2 agujas en forma de estrella, reserva de marcha de 80 horas
Caja: Caja de cerámica azul mate de alta tecnología, construcción monobloque
Corona: de cerámica azul mate de alta tecnología
Cristal: de zafiro plano con revestimiento antirreflejos en ambas caras
Fondo de caja: de titanio recubierto de PVD azul con dibujo digital impreso sobre inserto de cristal de zafiro con grabado especial: THUKRAL Y TAGRA
Resistente al agua: hasta 5 bar (50 m)
Esfera: laca azul
Borde azul con logotipo Swiss Made impreso en azul claro
Logotipos de Rado y Automatic impresos en azul claro
Agujas: Degradado multicolor, de azul a rosa
En forma de estrella con manecillas de 18 horas y manecillas de 19 minutos
Indicador blanco de Super-LumiNova® en la manecilla de minutos y horas
Brazalete: Titanio cerámico de alta tecnología azul mate. Cierre triple
Dimensiones: 38,0 x 44,2 x 9,9 (ancho x largo x alto en mm)