Espectacular y asombrosamente completo, este Freak S está inspirado en el espacio, con sus osciladores gemelos tipo OVNI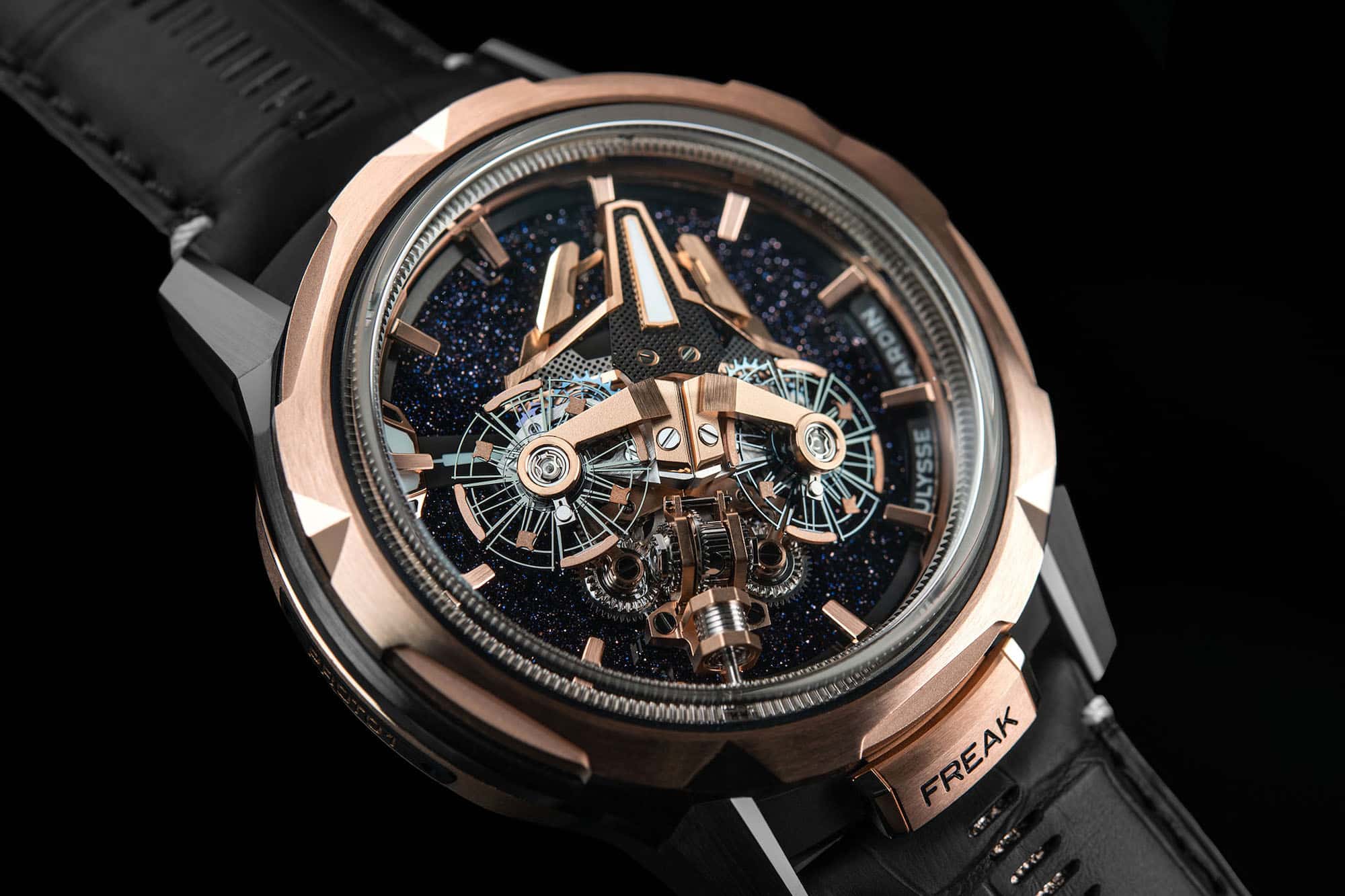 El lanzamiento del Ulysse Nardin Freak en 2001 impresionó al mundo de los relojes. Esta disruptiva obra maestra de vanguardia rompió todos los convencionalismos y fue pionera en el uso del silicio en esta industria. Durante los últimos 20 años este modelo ha evolucionado en diferentes direcciones, pero este auténtico OVNI relojero siempre ha seguido el mismo principio rector de ser un laboratorio en la muñeca. Presentado con motivo del Watches and Wonders 2022, el Ulysse Nardin Freak S es en gran medida un descendiente del Freak. Sin embargo, el nuevo reloj presentado adentra aún más a este modelo en la relojería tridimensional de la era espacial, con su diseño de nave estelar y sus dos asombrosos osciladores inclinados, que recuerdan a turbohélices.
Durante los últimos 20 años, el Ulysse Nardin Freak ha sido un extraordinario laboratorio de experimentación e innovación para la marca, dando lugar a innumerables desarrollos. Varios de los innovadores escapes y osciladores de Ulysse Nardin nacieron dentro del Freak, como el extravagante InnoVision 2. Presentado con motivo del Watches and Wonders 2022, el nuevo Freak S integra, no uno, sino dos reguladores, ¡y muchas más mágicas técnicas aún por explorar!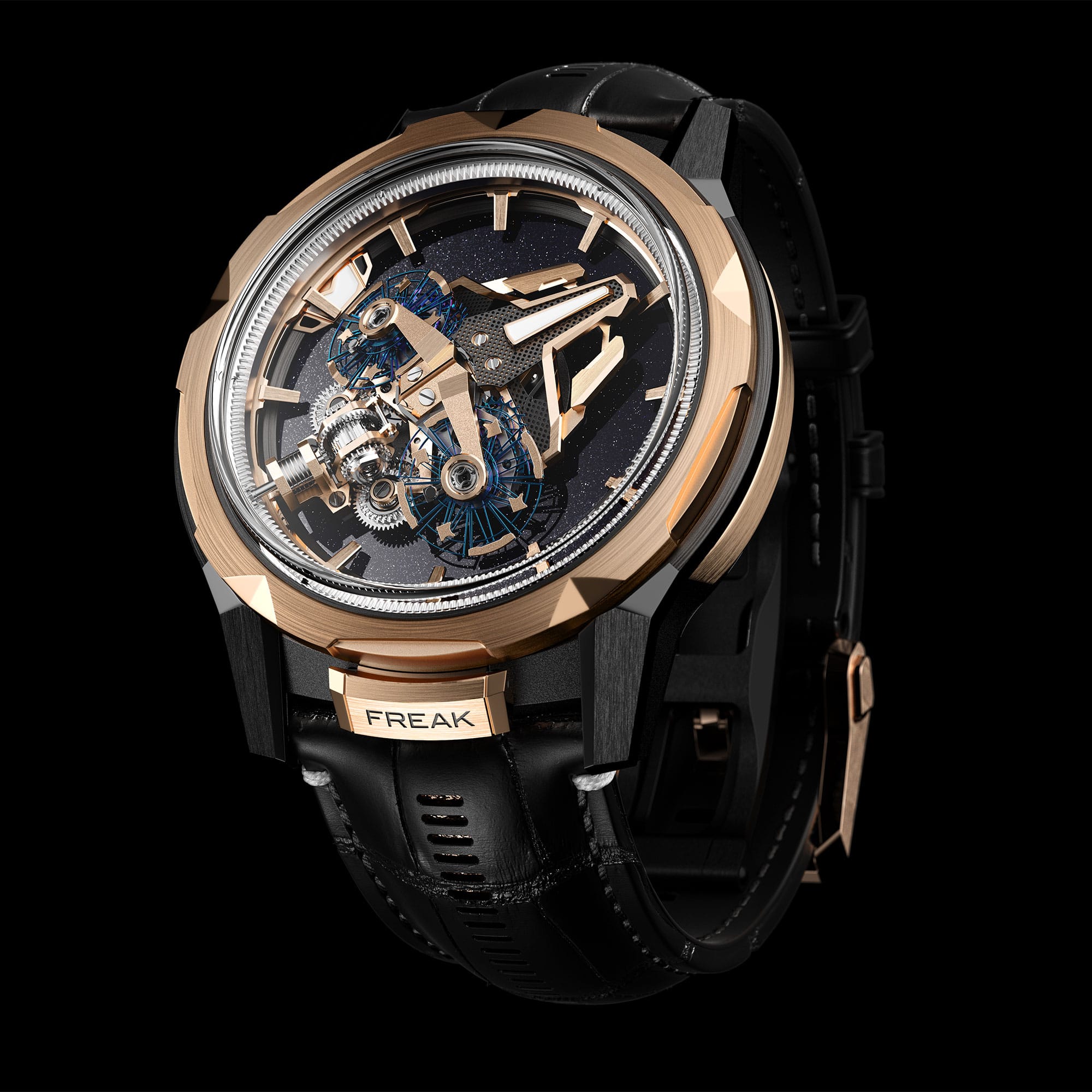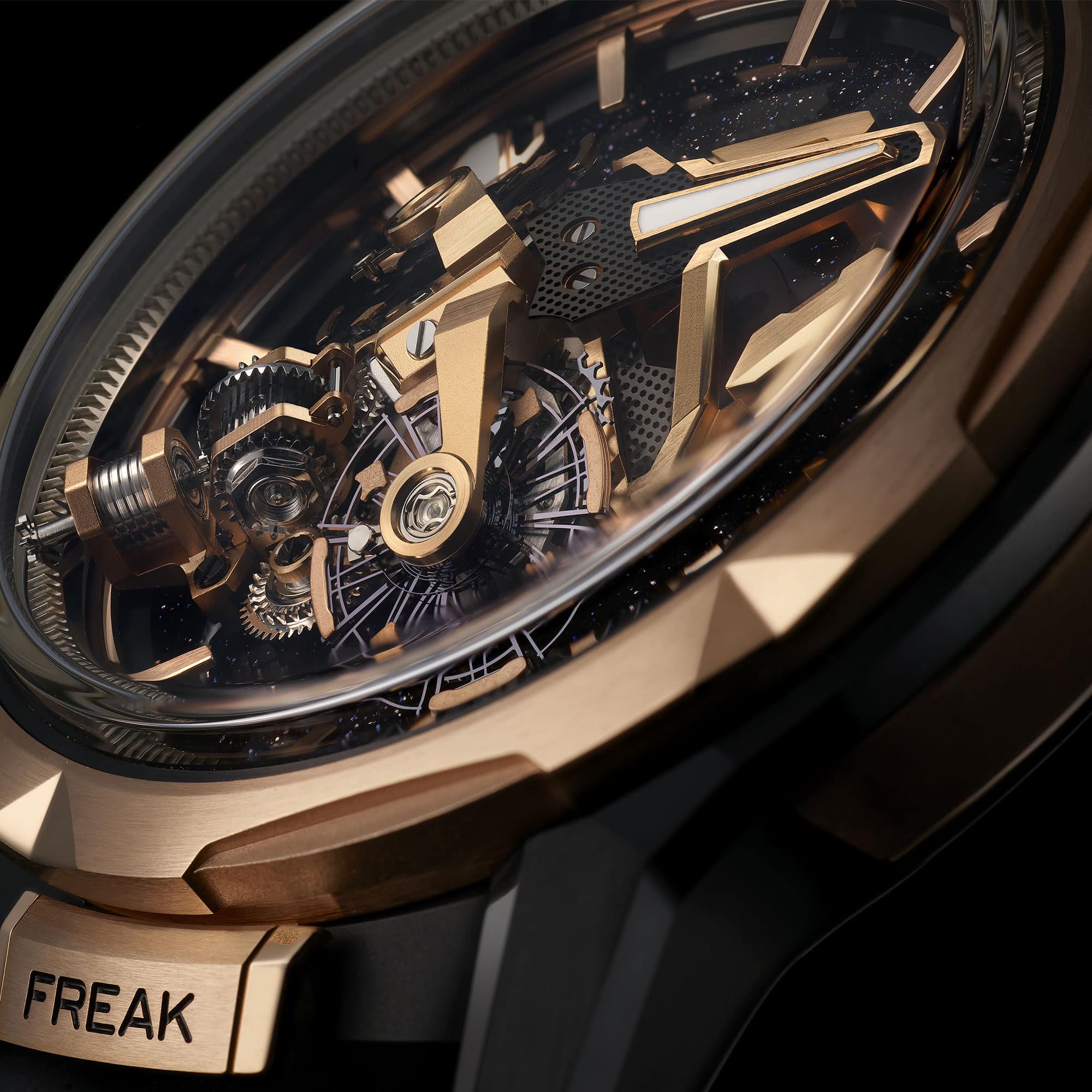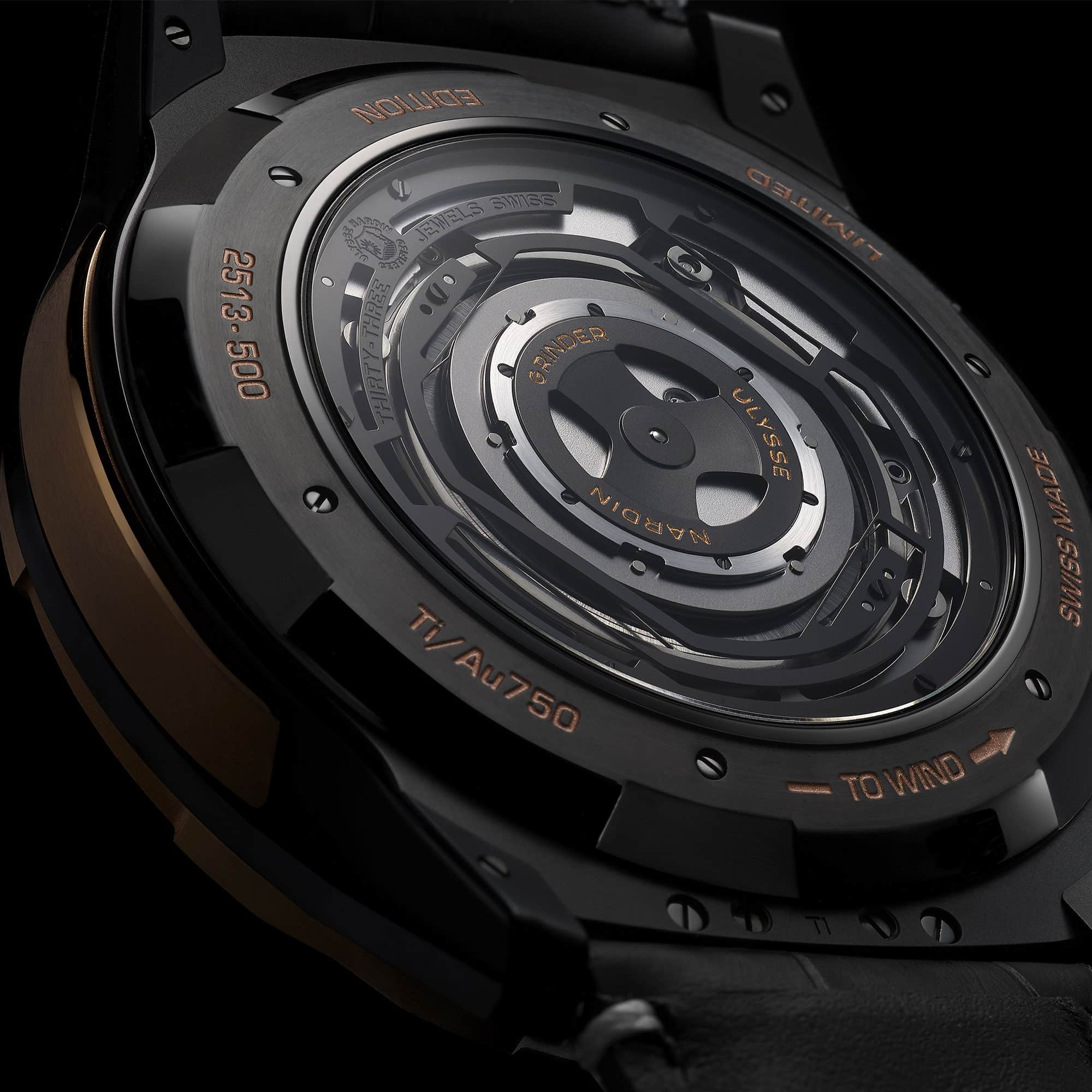 El calibre automático UN-251 presenta dos osciladores inclinados a 20° y colocados en planos distintos. Éstos están integrados en el característico movimiento de carrusel del Freak y se mantienen en su lugar mediante puentes dorados. Se utiliza un espectacular y completo mecanismo diferencial para regular los ritmos respectivos de cada oscilador. Gracias a este sofisticado engranaje, cada regulador compensa los errores del otro.
Los dos grandes volantes de silicio funcionan a 2,5 Hz (o 18.000 alternancias/hora) y la reserva de marcha del movimiento es de 72 horas. La carga automática está garantizada por la tecnología grinder de Ulysse Nardin, vista por primera vez en el reloj conceptual InnoVision 2. El puntero luminiscente que gira en la periferia de la esfera indica las horas. Dando una vuelta completa sobre sí mismo en una hora, el cohete que anclado a los volantes indica los minutos con su morro. Por el contrario, el mecanismo diferencial engrana con la corona fija en la periferia del movimiento para impulsar la rotación.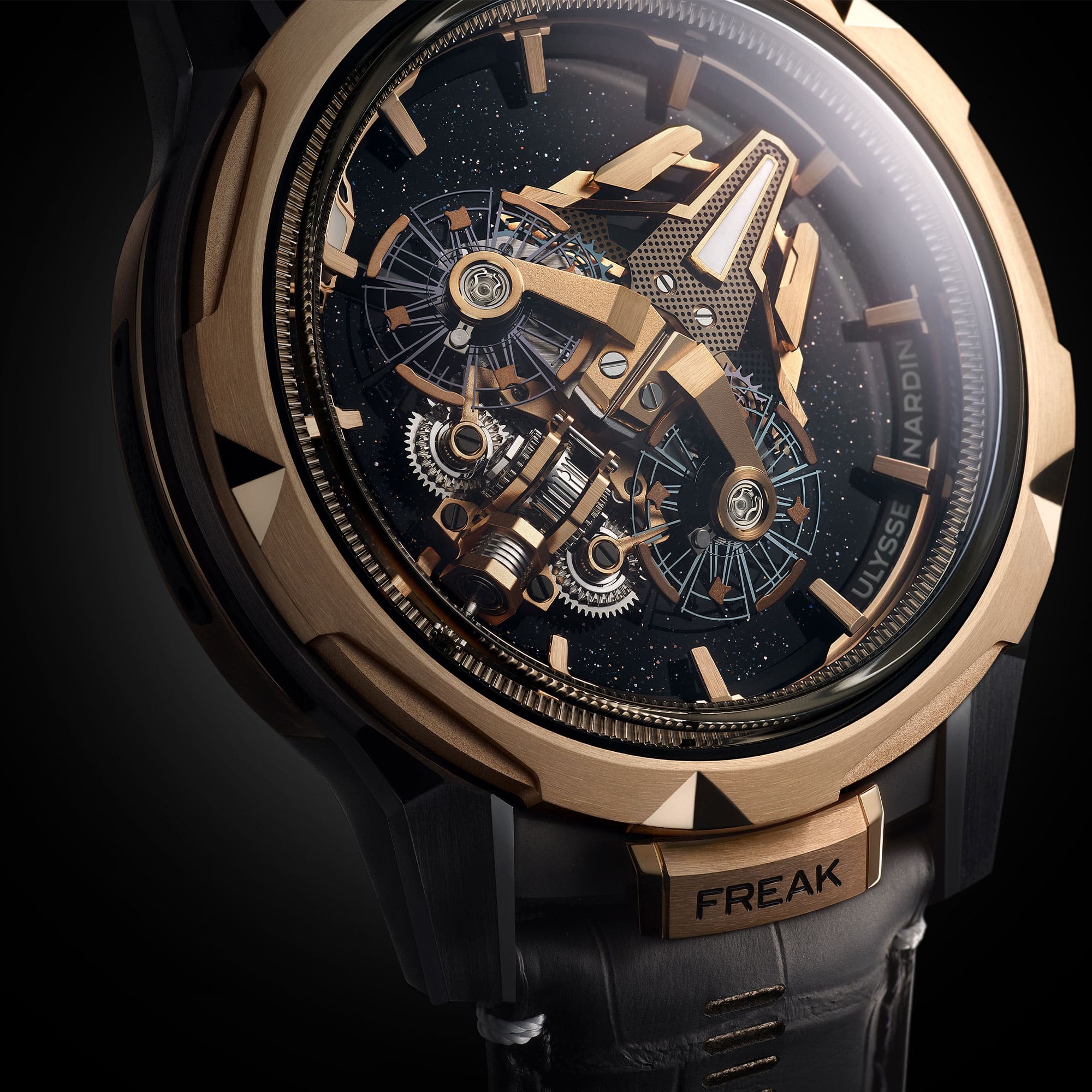 Un conjunto para viajes cósmicos
Como siempre, el mecanismo único del Freak ofrece un estilo audaz y distintivo. La evolución del diseño es evidente en el Freak S, y el reloj parece estar listo para un viaje cósmico. La parte central del movimiento tiene la forma de una nave espacial, con sus volantes gemelos de silicona, que dan la impresión de ser turbopropulsores. La placa decorativa del movimiento está hecha de aventurina para crear un fondo de cielo estrellado.
El Ulysse Nardin Freak S también presenta una nueva caja. La marca menciona que se inspiró en el diseño de 2001. No monta una corona tradicional como tal, sino que es el bisel lo que se utiliza para ajustar la hora, siendo la parte posterior la se utiliza para dar cuerda. Con 45 mm de diámetro, su compleja arquitectura combina diferentes materiales, como cerámica, titanio y oro. Dando la vuelta al reloj, el fondo transparente permite descubrir el mecanismo de cuerda automática Grinder. La resistencia al agua es de 30 metros.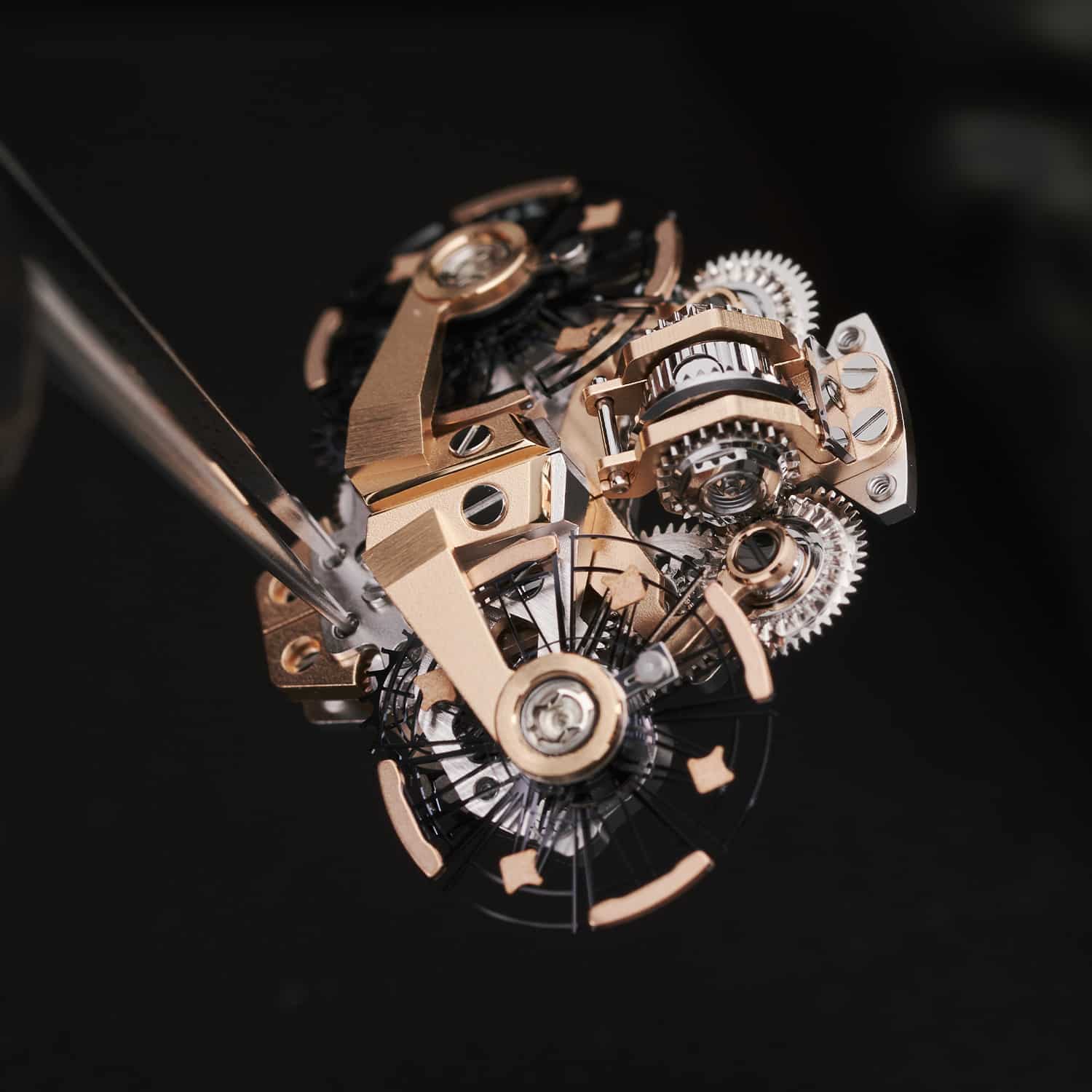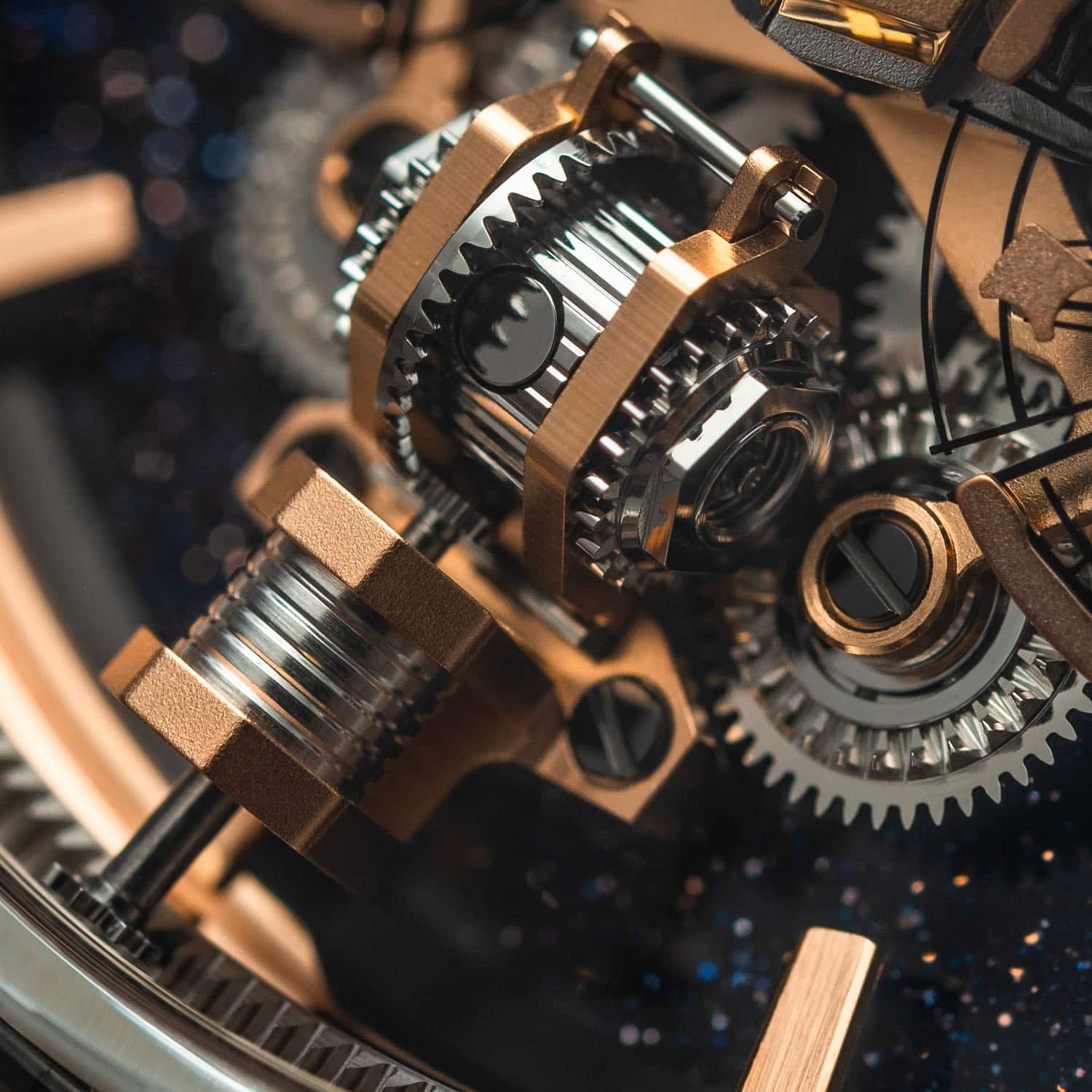 Tecnología de silicio
En 2001, el Freak fue pionero en el uso del silicio en la relojería. La investigación de la marca en el uso innovador de nuevas tecnologías y materiales abrió posibilidades sorprendentes. En 2006, junto con Mimotec, Ulysse Nardin creó Sigatec, una empresa especializada en tecnologías DRIE y LIGA para la fabricación de piezas. Dos décadas después, el Freak todavía utiliza las propiedades de este material para los grandes volantes y el escape, en particular la tecnología DiamondSIL (silicio cubierto con diamante sintético), que se vio por primera vez en Ulysse Nardin en 2007.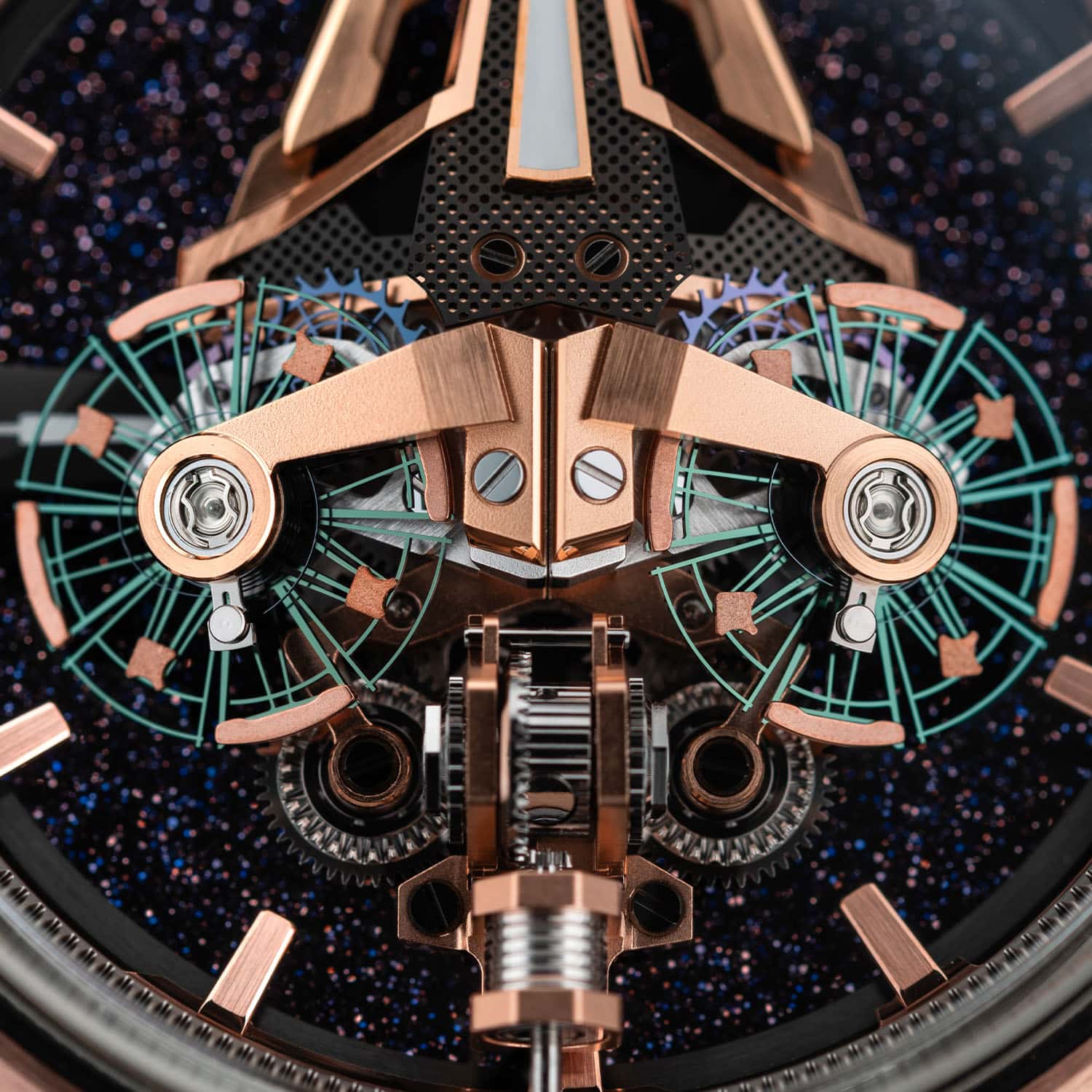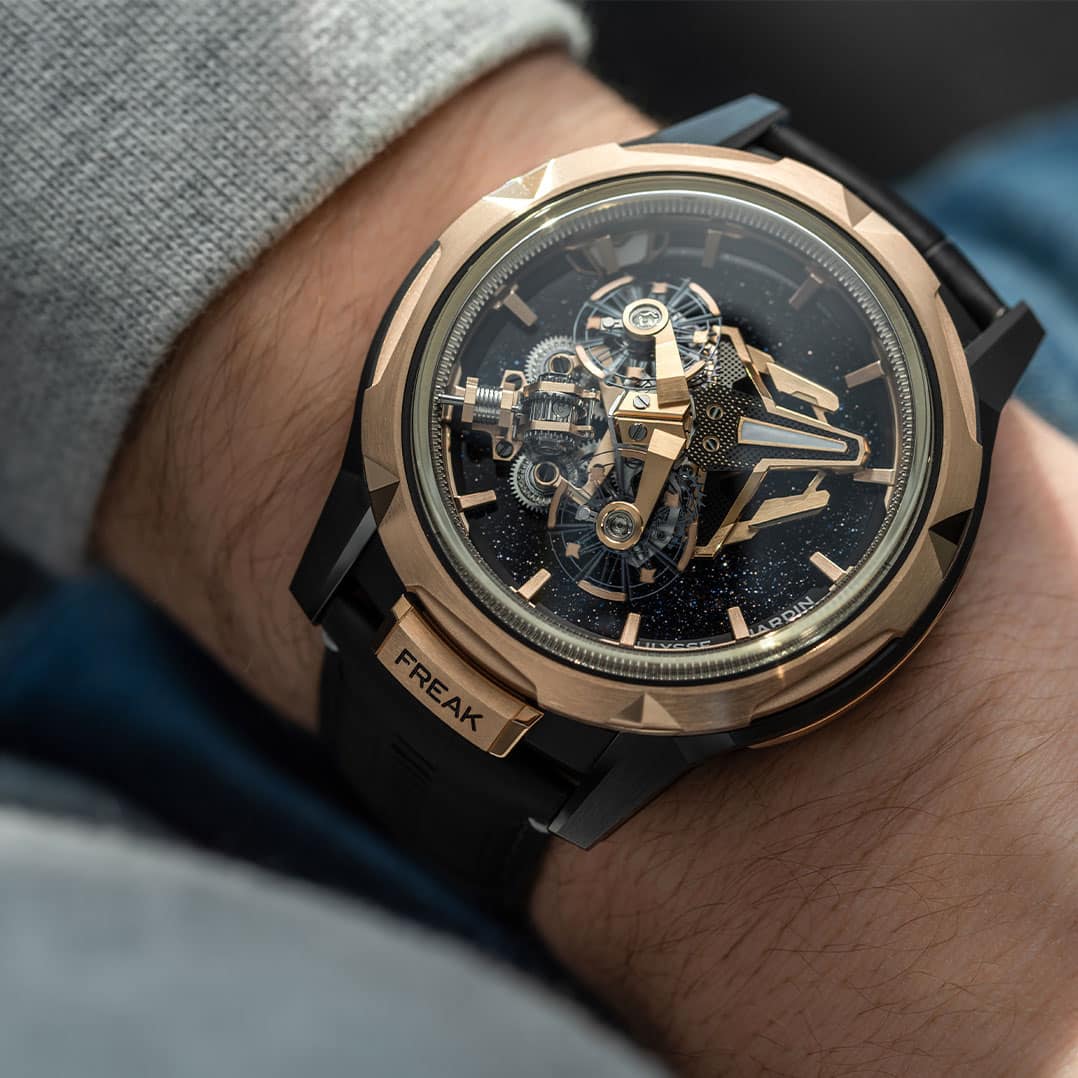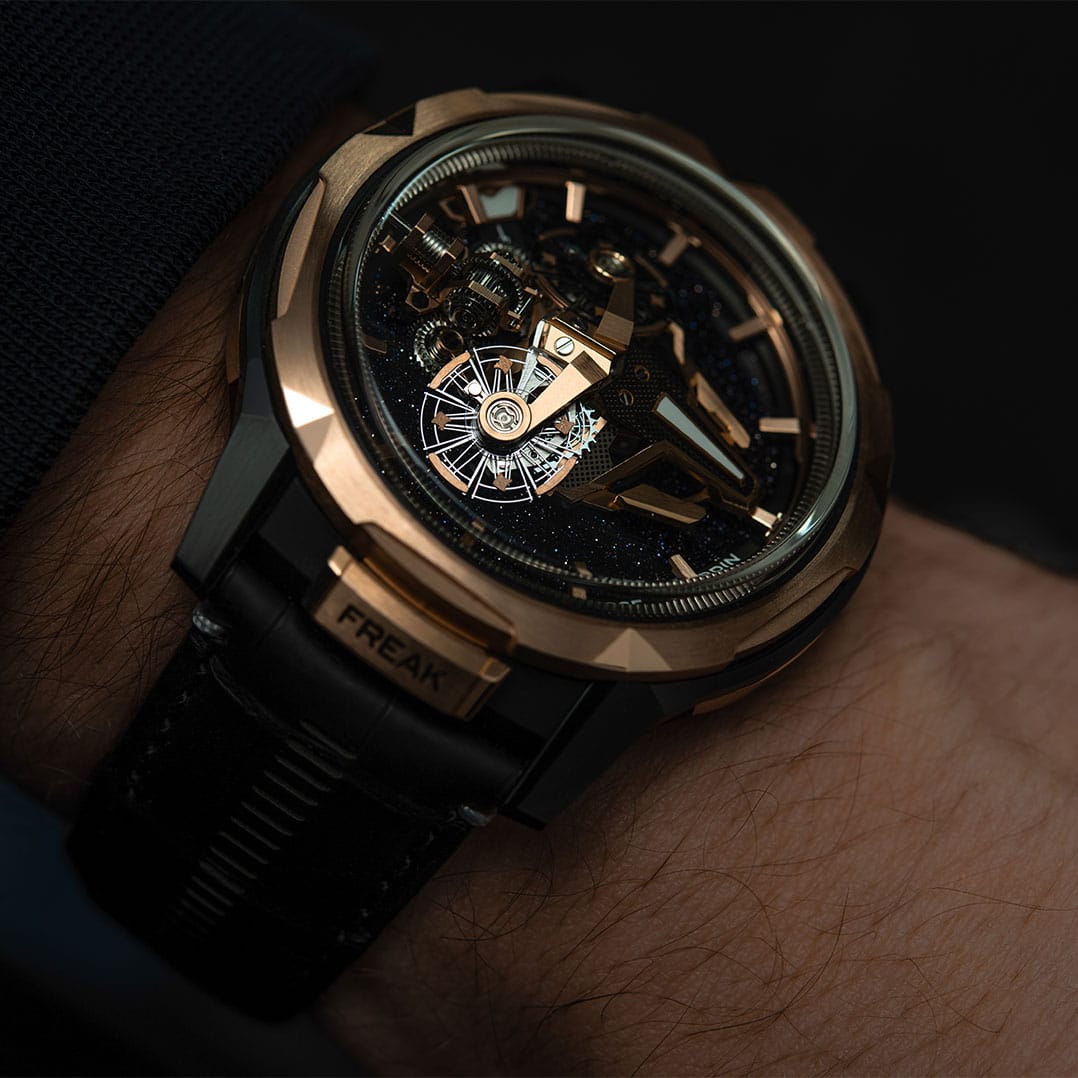 Disponibilidad y precio
El Ulysse Nardin Freak S se lleva con una correa bimaterial de piel de aligátor negra y piel de becerro dorada con un cierre desplegable de titanio DLC negro. Gracias a un nuevo sistema patentado de triple plegado que funciona de forma sincronizada (SYNC), el cierre se abre con un solo clic. El Ulysse Nardin Freak S se lanza en una edición limitada de 75 piezas. Sólo 40 de éstas se producirán en 2022. El precio está fijado en 123.500 euros.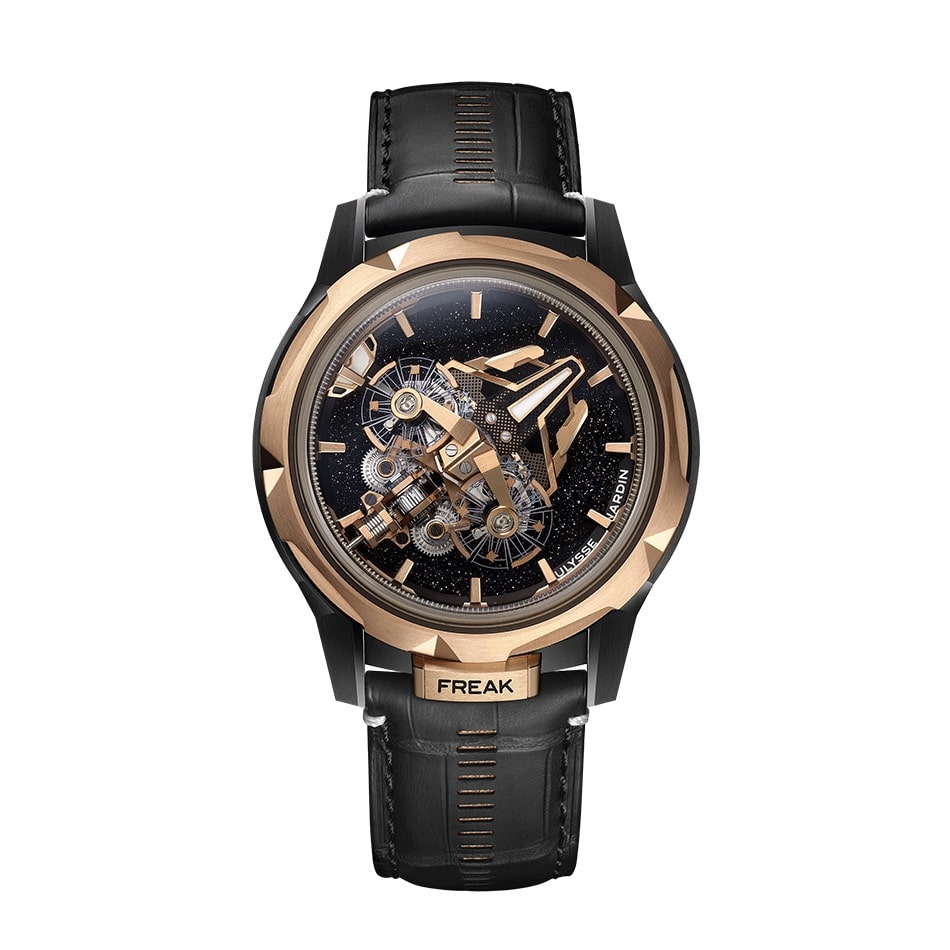 Características técnicas del Ulysse Nardin Freak S
Caja: 45 mm de diámetro – Cerámica negra, titanio con revestimiento DLC negro, oro rosa 5N – Cristal de zafiro abombado con tratamiento antirreflejos en ambas caras – Fondo de caja de titanio con recubrimiento DLC negro, 6 tornillos, mecanismo de cuerda Grinder visible a través del fondo de caja de zafiro – resistente al agua hasta 30 m
Esfera: placa de movimiento decorativa en cristal de aventurina negra
Movimiento: Calibre UN-251, de fabricación propia – Grinder de cuerda automática con cuchillas, guía flexible y amortiguador – doble balanceo batiendo a 18.000 alternancias/hora – Reserva de marcha de 72 horas – Horas y minutos indicados por la rotación del movimiento del carrusel – volante doble inclinado extragrande de silicio con bloques de inercia
Correa: correa de piel de aligátor decorada con un corte en color oro rosa – cierre desplegable de titanio DLC negro
Referencia: 2513-500LE-2A-BLACK-5N/1A
Disponibilidad: edición limitada de 75 piezas
40 piezas para 2022
Precio: 123.500 euros