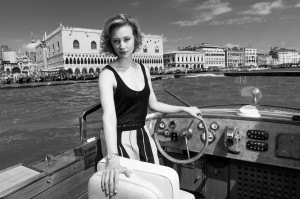 Comprometida desde hace diez años con la preservación y la valorización del séptimo arte, disciplina íntimamente ligada al oficio relojero por el ingenio y la maestría artística y técnica que dominan a la perfección los artesanos y cineastas, Jaeger-LeCoultre está hoy intrínsecamente vinculada con los mejores festivales de cine del mundo. Fiel patrocinadora del Festival de Cine de Venecia, la célebre Manufactura de Alta Relojería participará activamente en todos los momentos centrales de este acontecimiento del 27 de agosto al 6 de septiembre de 2014.
Emblemas de virtuosismo, Venecia y su laguna no cesan de seducir a la célebre marca relojera suiza. Jaeger-LeCoultre ha deseado reforzar sus vínculos con la ciudad de los Dogos a través de nuevas donaciones destinadas a valorizar un lugar único dedicado al arte. La Marca lanza un programa de restauración de tres años de un monumento histórico muy preciado por los venecianos: la Scuola Grande di San Rocco, una cofradía única por las hermosas e inestimables obras del pintor Tintoretto.
Como Venecia rima con pericia, Jaeger-LeCoultre presentará, en el 71° Festival Internacional de Cine de Venecia, su nueva colección Hybris Artistica, compuesta por doce relojes preciosos y exclusivos, símbolos de la excelencia relojera de la Manufactura suiza del Valle de Joux.
En el Festival Internacional de Venecia, Jaeger-LeCoultre tiene el placer de rendir homenaje al ingenio creativo de los cineastas entregando el premio Glory to the Filmmaker. Cada año, la recompensa se atribuye a un personaje que haya "contribuido plenamente al desarrollo del cine contemporáneo" durante una ceremonia especial organizada por la bienal de Venecia. Entre las personalidades que fueron galardonadas con este premio en el pasado podemos mencionar, nada más y nada menos, que a Ettore Scola en 2013, Spike Lee en 2012, Al Pacino en 2011, el director indio Mani Ratnam en 2010, Sylvester Stallone en 2009, Agnès Varda y Abbas Kiarostami en 2008 y Takeshi Kitano en 2007.
Durante la celebración del 71° Festival Internacional de Cine de Venecia la marca suiza de Alta Relojería también renovará su compromiso con la ONG Emergency. Desde hace veinte años, esta asociación humanitaria asegura un tratamiento médico de emergencia a las víctimas civiles de la guerra. Cada año, desde hace tres años, Jaeger-LeCoultre brinda apoyo a esta importante institución gracias a un evento especial organizado durante el festival junto con la ayuda de los amigos de la marca. El jueves 28 de agosto se llevará a cabo una alfombra roja inédita con un reloj Jaeger-LeCoultre grabado especialmente para esta asociación humanitaria.
Durante la ceremonia de clausura y entrega de premios, Jaeger-LeCoultre ofrecerá su reloj emblemático Reverso a los premiados por la mejor película (el León de Oro), la mejor actriz y el mejor actor. Los tres relojes, personalizados y decorados con un grabado lacado que representa un león –símbolo de Venecia–, serán realizados a mano según la tradición y llevarán la inscripción "71. Mostra".