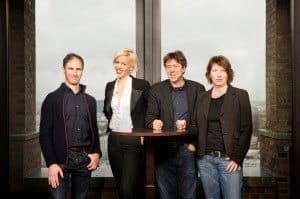 64 Festival Internacional de Cine de Berlín – Del 6 al 16 de febrero de 2013
La manufactura relojera Glashütte Original amplía hasta 2016 su asociación con la Berlinale, y mantiene su apoyo a un joven y talentoso director de la Sección Perspektive Deutsches Kino, con "Made in Germany – Perspektive Fellowship". La beca, concebida para el desarrollo de un proyecto, su material y guión, está financiada por Glashütte Original, por un total de 15.000 euros. "Estamos encantados de poder otorgar, por tercera vez, el premio 'Made in Germany – Perspektive Fellowship', que es a la vez un incentivo y un signo de apreciación," comenta el Director del Festival, Dieter Kosslick.
La Berlinale y Glashütte Original entregarán la beca a las 11:00 de la mañana del 14 de enero de 2014. En esta ocasión, la prensa podrá conversar con el nuevo premiado; los ganadores anteriores, Annekatrin Hendel y Jan Speckenbach, también estarán disponibles para comentar el estado de sus proyectos. La ceremonia de entrega y la charla con la prensa marcarán el inicio de las proyecciones para la prensa del Perspektive Deutsches Kino.
Un nuevo jurado para el "Made in Germany – Perspektive Fellowship"
Basándose en las adaptaciones que podían entregar, hasta el 1 de octubre, los directores de Perspektive de 2013, un jurado de tres miembros seleccionará al ganador de la beca de 15.000 euros. En 2014, los miembros del jurado serán Katja Eichinger, Frieder Schlaich y Andres Veiel. "Considero que es maravilloso que, cada año, haya gente de la industria cinematográfica que se entusiasme por la beca y muestre su interés en los proyectos de cineastas prometedores," apunta Linda Söffker, directora de la sección Perspektive Deutsches Kino, sobre el compromiso del jurado.
Katja Eichinger
Tras completar su bachillerato, la autora y productora Katja Eichinger se mudó a Inglaterra y estudió en el British Film Institute. Trabajó como periodista de cine para muchas revistas, incluyendo "Variety", "Esquire", "Vogue" y "Dazed & Confused". En 2006, se casó con el productor Bernd Eichinger, que falleció en 2011. El año pasado, publicó una biografía sobre su marido. Vive entre Múnich y Los Ángeles y, actualmente, produce la nueva película de Werner Herzog, Vernon God Little.
Frieder Schlaich
Bajo el nombre FILMGALERIE 451, el productor y director Frieder Schlaich ha dirigido una productora cinematográfica, un sello de DVD y una empresa de distribución de películas con Irene von Alberti, desde 1992. Las primeras películas de Schlaich, Paul Bowles – Halbmond (Medialuna, 1995) y Otomo (1999), recibieron numerosos premios. Su última obra, Weil ich schöner bin (Cause I Have the Looks, 2012), una película sobre política para jóvenes adultos, recibió el premio "Bronze Horse" a la mejor película en el Festival Internacional de Cine de Estocolmo, en abril de 2013. Desde 2005, FILMGALERIE 451 ha presentado, al menos, una producción en diferentes secciones de la Berlinale.
Andres Veiel
Andres Veiel es uno de los directores de mayor prestigio de Alemania. Ha trabajado en proyectos que, en su mayoría, se sitúan entre la realidad y la ficción. Para sus películas Winternachtstraum (1991), Balagan (1993), Die Überlebenden (Los Supervivientes, 1996), Black Box BRD (2001), Die Spielwütigen (Pasión por Actuar, 2004), Der Kick (La Patada, 2006) y Wer wenn nicht wir (Si no nosotros, ¿quién?, 2011), ha ganado más de 40 premios, incluyendo un premio European Film Award y varios premios German Film Awards. Desde 2005, Andres Veiel enseña una clase magistral sobre documentales en la Academia Alemana de Cine y Televisión (dffb). De ella han emergido películas como Drifter, de Sebastian Heidinger (Vagabundo, Perspektive 2008, ganador del "FGYO-Award Dialogue en perspective") y Einzelkämpfer de Sandra Kaudelka (No voy a perder, Perspektive 2013).