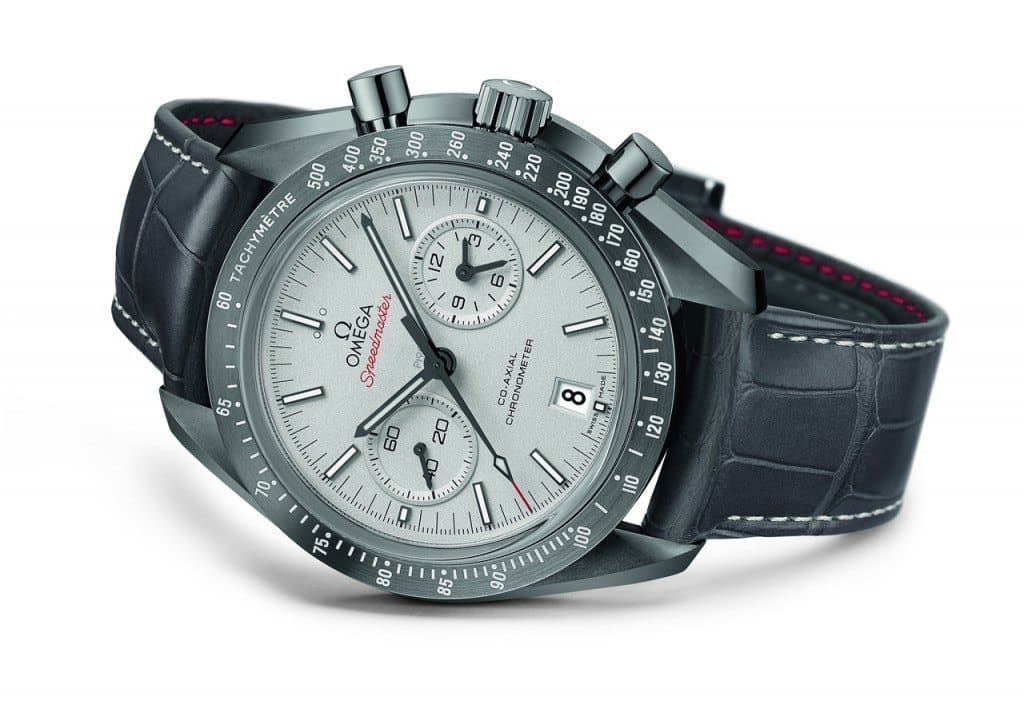 Los materiales utilizados en este reloj, cerámica pura y platino, realzan su vanguardista imagen
OMEGA se enorgullece de presentar el nuevo Speedmaster "Grey Side of the Moon", un impresionante reloj de cerámica sólida creado utilizando un proceso particularmente innovador. Si bien este nuevo reloj gris tiene un aspecto muy similar al de su compañero, el "Dark Side of the Moon", cuenta con numerosos elementos de diseño que le diferencian de cualquier otro reloj de la marca que se haya presentado antes.
Inspirado en el polvo lunar capturado por las huellas humanas del primer y último paso sobre la Luna, este modelo está creado en cerámica blanca, que se transforma paso a paso hasta convertirse en cerámica gris metálico. Esta transformación se realiza en un horno de plasma a alta temperatura.
El material blanco de la caja se somete a unos inimaginables 20.000 grados Celsius durante tres horas en una cámara de calentamiento de plasma que contiene diferentes gases. Este proceso provoca que la cerámica blanca se convierta en gris.
La caja, la parte trasera de la misma, el bisel, la corona, los pulsadores y el cierre de este reloj de 42,25 mm están creados del mismo material cerámico. En la parte trasera de la caja puede verse grabado el nombre del reloj: "GREY SIDE OF THE MOON".
Un rasgo distintivo del Speedmaster "Grey Side of the Moon" es la escala taquimétrica en Super- LumiNova sobre el bisel de cerámica cepillado –otra innovación de OMEGA. Los números e índices han sido grabados sobre el bisel y rellenados con Super-LumiNova, haciendo posible la lectura de la escala taquimétrica en diferentes condiciones lumínicas. El símbolo Ω de la corona está también rellenado con Super-LumiNova.
La esfera arenada de platino 950 dota al Speedmaster "Grey Side of the Moon" de un aspecto más clásico y elegante, al tiempo que destaca la artesanía que fue necesaria para la creación del reloj. Dos subesferas de platino integradas distinguen al reloj de su predecesor, el OMEGA "Moonwatch". Estas dos subesferas son posibles gracias a la innovadora colocación de los contadores de 12 horas y 60 minutos en la misma subesfera, a las 3 en punto, permitiendo una lectura del cronógrafo cómoda e intuitiva. La aguja central del segundero cronógrafo en negro chapado tiene la punta de color rojo y está cubierta con Super-LumiNova blanco, al igual que las agujas centrales de los minutos y las horas, los índices y los dos puntos a las 12 en punto. Esta impresionante esfera está protegida por un cristal de zafiro abombado anti arañazos, con tratamiento anti reflejo en ambas caras.
El Speedmaster "Grey Side of the Moon" se presenta con una correa de piel gris con inserciones de caucho en los agujeros en los que se fija la hebilla. En la parte interior de la correa los pespuntes son de color rojo, que complementan los detalles rojos de este OMEGA con Calibre Co-Axial 9300, visible a través del cristal de zafiro de la parte trasera de la caja.
El increíble movimiento de cronógrafo Co-Axial está equipado con un espiral de silicio Si14. El Speedmaster "Grey Side of the Moon" se ofrece con una garantía total de cuatro años y se presenta en un estuche especial.
PVP recomendado: 9.420 €