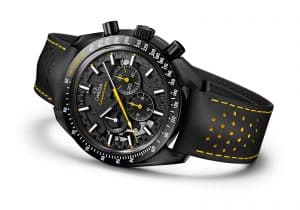 Con motivo del 50 aniversario de la misión Apolo 8, el primer viaje tripulado que salió de órbita terrestre y alcanzó y orbitó la Luna, OMEGA se enorgullece de presentar su nuevo reloj Speedmaster «Dark Side of the Moon» Apollo 8.
OMEGA cuenta con una herencia sin igual en la exploración espacial, en sus relojes Speedmaster los astronautas han depositado su confianza y esos relojes han sido utilizados a bordo de muchas de las misiones más importantes de la historia, como la del Apolo 8 en 1968. Esta tripulación fue la primera que vio la cara oculta de la Luna y este logro se celebra con gran belleza en el nuevo reloj Speedmaster de OMEGA.
El diseño exclusivo se hace instantáneamente claro cuando se ve la esfera, que ha sido magistralmente calada para revelar el movimiento ennegrecido del interior. El movimiento en sí también ha sido recortado con láser, para decorar con precisión los puentes y la platina principal con imágenes realistas de la superficie lunar.
Igual que la Luna, el movimiento revela dos caras únicas. El lado de la esfera es de un tono claro, para representar nuestra visión de la superficie lunar desde la Tierra, mientras la parte posterior del reloj muestra la cara oscura que solo los astronautas logran ver.
En otras partes de esta nueva creación, OMEGA ha adoptado su popular innovación «Dark Side of the Moon», al producir todo el reloj en cerámica de óxido de circonio negra. Para contrastar con este tono oscuro, la firma ha elegido agujas de cronógrafo barnizadas en amarillo, mientras la escala taquimétrica y la corona están rellenas de Super-LumiNova. El tema negro y amarillo se extiende hasta la pulsera de piel perforada, que contiene una sección de caucho amarillo en su parte central interna.
En el fondo de caja, se han grabado las palabras especiales «WE'LL SEE YOU ON THE OTHER SIDE» –»Os veremos en la otra cara»–. Las pronunció Jim Lovell, el piloto del módulo de mando a bordo de la misión Apolo 8, en el momento en que la nave tripulada pasaba a orbitar ante la cara oculta de la Luna. Segundos antes de desaparecer más allá del alcance del contacto por radio, Lovell pronunció estas últimas palabras tranquilizadoras para el control en tierra.
Few people will ever get to view the moon's mysterious distant surface, but to wear the OMEGA Speedmaster Dark Side of the Moon Apollo 8 is to make an authentic connection to space exploration history. Its blackened and decorated version of the Calibre 1861 – called 1869 as a tribute to the first moon landing – is a reminder of the original Moonwatch movement and OMEGA's legendary story in space.