ESTE RELOJ, CUALIFICADO POR LA ESA, ESTÁ DEDICADO AL ESPÍRITU PIONERO DE OMEGA Y SU COLABORACIÓN CON SOLAR IMPULSE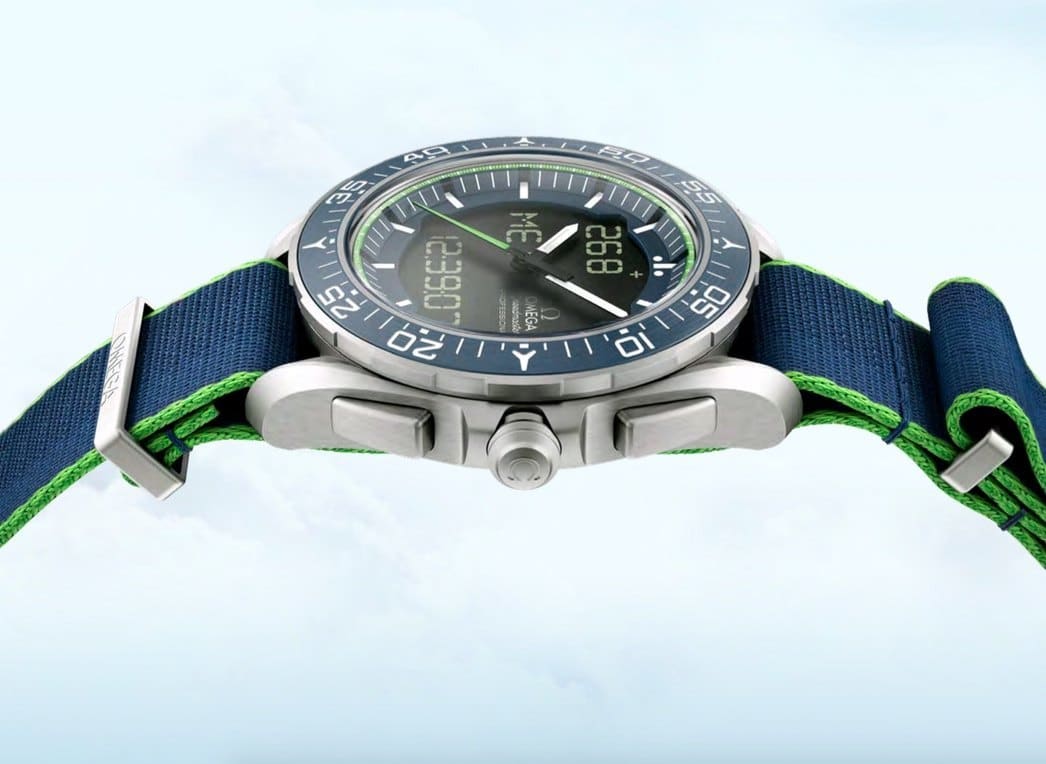 EL SPEEDMASTER SKYWALKER X-33 SOLAR IMPULSE EDICIÓN LIMITADA
Justo a tiempo para el tan largamente esperado vuelo de Solar Impulse alrededor del mundo, OMEGA se enorgullece de presentar al miembro más reciente de su legendaria familia Speedmaster: el Speedmaster Skywalker X-33 Solar Impulse Edición Limitada.
Además de un reloj extraordinario, Speedmaster Skywalker X-33 Solar Impulse Edición Limitada es la celebración de un proyecto cuyo ambicioso objetivo busca circunnavegar el globo en un aeroplano alimentado solo por energía solar, una audaz muestra de alternativas viables a las energías no renovables.
La ligera caja en titanio de grado 2 cepillado y 45 mm de diámetro se completa con un bisel cerámico azul revestido de Super-LumiNova blanco. La esfera azul y verde, con índices fraccionarios y horarios transferidos en blanco y recubiertos estos últimos con Super-LumiNova, tiene una ventana central que permite leer los elementos digitales en cristal líquido (grises sobre fondo negro): la hora, los minutos y los segundos de hasta tres husos horarios, con tres alarmas, funciones de cronógrafo y de cuenta atrás, y un calendario perpetuo con indicaciones de día, fecha, mes, año y número de semana. 
Las agujas horarias esqueleto, en blanco y negro, están revestidas de Super-LumiNova, que emite una luz verde. El segundero central, negro y verde, es claramente visible. Las agujas pueden retirarse, para permitir una lectura todavía más nítida de la pantalla digital.
OMEGA Speedmaster Skywalker X-33 Solar Impulse Edición Limitada incorpora el movimiento multifuncional OMEGA de cronógrafo calibre 5619 de cuarzo, con circuito termocompensado integrado. Además de los visualizadores analógico y digital, este reloj tiene dos funciones muy útiles para los pilotos: mission elapsed time (MET) o tiempo de misión transcurrido, y phase elapsed time (PET) o tiempo de fase transcurrido.
El fondo de caja, en titanio de grado 2, está asegurado por ocho tornillos y en su exterior figuran el escudo Solar Impulse "Around the World" estampado y, grabados, el nombre del reloj y la frase "TESTED AND QUALIfIED BY SOLARIMPULSE BADGE AROUND THE WORLD ESA" (la Agencia Espacial Europea).
Para ratificar su fiabilidad, precisión y capacidad de soportar situaciones límite, este nuevo modelo X-33 ha sido probado y cualificado por la ESA y se desarrolló según una licencia de patente registrada en dicha Agencia Espacial y basada en un invento de jean-françois Clervoy, astronauta de la propia ESA.
Presentado con una pulsera "NATO" de poliamida azul ribeteada en verde, este reloj se producirá en edición limitada a 1924 ejemplares, número que alude al año en que se realizó la primera circunnavegación aérea mundial, cuando miembros del United States Army Air Service volaron alrededor del mundo, del 4 de abril al 28 de septiembre.