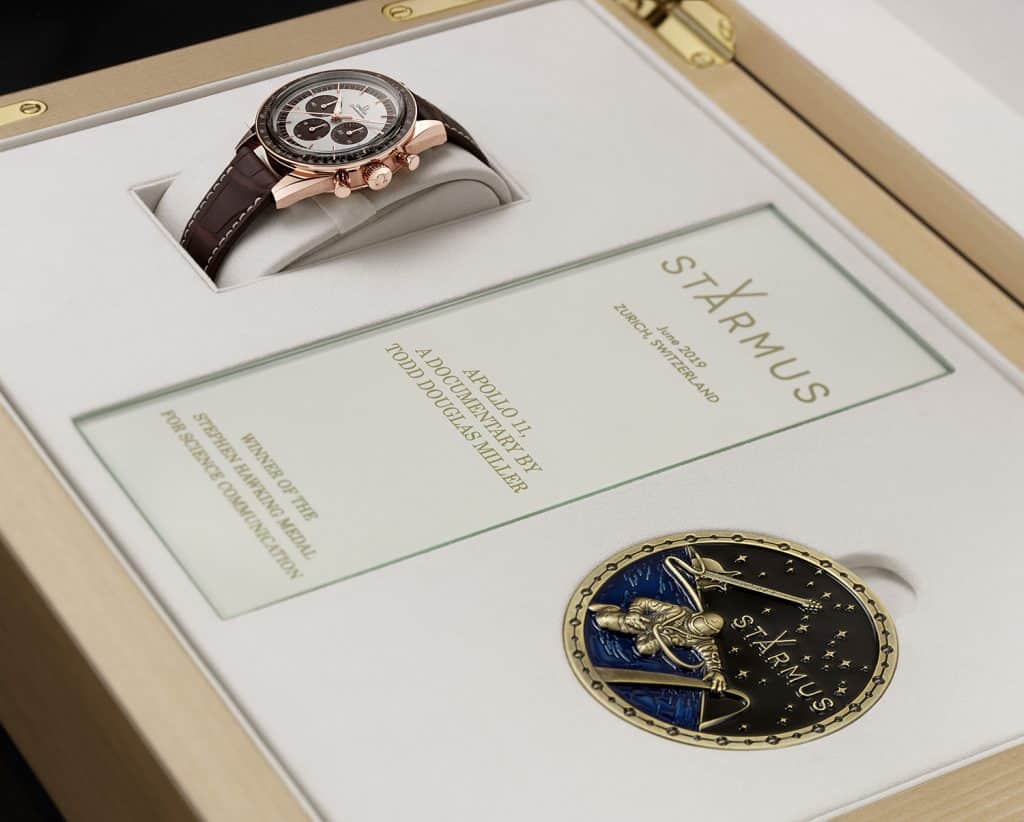 Un premio especial Speedmaster para Buzz Aldrin, Elon Musk, Brian Eno y los creadores del documental Apolo 11
OMEGA, la manufactura suiza de relojería, ha concedido cuatro relojes Speedmaster únicos a los ganadores este año de la Medalla Stephen Hawking a la Comunicación Científica, en el V Festival Starmus 2019, celebrado en Zúrich, Suiza.
En escena estuvieron los ganadores, incluidos Brian Eno, por su contribución a la divulgación de la ciencia, Apolo 11, un documental de Todd Douglas Miller, por su visión innovadora de la famosa misión espacial, y, con un premio especial: Lifetime Achievement Award, el embajador OMEGA Buzz Aldrin, cuya legendaria pasión por el espacio sigue inspirándonos hoy. Una medalla y un reloj también se entregarán por separado a Elon Musk, por sus logros en favor de los viajes espaciales y de la humanidad.
La Medalla Stephen Hawking a la Comunicación Científica es uno de los premios de comunicación de la ciencia más famosos del mundo. En su colaboración con el Festival Starmus, OMEGA se enorgullece de unirse al premio y de contribuir con relojes especialmente diseñados para los ganadores de cada año.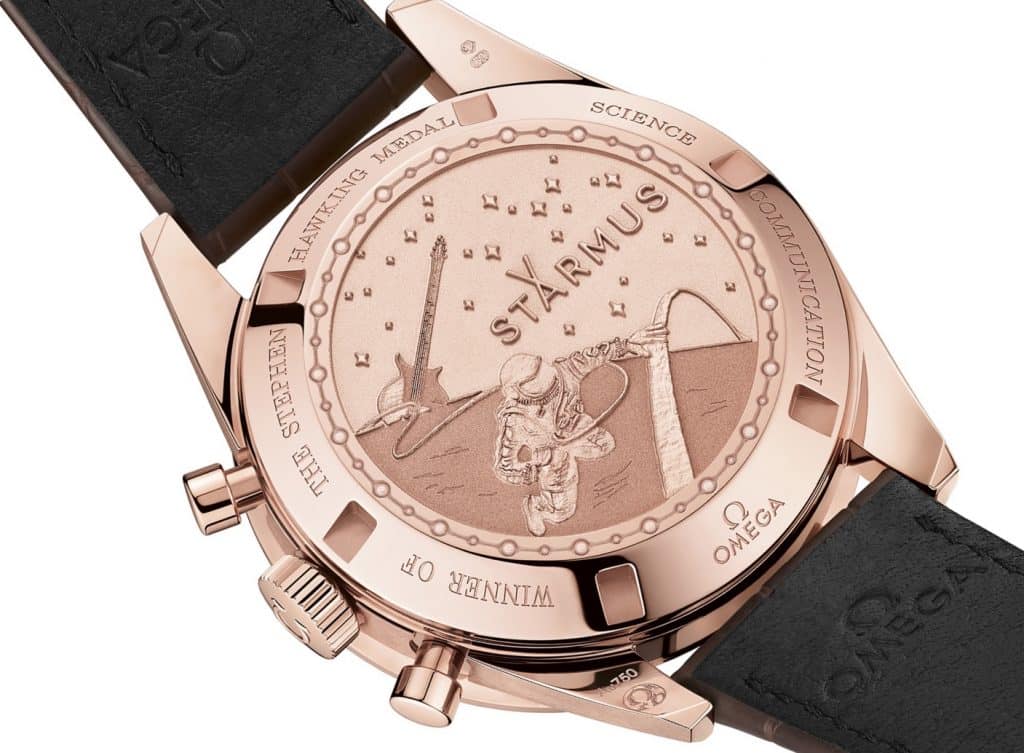 Durante el acto, la presentación de los relojes estuvo a cargo de Raynald Aeschlimann, presidente y CEO de OMEGA. Más tarde dijo: «Es un gran honor estar aquí, entre tantos nombres tan estimados de la comunidad científica. Sé que estos ganadores son realmente merecedores de la medalla y todos ellos han demostrado un gran compromiso con la comprensión y el progreso humanos. OMEGA tiene su propia historia pionera y su futuro en el espacio, por lo que estamos encantados de unirnos a las celebraciones y compartir esta búsqueda común de la excelencia».
El reloj de los ganadores es un Speedmaster Moonwatch elaborado en oro SednaTM de 18 qt. El modelo es el llamado «First OMEGA in Space», y está basado en el icónico reloj que el astronauta Walter Schirra utilizó durante la misión Sigma 7 del programa Mercury, en 1962. El diseño actualizado de hoy luce un bisel de cerámica pulida marrón y una escala de taquímetro en nitrito de cromo mate, así como subesferas en PVD marrón y una esfera central plateada opalina. El reloj se distingue por el fondo de caja, con las palabras «WINNER OF THE STEPHEN HAWKING MEDAL FOR SCIENCE COMMUNICATION» y un medallón grabado con láser que sigue el diseño exacto de la propia medalla. Incluye el logotipo Starmus y las imágenes de Alexéi Leónov durante el primer paseo espacial humano y la guitarra «Red Special» de Brian May, del grupo Queen.
El Festival Starmus, una combinación de ciencia, arte y música, ayuda al público en general a comprender y apreciar la ciencia. Desde 2011, ha incluido actuaciones y presentaciones de astronautas, cosmonautas, ganadores del Premio Nobel y personalidades de la ciencia, la cultura, las artes y la música.
El festival de este año, 50 aniversario de la misión Apolo 11, ha incluido una notable lista de luminarias de la ciencia y el espacio; entre ellas, astronautas del Apolo, como Charlie Duke, embajador OMEGA, la persona más joven que caminó sobre la Luna. También se unió a la lista de oradores Nicole Stott, otra embajadora OMEGA y astronauta veterana, que ha trabajado tanto en la Estación Espacial Internacional como en el transbordador o lanzadera espacial Space Shuttle.