OMEGA y ALINGHI celebran su colaboración con un nuevo Speedmaster de manufactura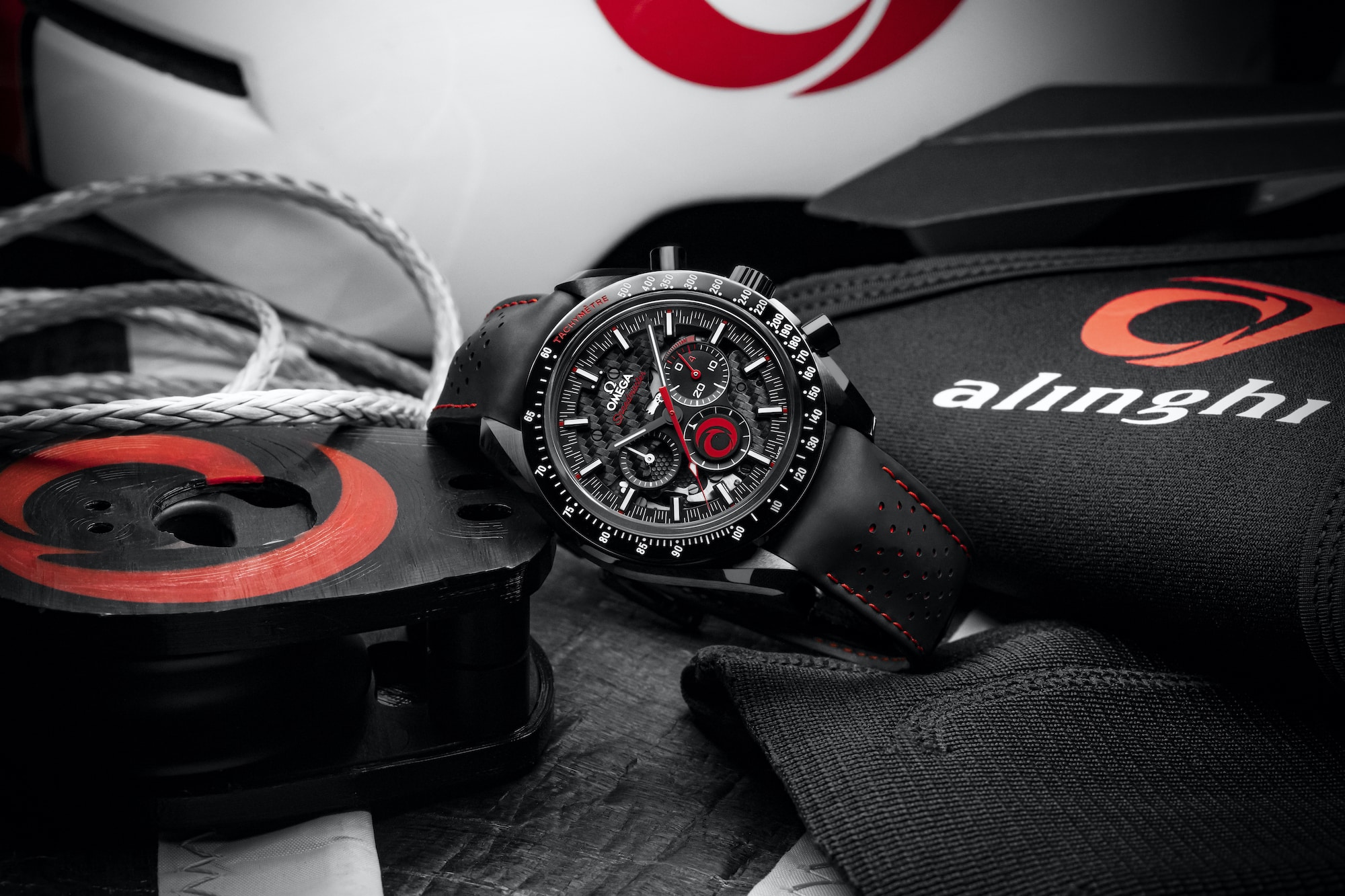 La dinámica colaboración entre OMEGA y ALINGHI ha reunido lo mejor de la precisión, la innovación y el espíritu pionero suizos. En homenaje a esta colaboración única en la vela, se ha lanzado un nuevo reloj OMEGA.
El Speedmaster Dark Side of the Moon ALINGHI es un reloj que demuestra los mismos valores y cualidades que ambos socios comparten.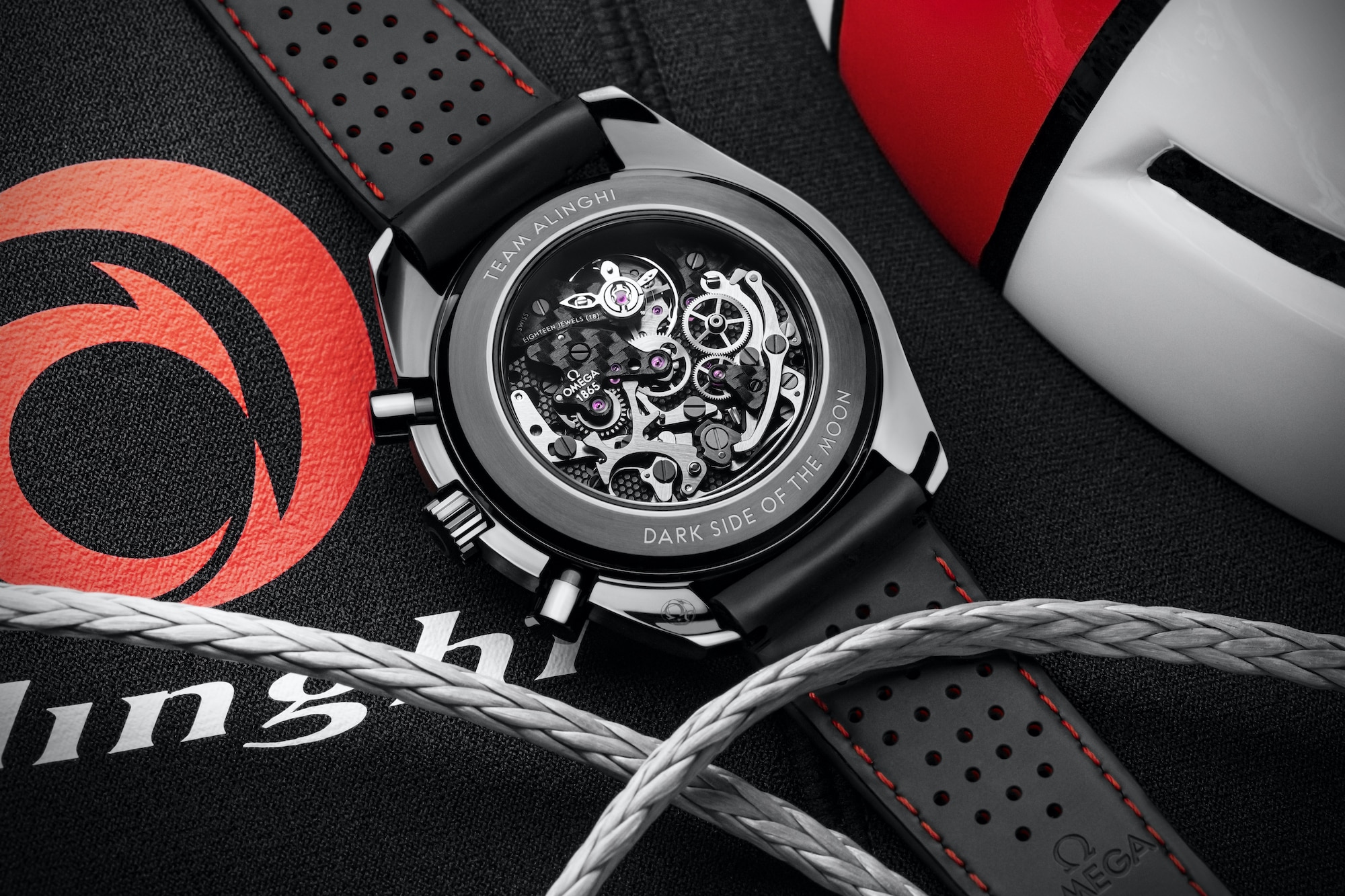 Como explica Raynald Aeschlimann, presidente y CEO de OMEGA: «El nuevo reloj se centra en dos grandes firmas suizas que combinan su pasión por la innovación y la navegación a vela. Para estar a la altura de la creación de barcos de última generación de ALINGHI, hemos aprovechado una tecnología realmente impresionante, junto con los mejores materiales y un concepto de diseño muy original».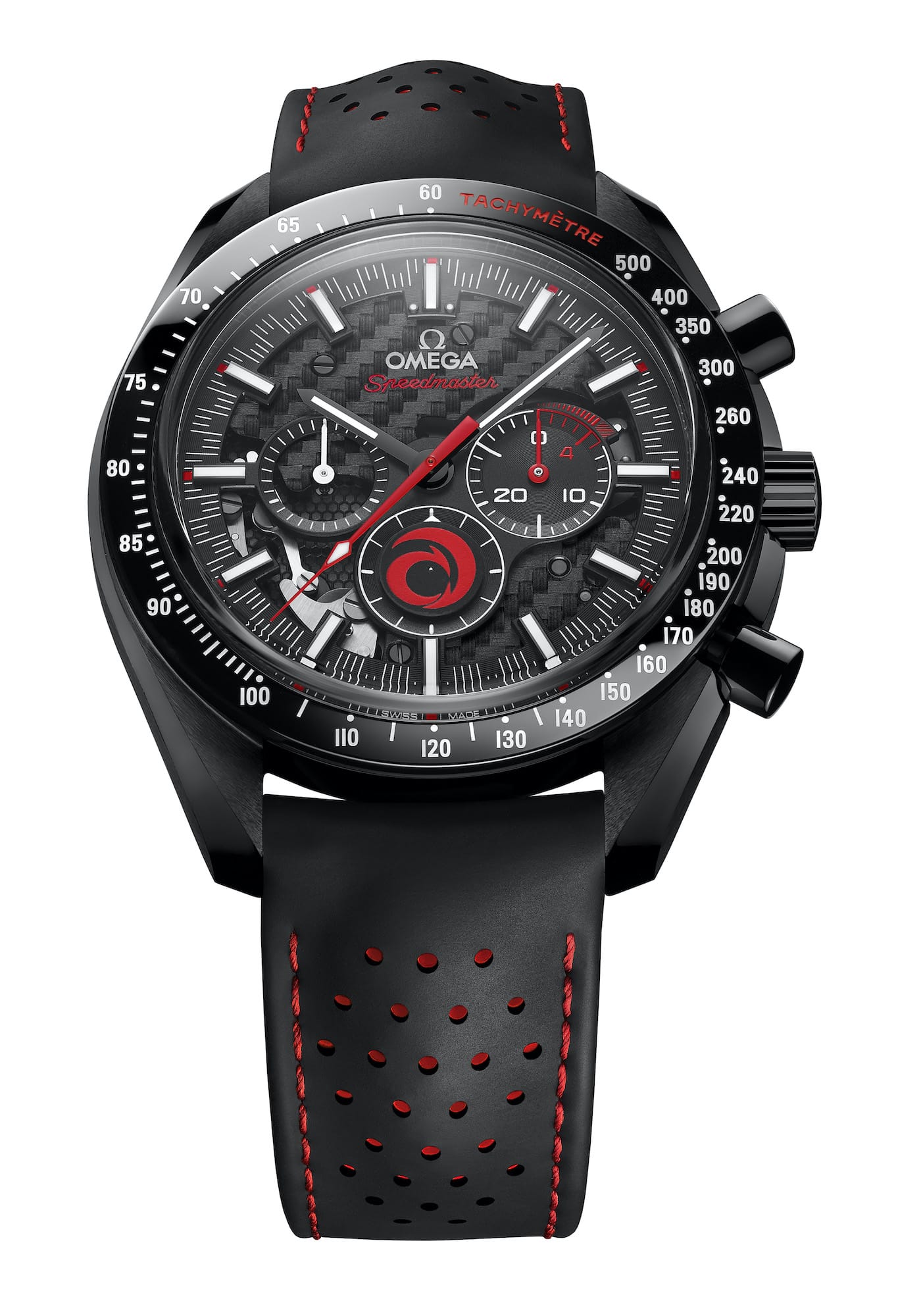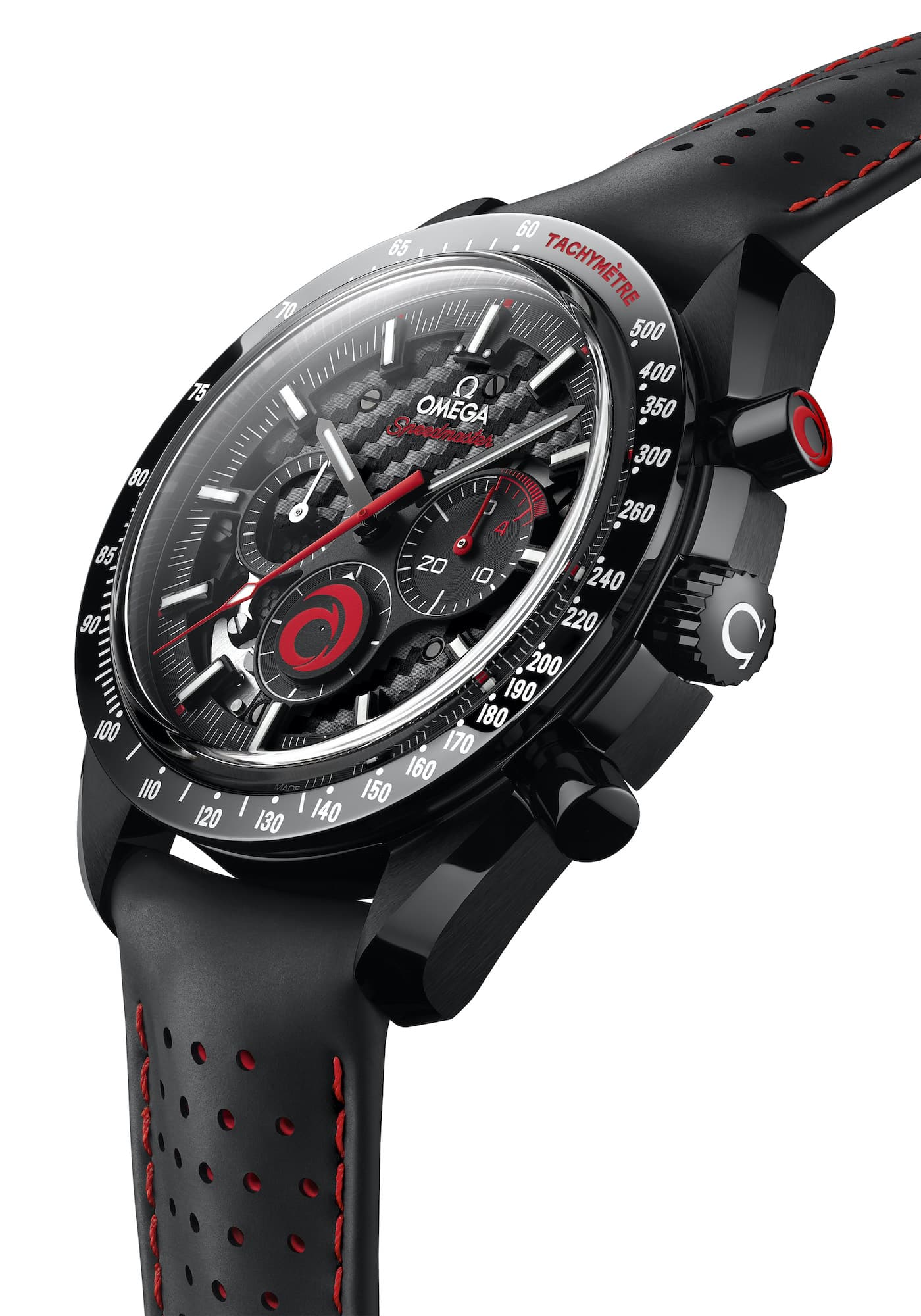 La elección del Speedmaster refleja perfectamente los veloces veleros que vuelan por el agua. Quizá lo más impresionante es el calibre 1865 magistralmente decorado. El movimiento de carga manual es ideal para las tripulaciones, por ser de diseño más ligero y delgado. Para realzarlo, OMEGA se inspiró en el nuevo catamarán TF35 de ALINGHI. La ablación por láser da a la platina principal y el puente del barrilete un efecto de nido de abeja, similar al interior del casco negro carbón del catamarán ALINGHI. La misma tecnología de ablación por láser ha sido también empleada para decorar todos los demás puentes, con un motivo negro carbón inspirado en el material utilizado para el casco del velero.
Para el código de color general, OMEGA ha relacionado el reloj con el logotipo ALINGHI, que incluye el rojo para representar la pasión, y el negro para la tecnología. Esto puede verse reflejado en características como la pulsera de caucho perforado negro y rojo, así como la caja de 44,25 mm en cerámica negra de óxido de zirconio. Junto con una escala taquimétrica en Super-LumiNova, el diseño exterior también es notable por el logotipo ALINGHI en el pulsador de inicio y parada, que ha sido creado en barniz rojo.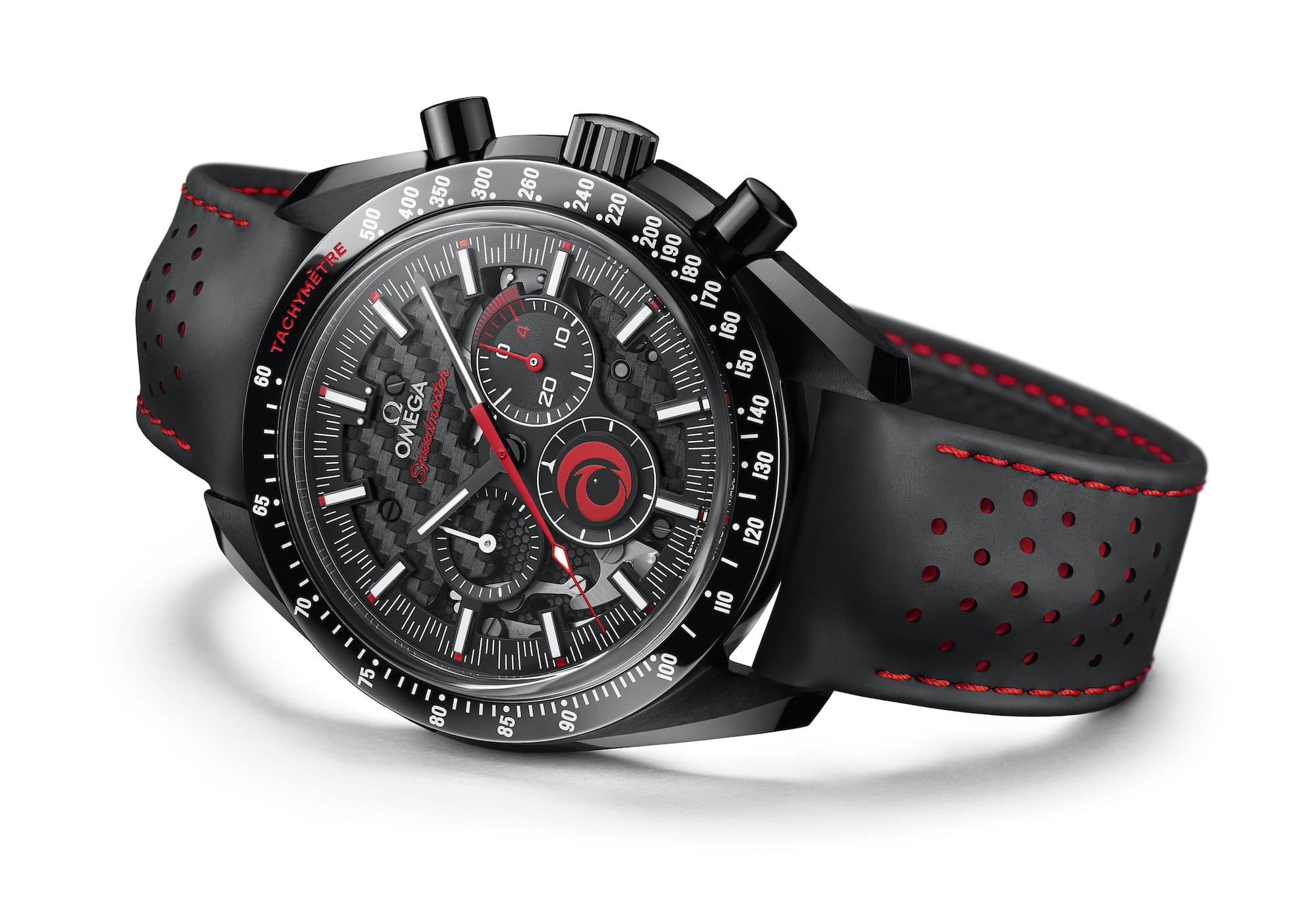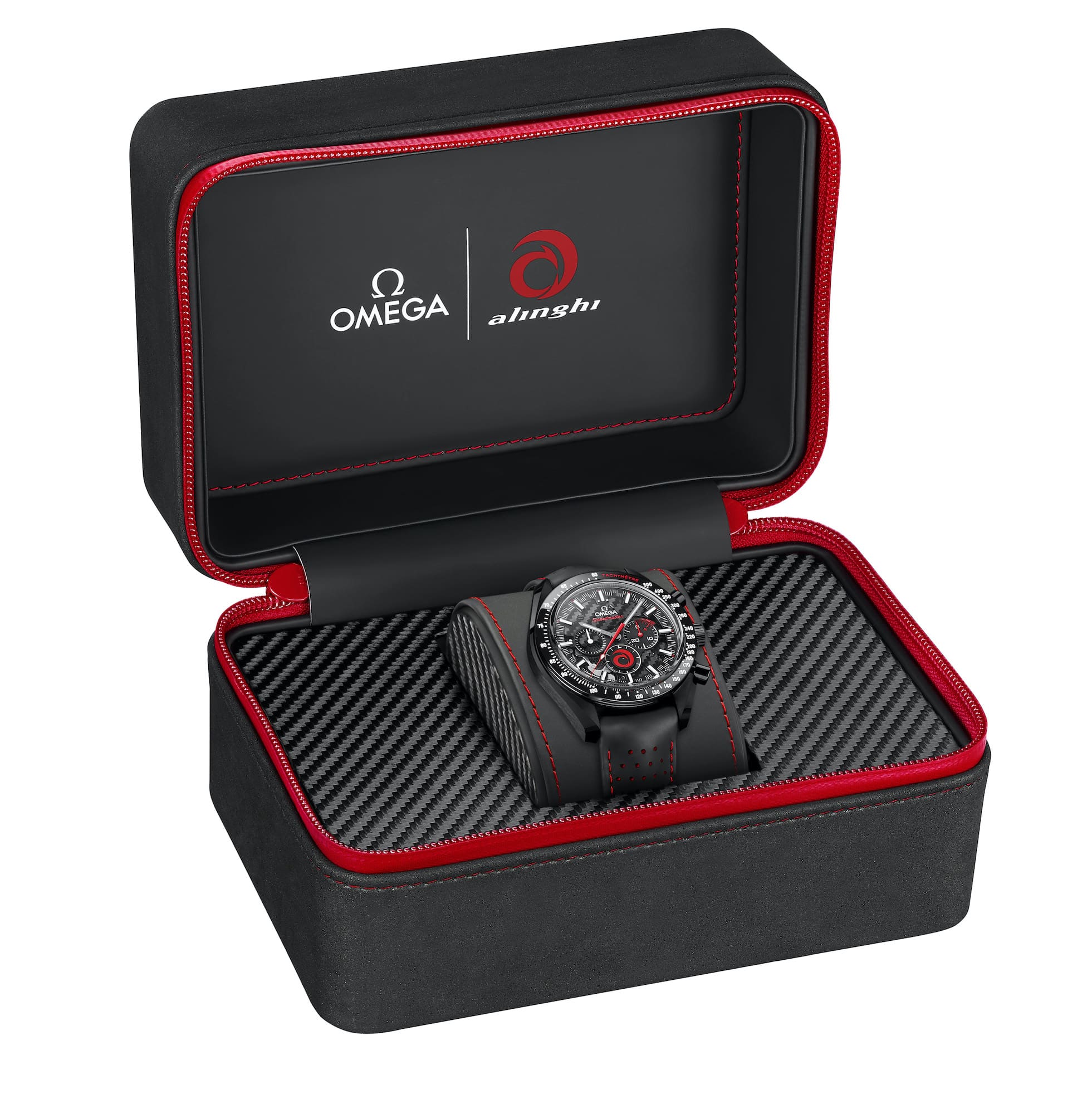 Dos de las subesferas también atraen la atención. A las 3, se ha incluido en rojo un indicador de tiempo táctico de 4 o 5 minutos, lo que ayuda a la precisión sobre el agua. A las 6, el diseño tradicional de la subesfera ha sido reemplazado por un disco de aluminio, pulido con chorro de arena y anodizado, que luce el logotipo ALINGHI transferido en rojo. El logotipo del equipo representa la letra «a» y está inspirado en dos barcos que agitan el mar antes del inicio de una regata. El logotipo gira en el reloj cuando se utiliza la función de cronógrafo.
Ernesto Bertarelli, fundador y presidente de ALINGHI, dice: «Ha sido un inmenso placer colaborar tan estrechamente con OMEGA en este maravilloso y nuevo reloj. A lo largo de nuestra historia, hemos sido muy conscientes de la increíble experiencia de la manufactura de relojería en el cronometraje deportivo y su pasión por la navegación. Así que ha sido una oportunidad muy especial haber trabajado juntos en un reloj y ver ahora los exquisitos resultados. Es el comienzo perfecto de nuestra relación y una auténtica señal de lo que nos deparará el futuro.
OMEGA y ALINGHI iniciaron su colaboración en 2019 y ya han disfrutado del éxito en regata, gracias al título mundial del equipo en la categoría GC32 en junio de 2019, la obtención del D35 Trophy en septiembre y el campeonato de GC32 en noviembre.
PVP recomendado: 10.300 €