OMEGA lanza el Speedmaster «Silver Snoopy Award» del 50 Aniversario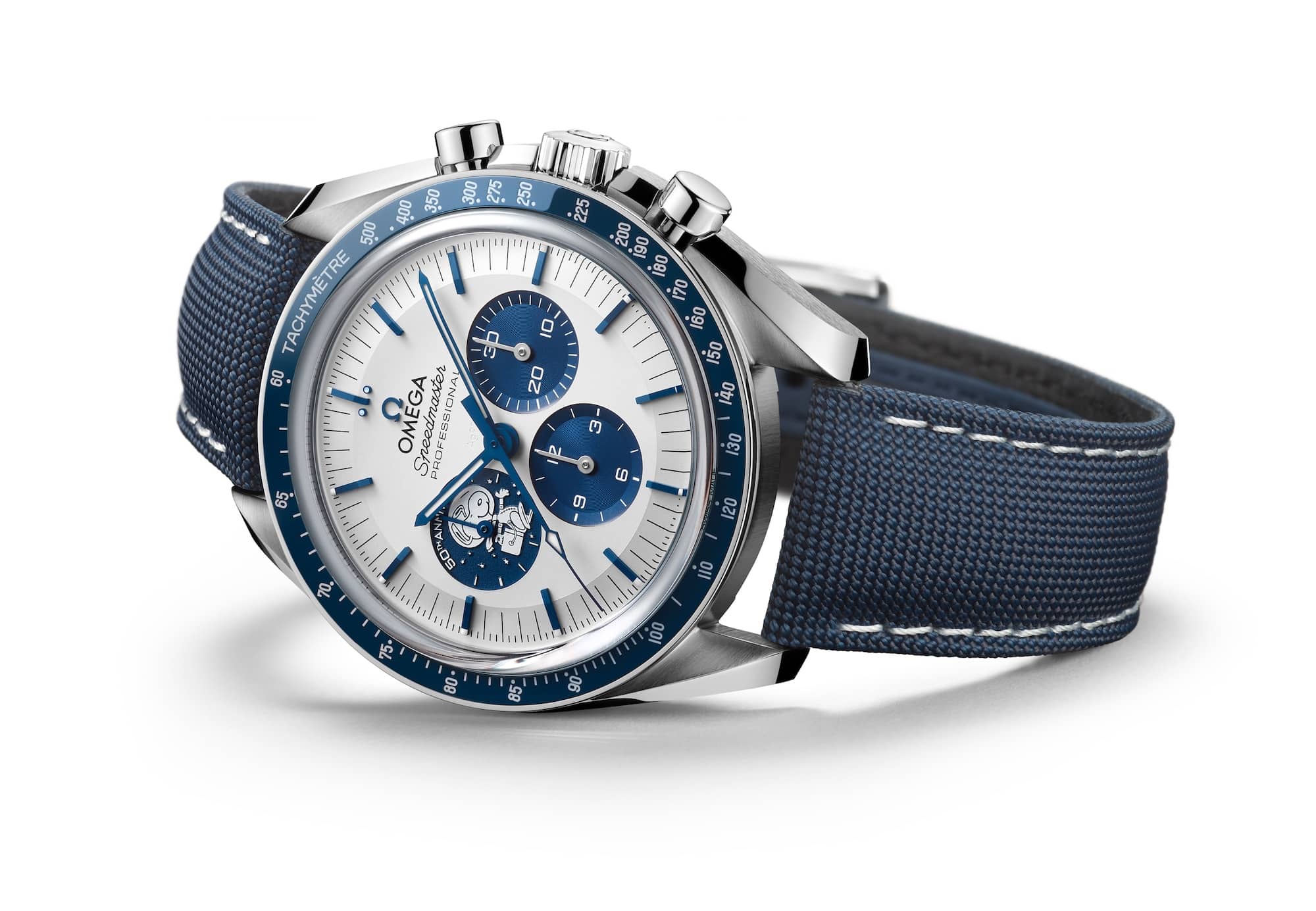 En 1970, OMEGA recibió de los astronautas de la NASA el codiciado Silver Snoopy Award (Premio Snoopy de Plata), en reconocimiento por las contribuciones excepcionales de la firma a la exploración espacial, así como por el apoyo vital del Speedmaster durante el rescate del Apolo 13.
Exactamente 50 años después, se ha creado un reloj especial en honor a la ocasión. Combinando la animación con el arte de la relojería, este increíble homenaje a Snoopy ha llevado el OMEGA Speedmaster a nuevos espacios del diseño.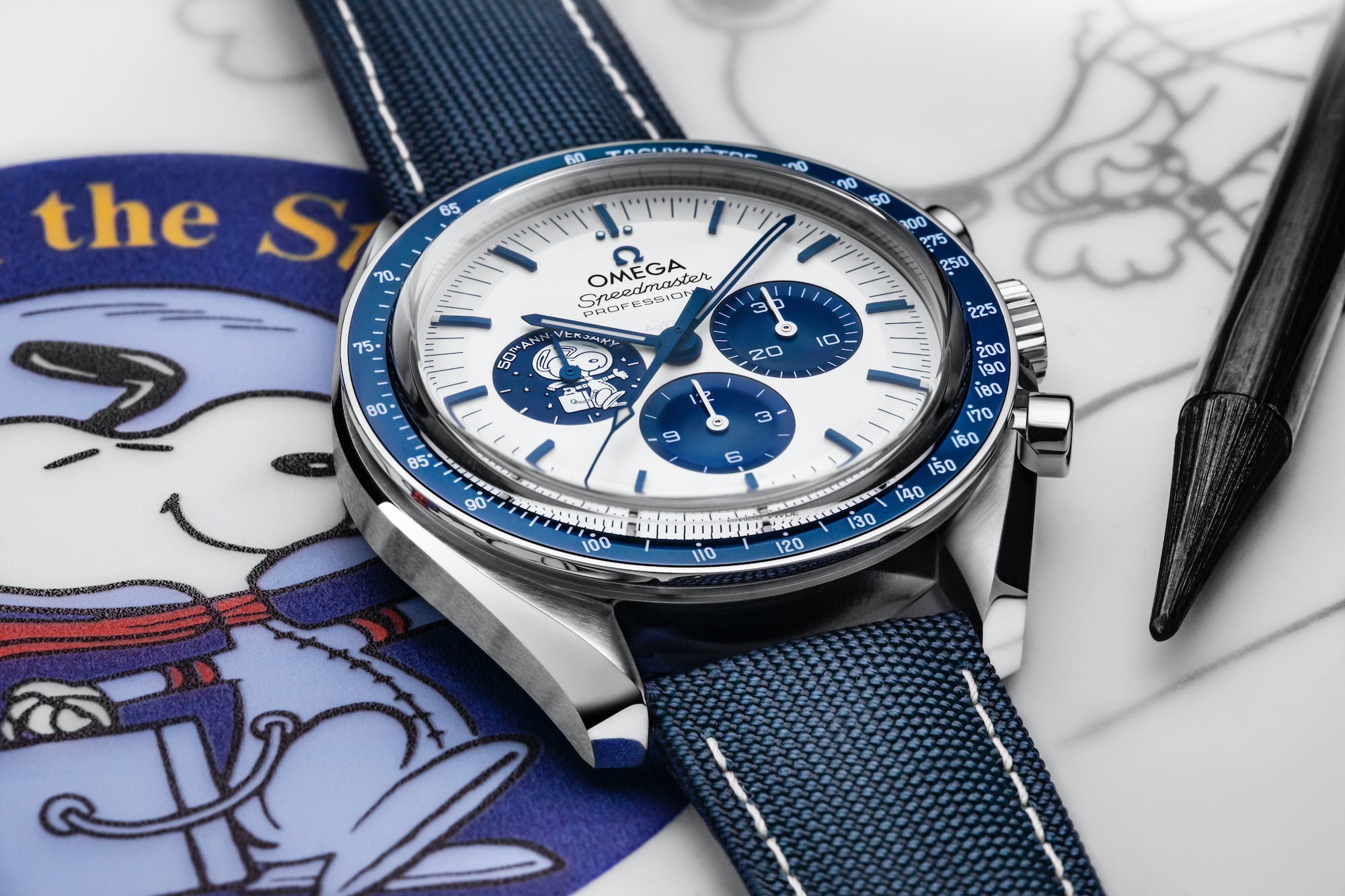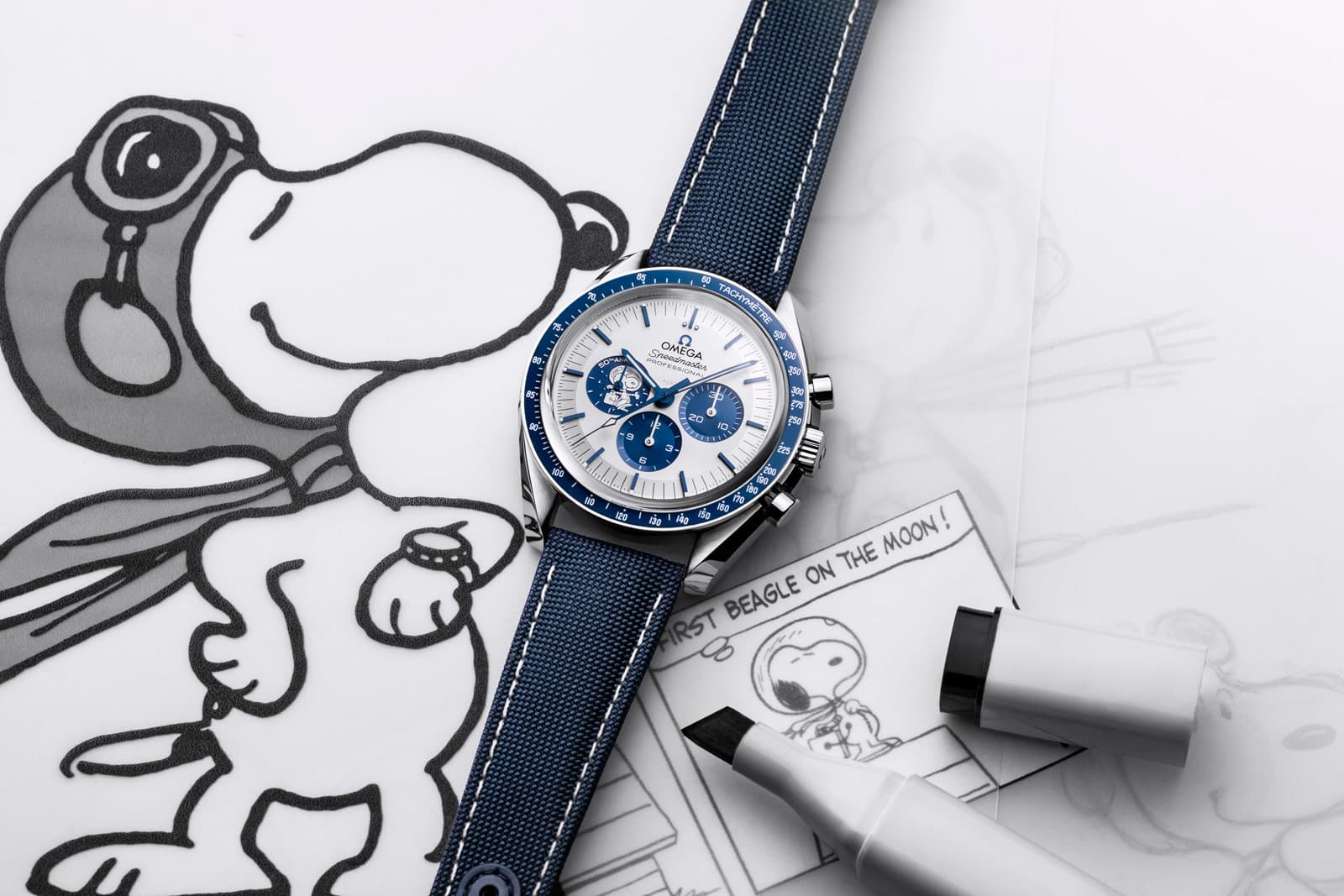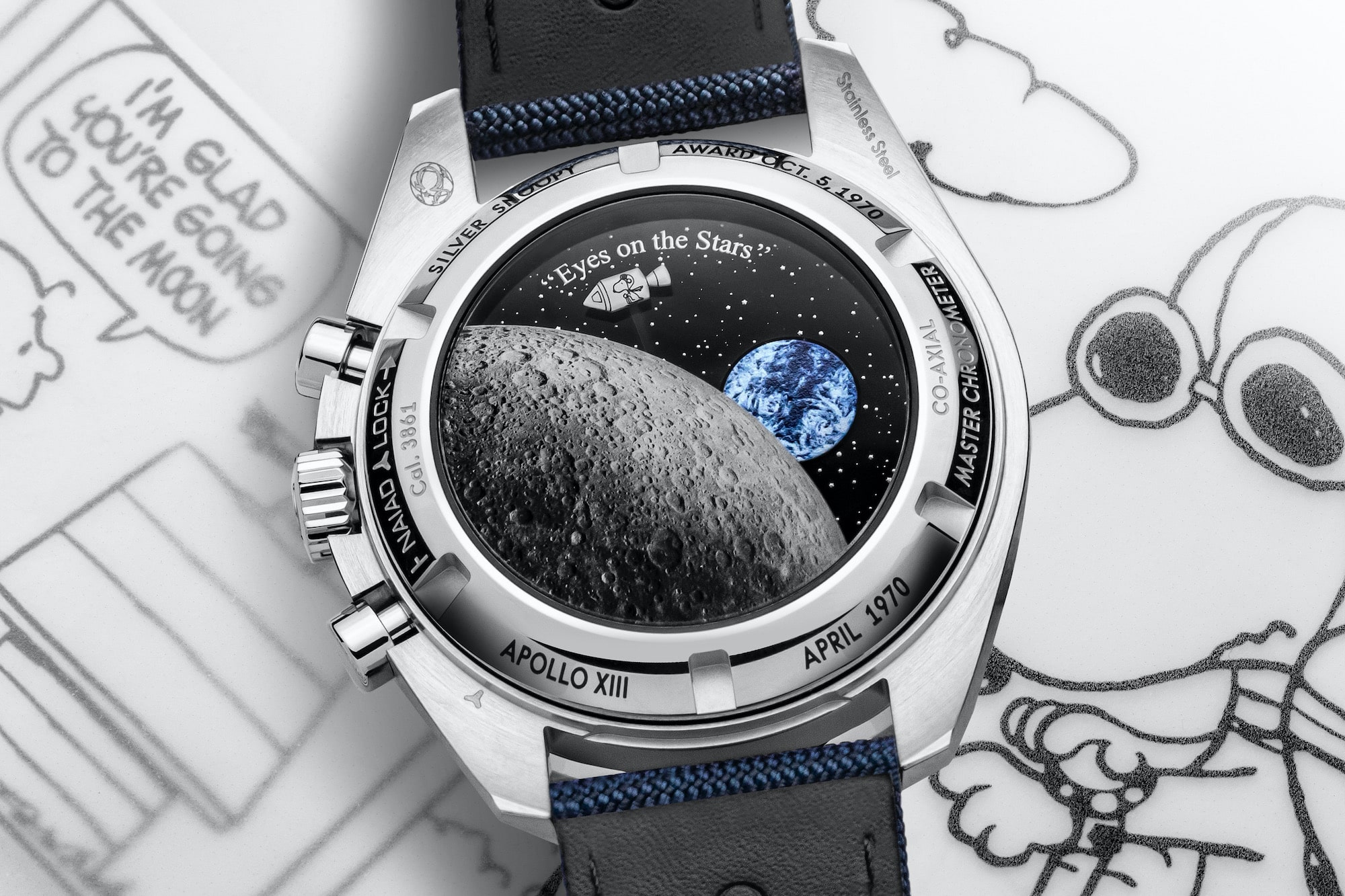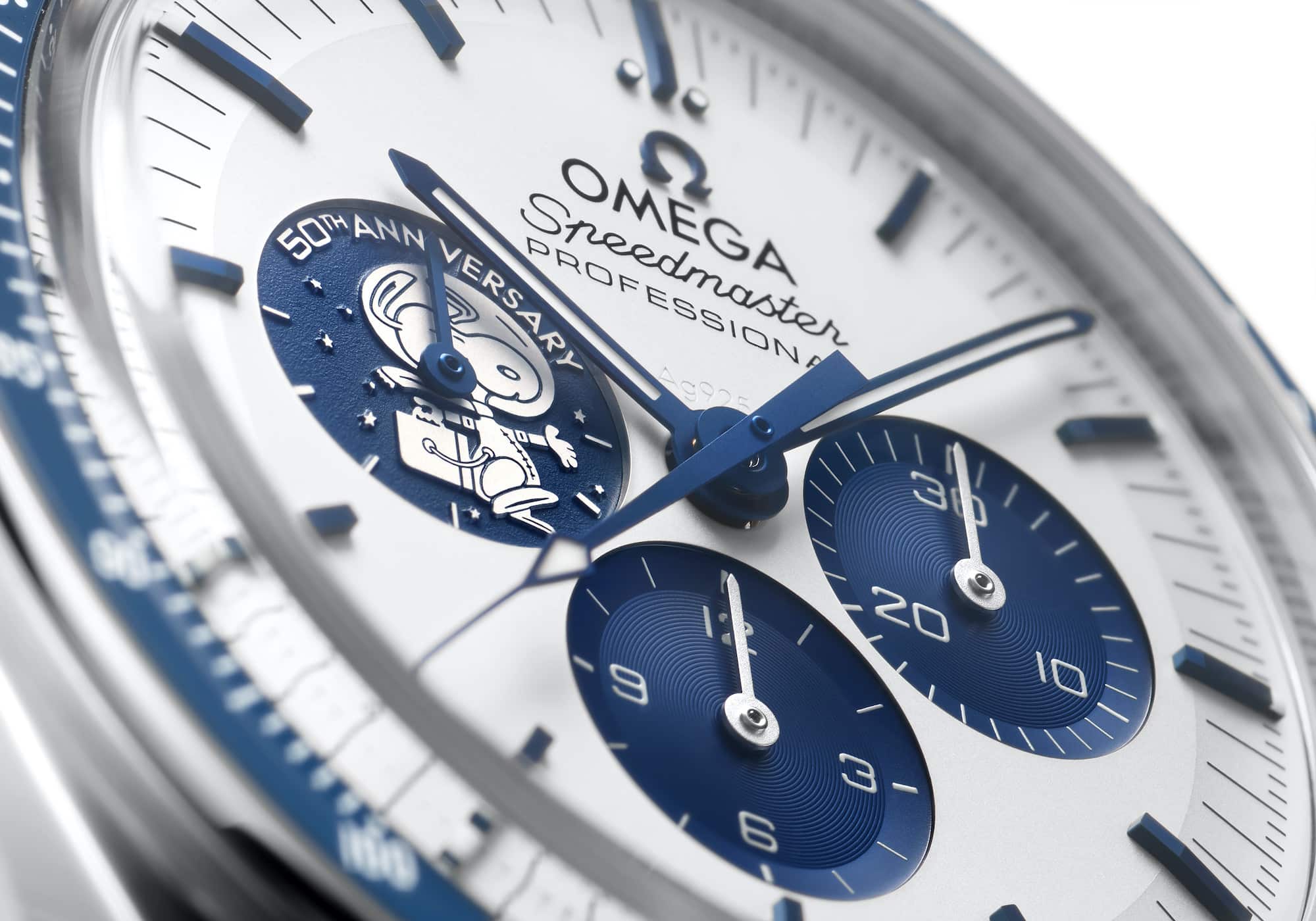 Nuestro perro sabueso favorito desempeña un papel prominente en el reloj y aparece por primera vez como un medallón de plata en relieve en la subesfera azul situada a las 9. Aquí, se lo muestra vistiendo su famoso traje espacial, en el estilo exacto del pin de plata que los astronautas de la NASA dan a los premiados.
La propia esfera también es de plata y está grabada por láser con Ag925. Incluye dos subesferas azules más, así como índices horarios de PVD y agujas azules también en PVD y terminadas en punta de flecha.
La diversión comienza en el fondo de caja. Esta vez, Snoopy ha entrado en órbita, gracias a su animado Módulo de Mando y Servicio (CSM). en blanco y negro y guiado por una mano mágica. Cuando el segundero del cronógrafo está en marcha, Snoopy hace un viaje alrededor de la misteriosa cara oculta de la Luna, como la tripulación del Apolo 13, con la superficie lunar decorada en el cristal de zafiro mediante una metalización microestructurada exclusiva.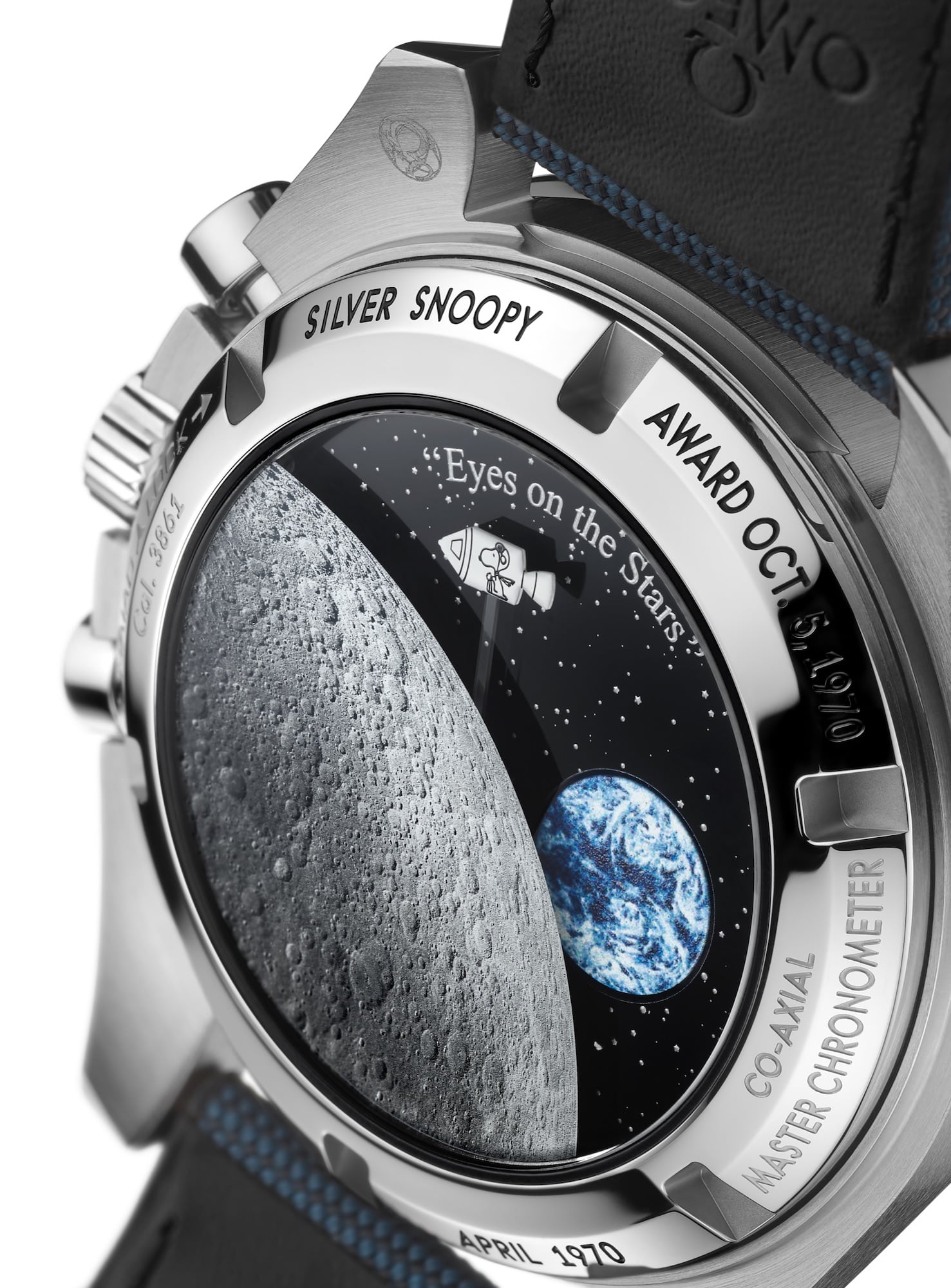 En la distancia, se incluye una visión de nuestro hogar. Este disco de la Tierra gira una vez por minuto, en sincronía con el pequeño segundero, y simboliza la rotación precisa de la Tierra. La icónica cita "Eyes on the Stars" (Con los ojos en las estrellas) se incluye dentro del universo negro.
El cierre NAIAD LOCK mantiene todos los grabados del fondo de caja en la posición correcta de lectura, incluida la fecha de 1970 en que OMEGA recibió el Silver Snoopy Award, así como un tributo a la misión del Apolo 13, que corrió peligro aquel mismo año.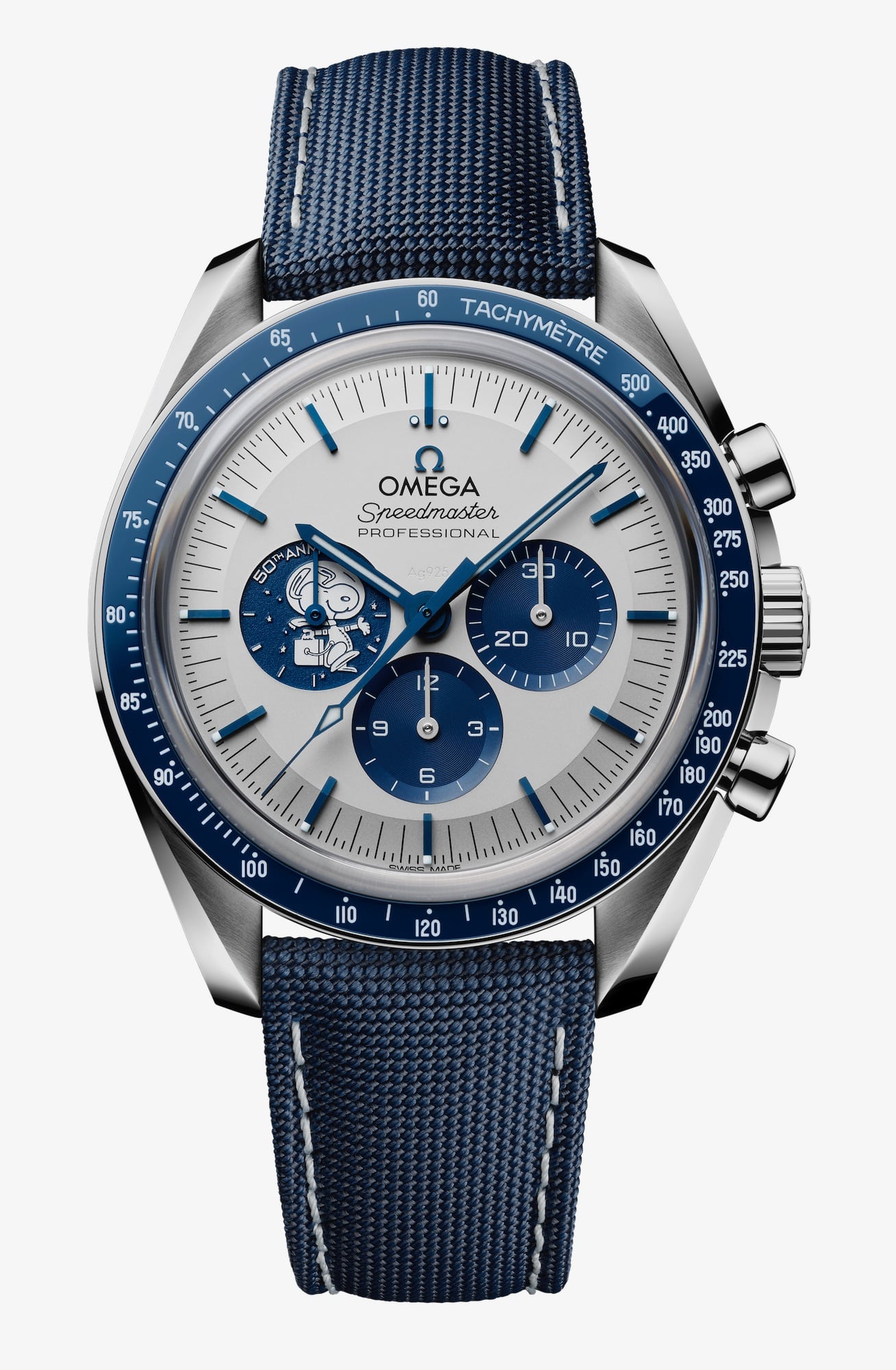 Como muestra de la magnífica atención de OMEGA a los detalles, la pulsera de tejido de nailon azul coincide con los otros elementos azules del reloj e incluso presenta, grabada en el forro, la trayectoria de la misión Apolo 13. Esta pulsera está unida a una caja de 42 mm en acero noble, que se inspira en el estilo Speedmaster de 4ª generación (el primer reloj que se llevó puesto en la Luna, en 1969). La escala taquimétrica, con el icónico «Punto sobre el Noventa», se muestra en esmalte blanco sobre un aro de bisel en cerámica [ZrO2] azul.
Como una magnífica muestra de maestría en la manufactura de relojes, el Speedmaster «Silver Snoopy Award» del 50 Aniversario está impulsado por el OMEGA Co-Axial Master Chronometer calibre 3861. Este movimiento pionero ha elevado el legendario Moonwatch a nuevos niveles de excelencia, con innovación antimagnética y la certificación Master Chronometer del Swiss Federal Institute of Metrology (METAS).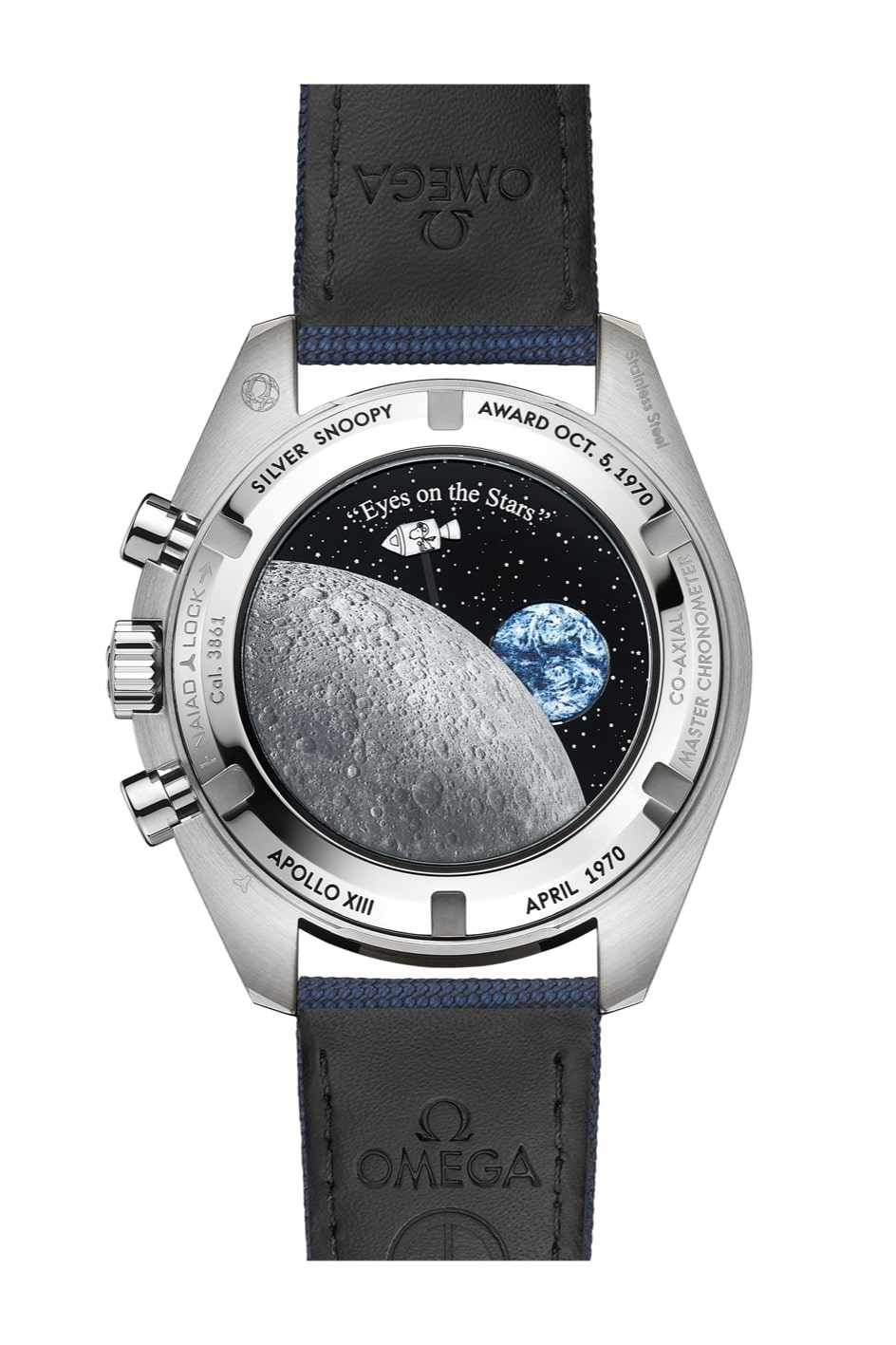 El reloj incluye la garantía total de 5 años otorgada por OMEGA y no será de producción limitada. Los entusiastas recibirán el reloj en su propio estuche de presentación Apolo 13, con un paño de limpieza en microfibra, un folleto y una lupa para apreciar mejor los detalles.