Richard Mille ha presentado el RM 47 Tourbillon, fruto de una intensa reflexión y casi cuatro años de trabajo de diseño. Éste es un nuevo tipo de reloj ingenioso que incorpora un calibre extremadamente compacto, diseñado específicamente para dejar espacio a una estilizada armadura samurái hecha completamente a mano. El RM 47 Tourbillon The Time of the Samurai nació de una conversación amistosa entre Richard Mille y el dos veces campeón del mundo de Fórmula 1 y socio de la marca, Fernando Alonso, un apasionado entusiasta de las artes tradicionales japonesas y los principios Samurai.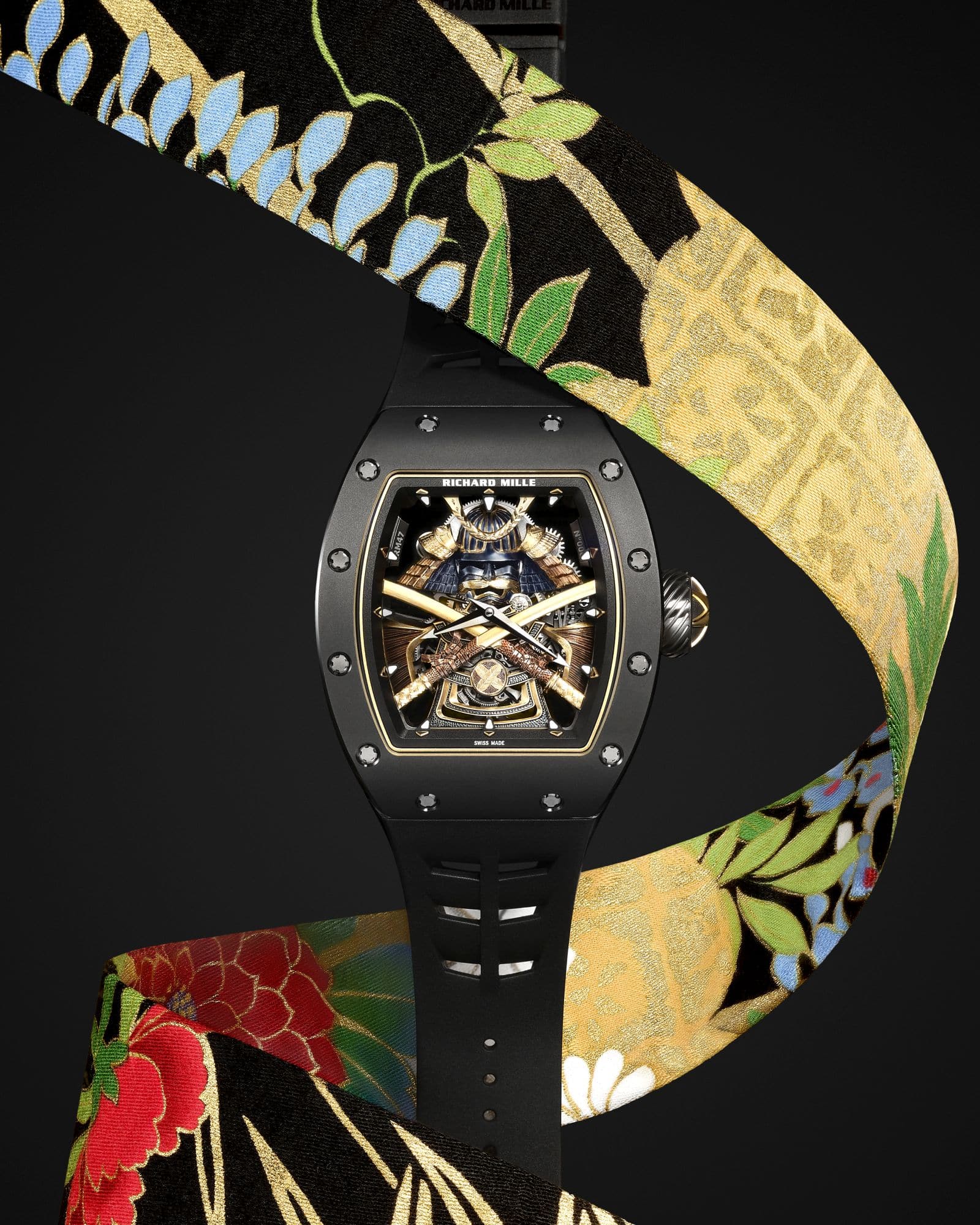 Asociando arte y espiritualidad. Creando una nueva obra maestra diseñada como un tributo estético a la cultura japonesa.
Movimiento Tourbillon producido en una edición limitada de 75 relojes
Inspirado en la espiritualidad y los valores del código bushido
Dieciséis horas de grabado y nueve horas de pintura para la armadura Samurai en oro amarillo 3N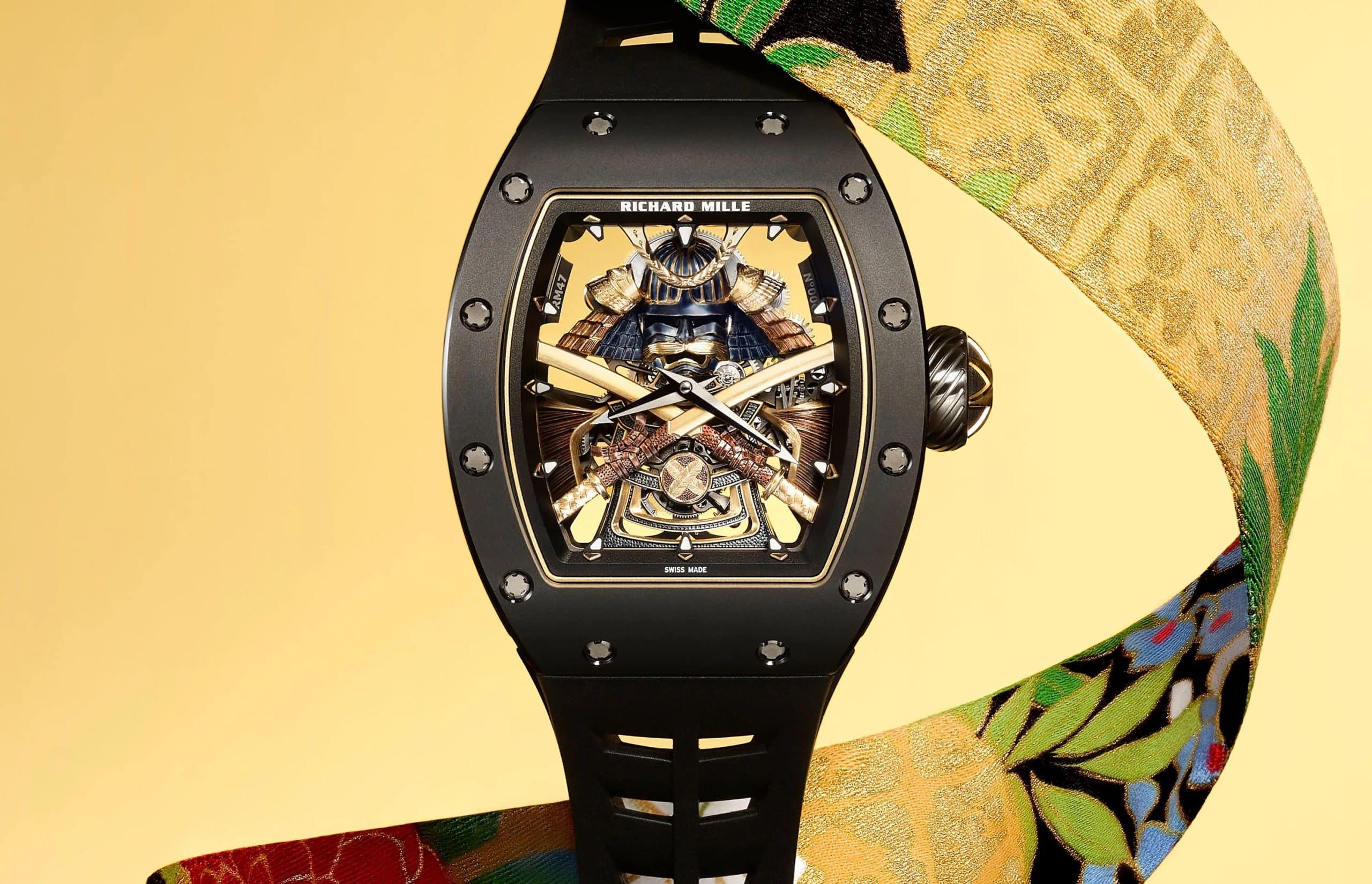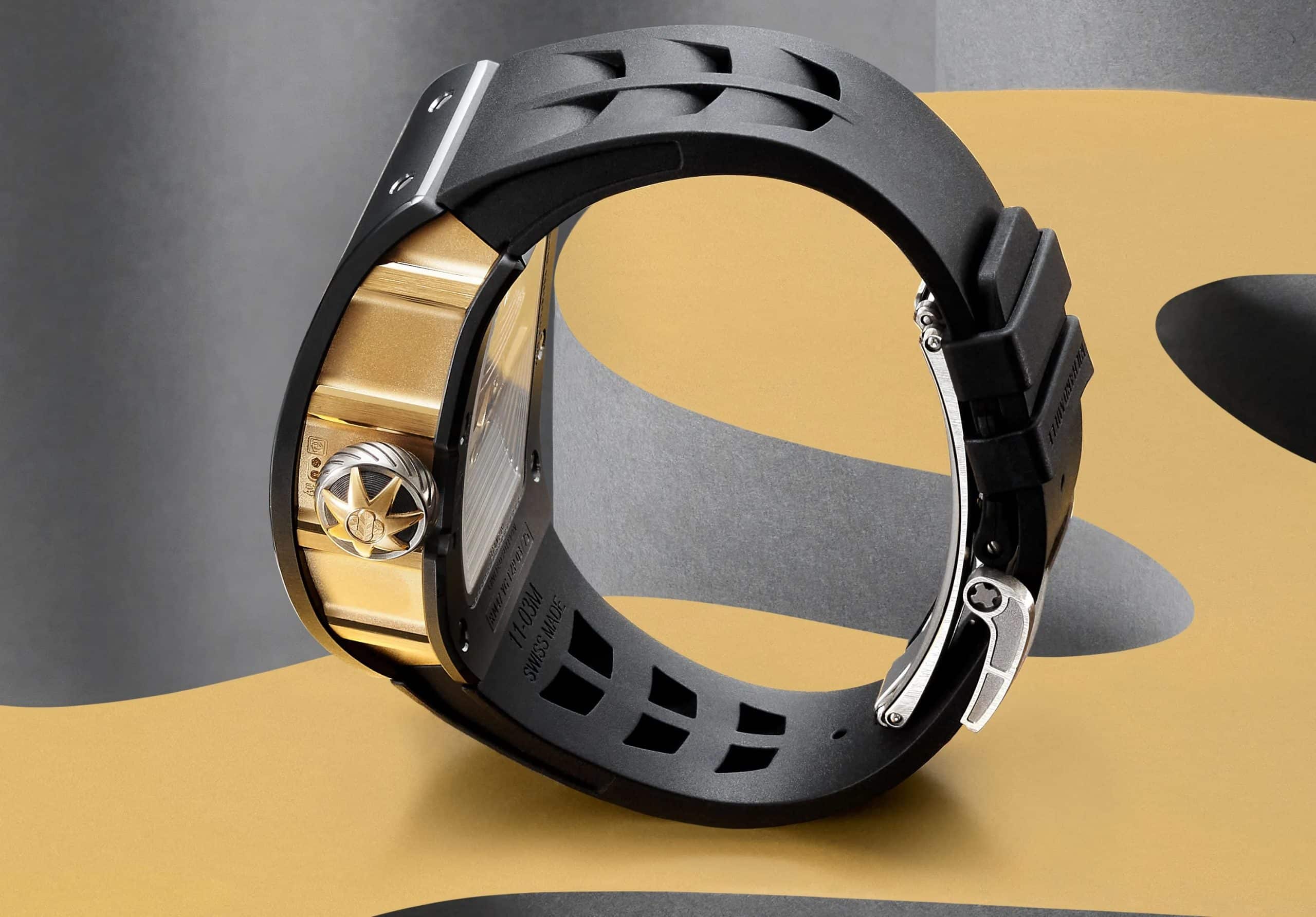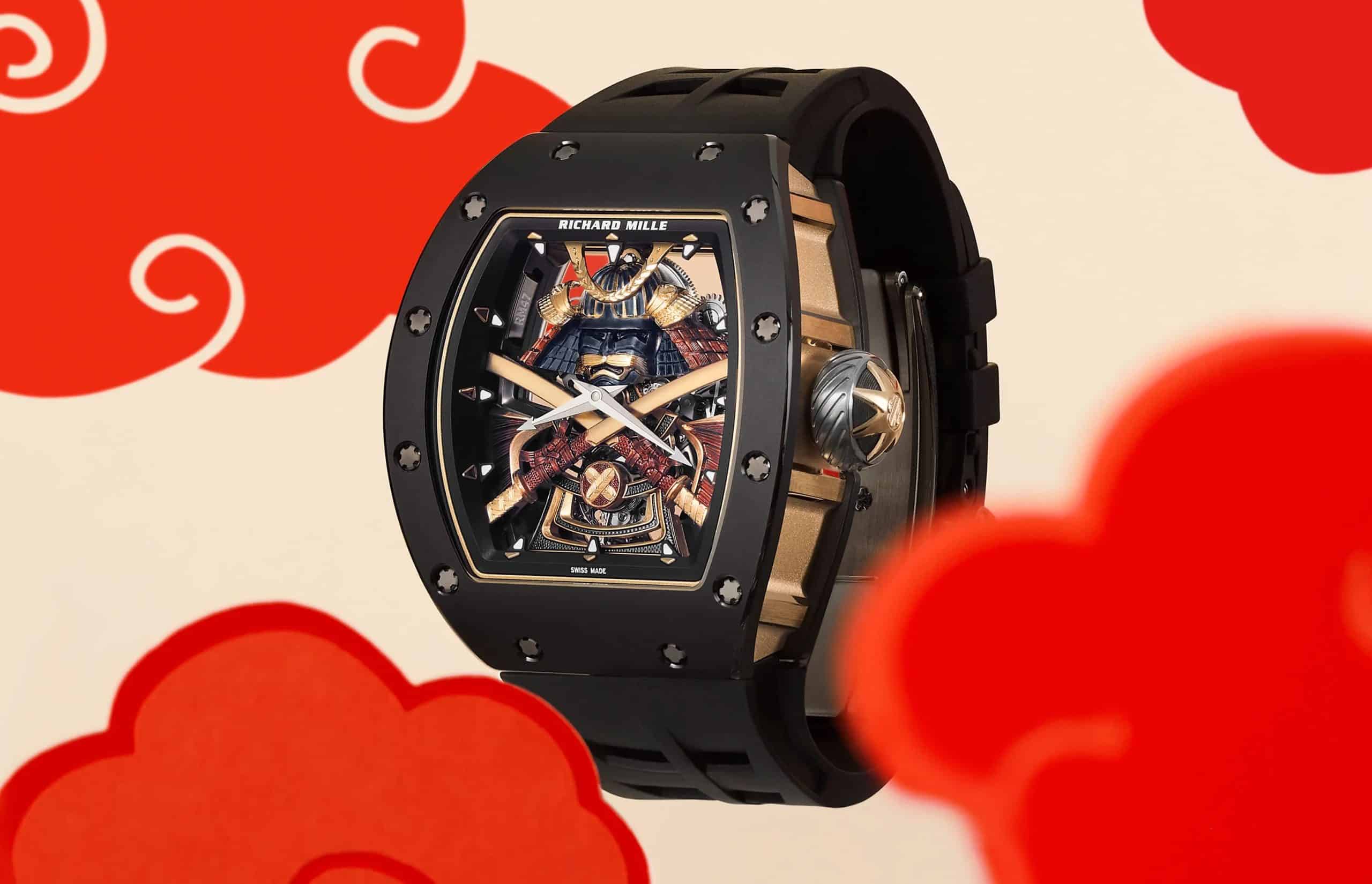 Un diseño escultural
Este nuevo modelo trasciende los límites creativos y toma su lugar en el prestigioso linaje de relojes 'ornamentales' típicos de la marca. Totalmente tallada a mano por el grabador Pierre-Alain Lozeron y pintada por su esposa Valérie Lozeron, la armadura Samurai ilustra los diferentes aspectos de la cultura ancestral japonesa. Evocando el espíritu del bushido, el código ético samurái cuyos valores aún prevalecen en la sociedad japonesa, la armadura cobra vida en oro amarillo 3N, recordando el pan de oro utilizado en el antiguo Japón para embellecer los mejores santuarios del país y también ciertas obras de artesanía tradicional.
Muchos detalles hacen referencia al clan Asano, una familia que simboliza el espíritu bushido. El jefe del dominio familiar en el siglo XVIII, Asano Naganori, también era el señor de los 47 ronin que vengaron su muerte antes de seguirlo al más allá. Su Kamon, o signo heráldico del clan (cada clan Samurai tiene uno), se muestra con orgullo en el tourbillon, ubicado a las seis en punto. Representando dos plumas de halcón cruzadas, que expresan la fuerza en la guerra y la autoridad del soberano, este emblema también está finamente grabado en las aletas de los cascos de los guerreros. La corona, elaborada en titanio, Carbono TPT® y oro amarillo 3N pulido, lleva el motivo de una hoja de arce japonés, un símbolo de las estaciones, así como de la gracia, la belleza y la brevedad de la vida. Finalmente, en la parte inferior, las dos espadas, envainadas en sus sayas, apuntan hacia arriba con los filos cortantes de sus hojas para ser desenvainadas rápidamente en caso de peligro.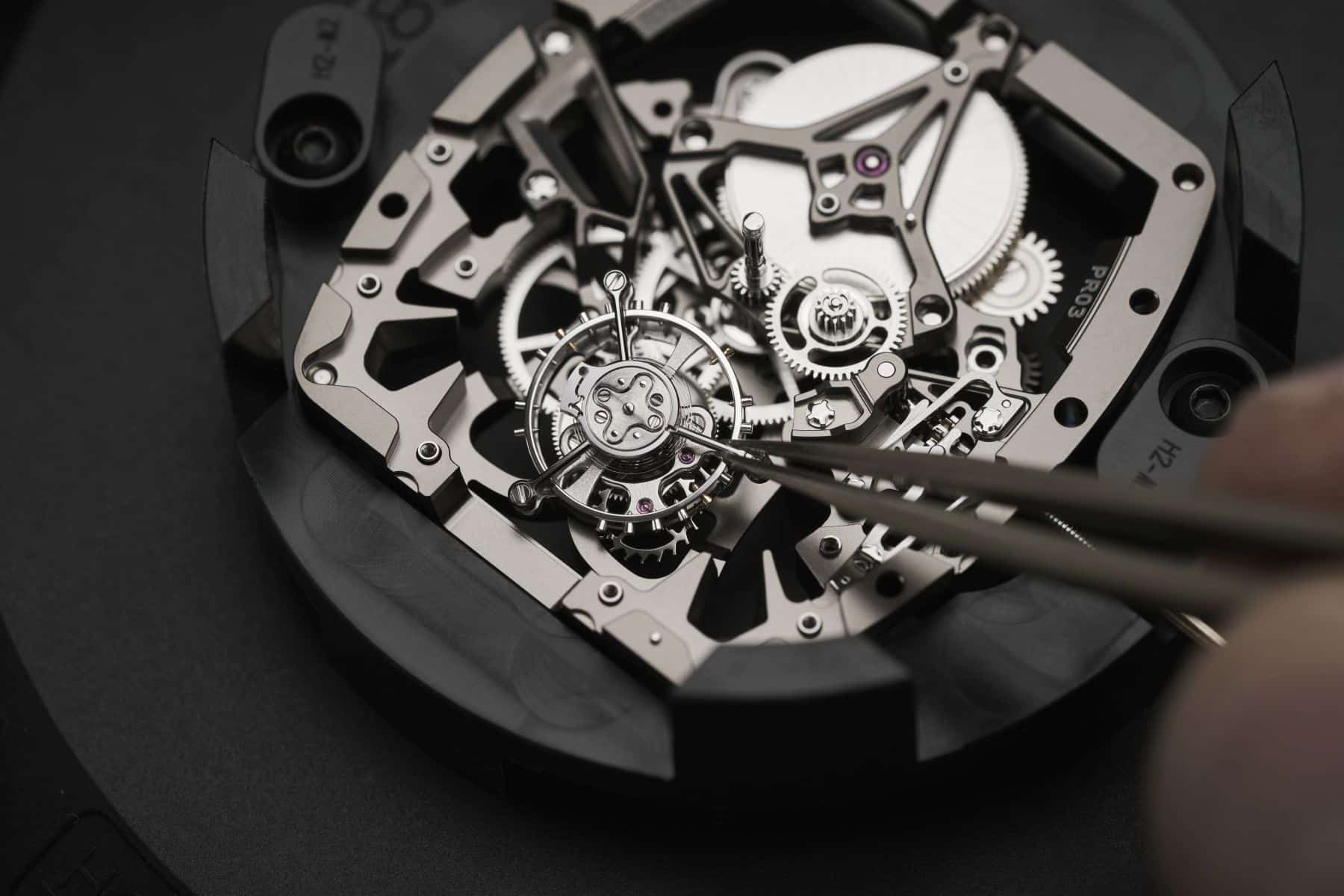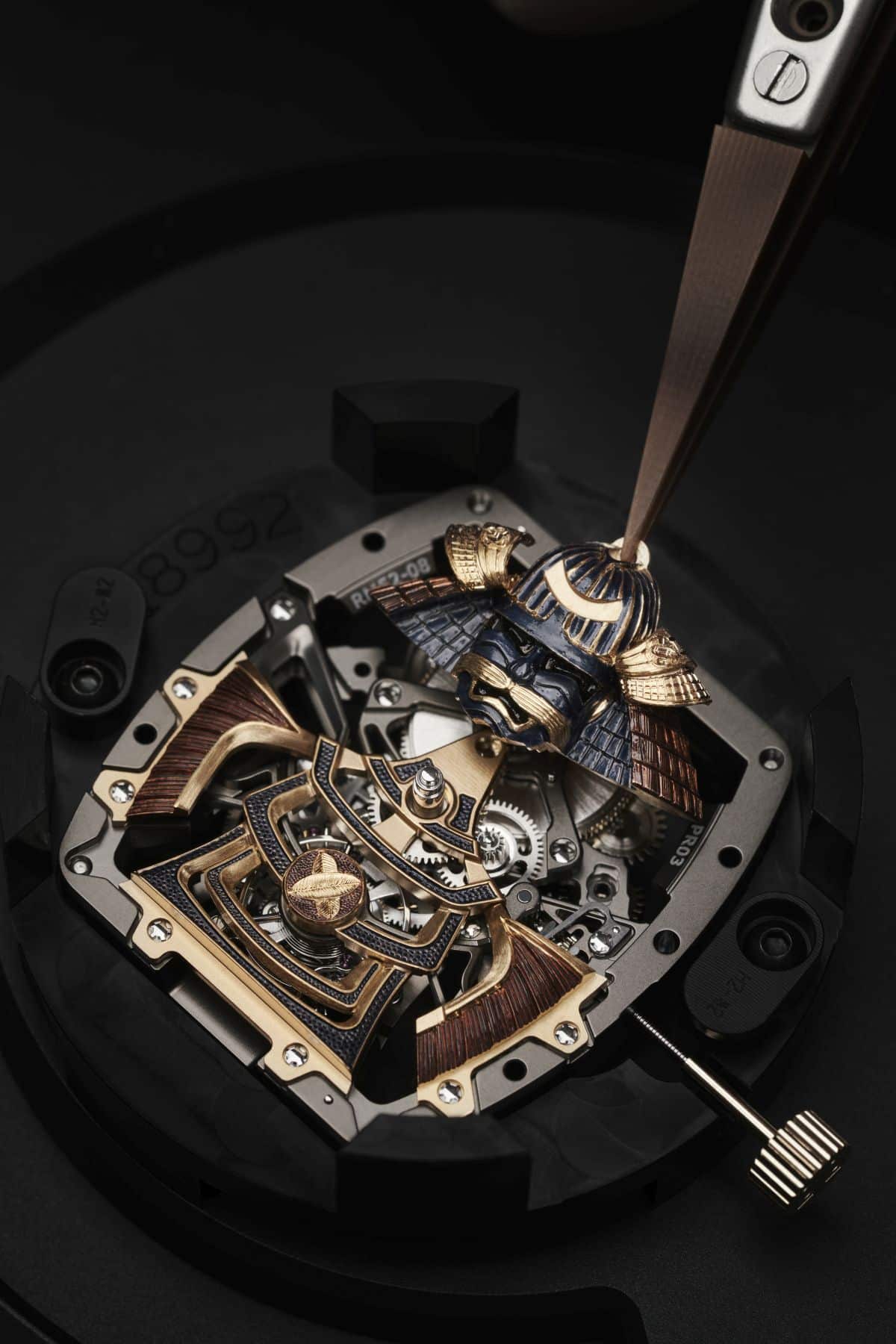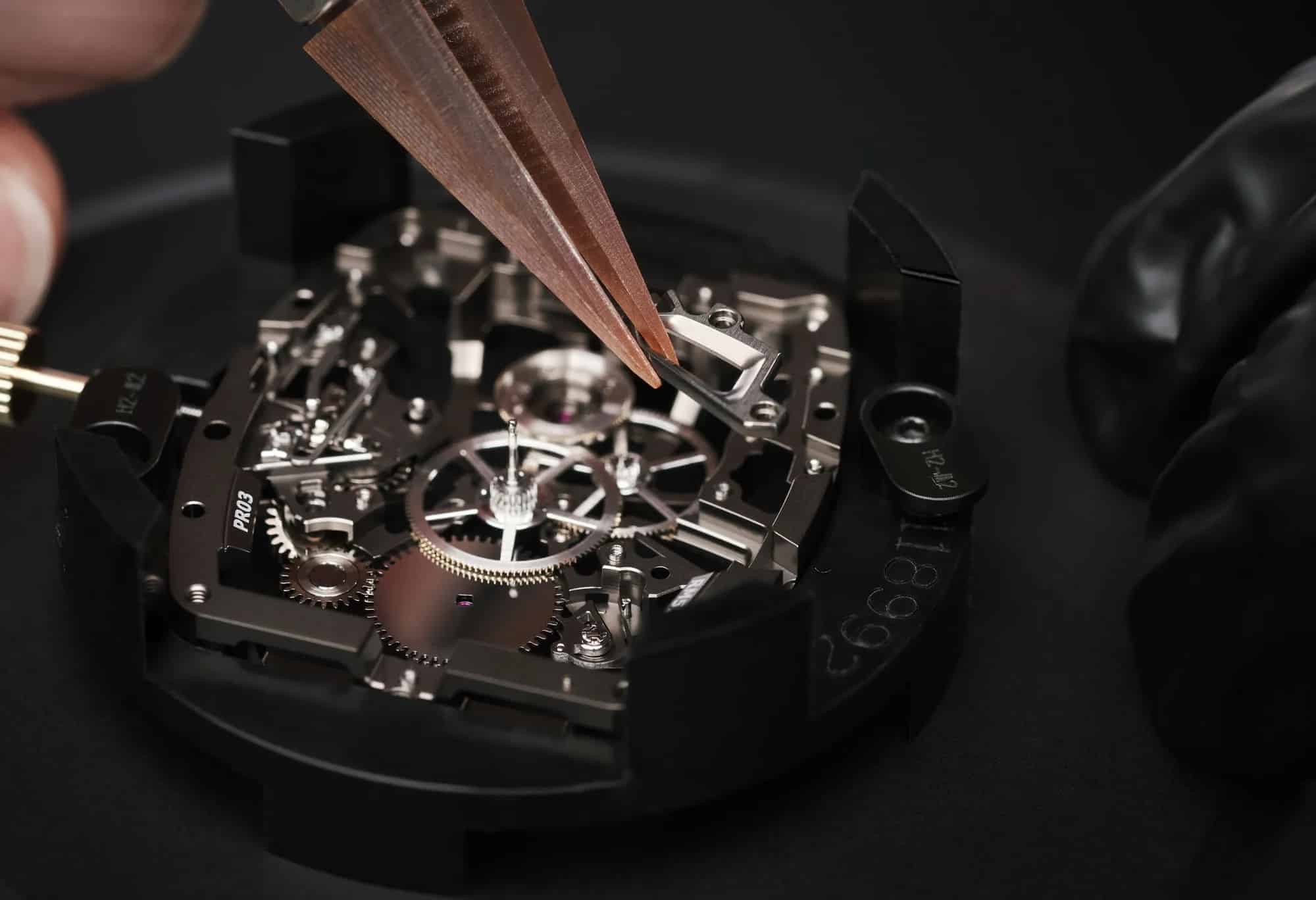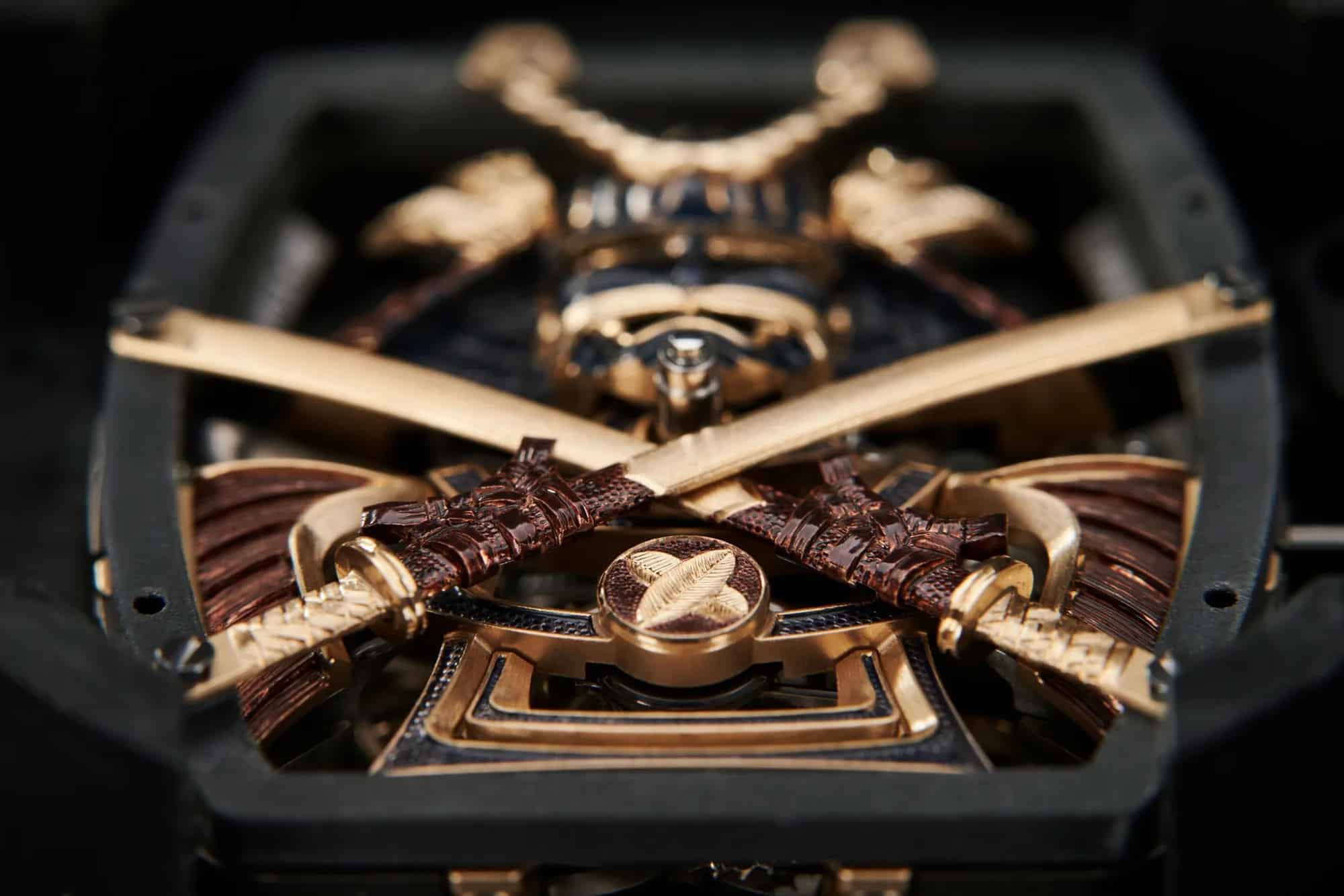 Esta decoración, que es tanto una obra de escultura como una pieza de grabado, exigió paciencia, minuciosidad, destreza y pasión. "Entre la espada y el cincel, entre el filo de la hoja y las incisiones definidas por la precisión de la técnica del grabador, hay muchos paralelismos para evocar las similitudes entre las cualidades de estos guerreros y las que exigen nuestros oficios artísticos", explica Pierre-Alain Lozerón. En total, se necesitan nada menos que 16 horas de grabado y 9 horas de pintura -más de un día entero en todal- para obtener las 11 partes que componen el Samurai, perfectamente integradas, anverso y reverso, en torno al movimiento del RM 47 Tourbillon.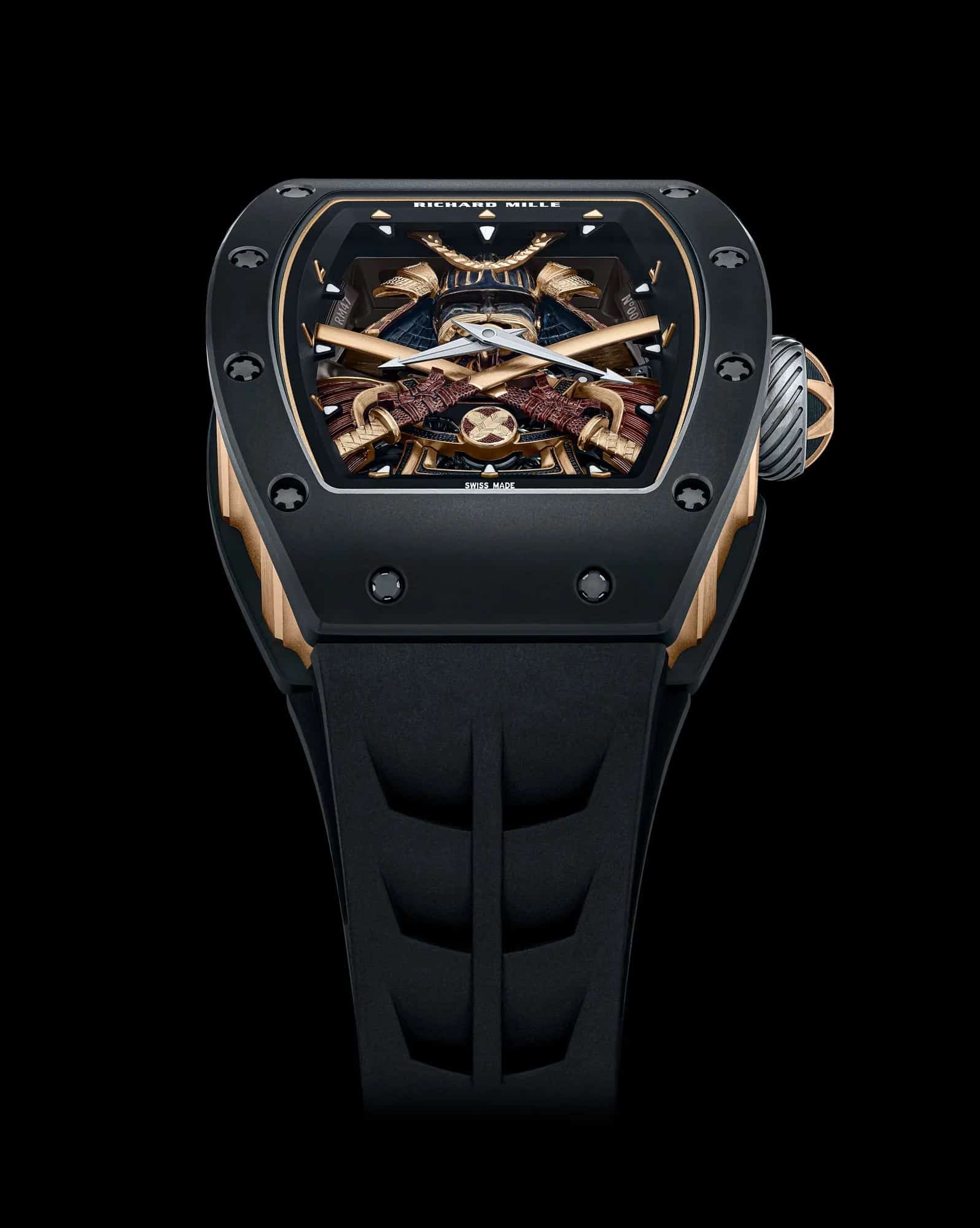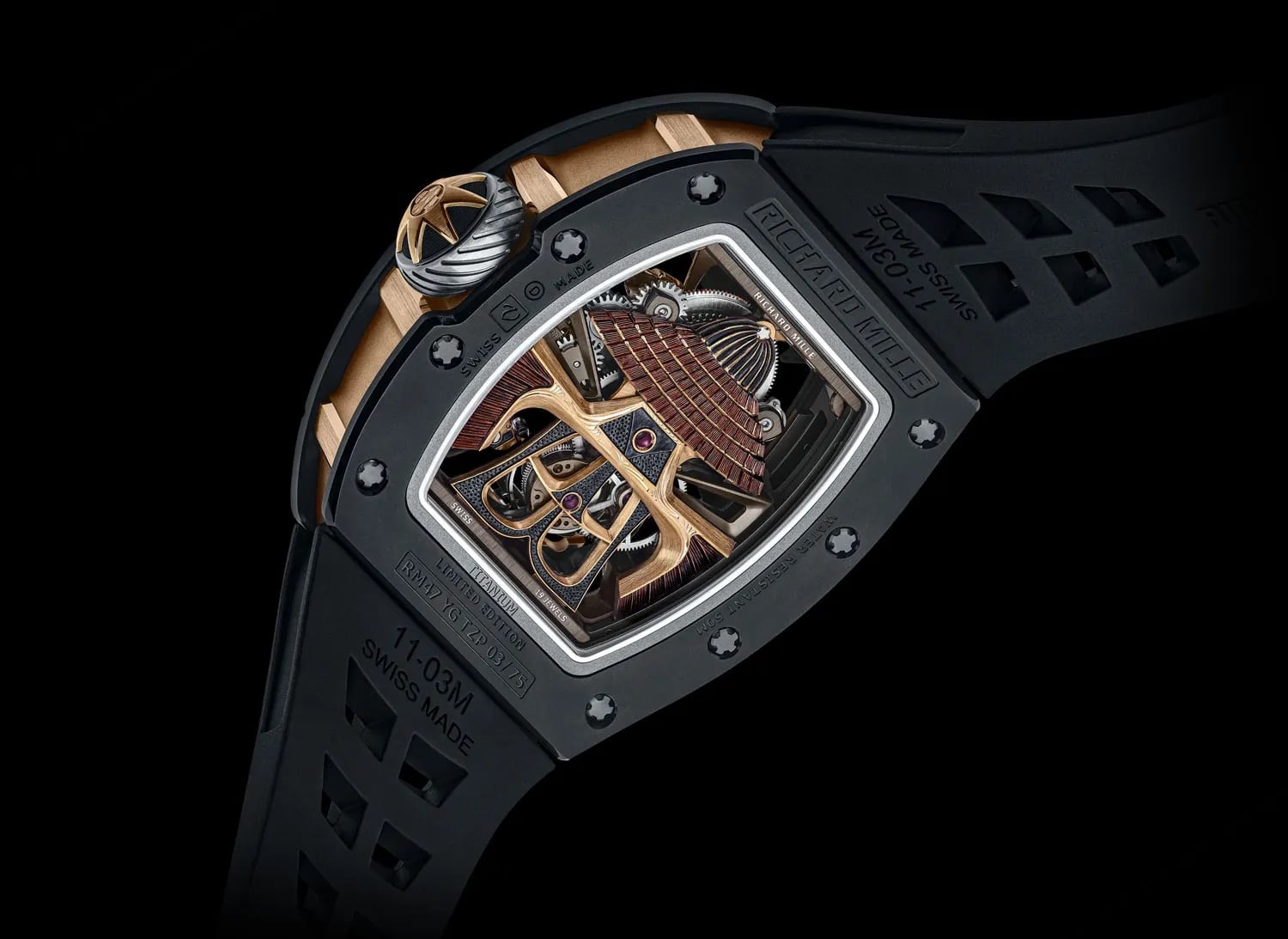 Calibre tourbillon de cuerda manual
Como un guardián, la armadura brinda una valiosa protección para el calibre de cuerda manual RM47 con horas y minutos. Para garantizar el funcionamiento óptimo del movimiento, la placa base y los puentes esqueletizados están hechos de titanio de grado 5, una aleación biocompatible que se usa a menudo en la industria aeroespacial, con un tratamiento de PVD negro. Esta combinación ofrece alta resistencia a la corrosión, una notable rigidez y superficies perfectamente planas.
El movimiento, la caja y la decoración del RM 47 dan testimonio de un enfoque de diseño destinado a garantizar la integración armoniosa y eficaz de todos los elementos. La caja, en forma de barril, se compone de tres partes, con un canto de oro amarillo 3N que recibe un bisel y un fondo de caja de cerámica TZP negra. Con su excepcional estética, los 75 relojes RM 47 Tourbillon evocan la espiritualidad y los valores del bushido, al tiempo que encarnan una búsqueda decidida de la perfección y el respeto por la tradición. El precio del Richard Mille RM 47 Tourbillon se estima en 985.000 euros.