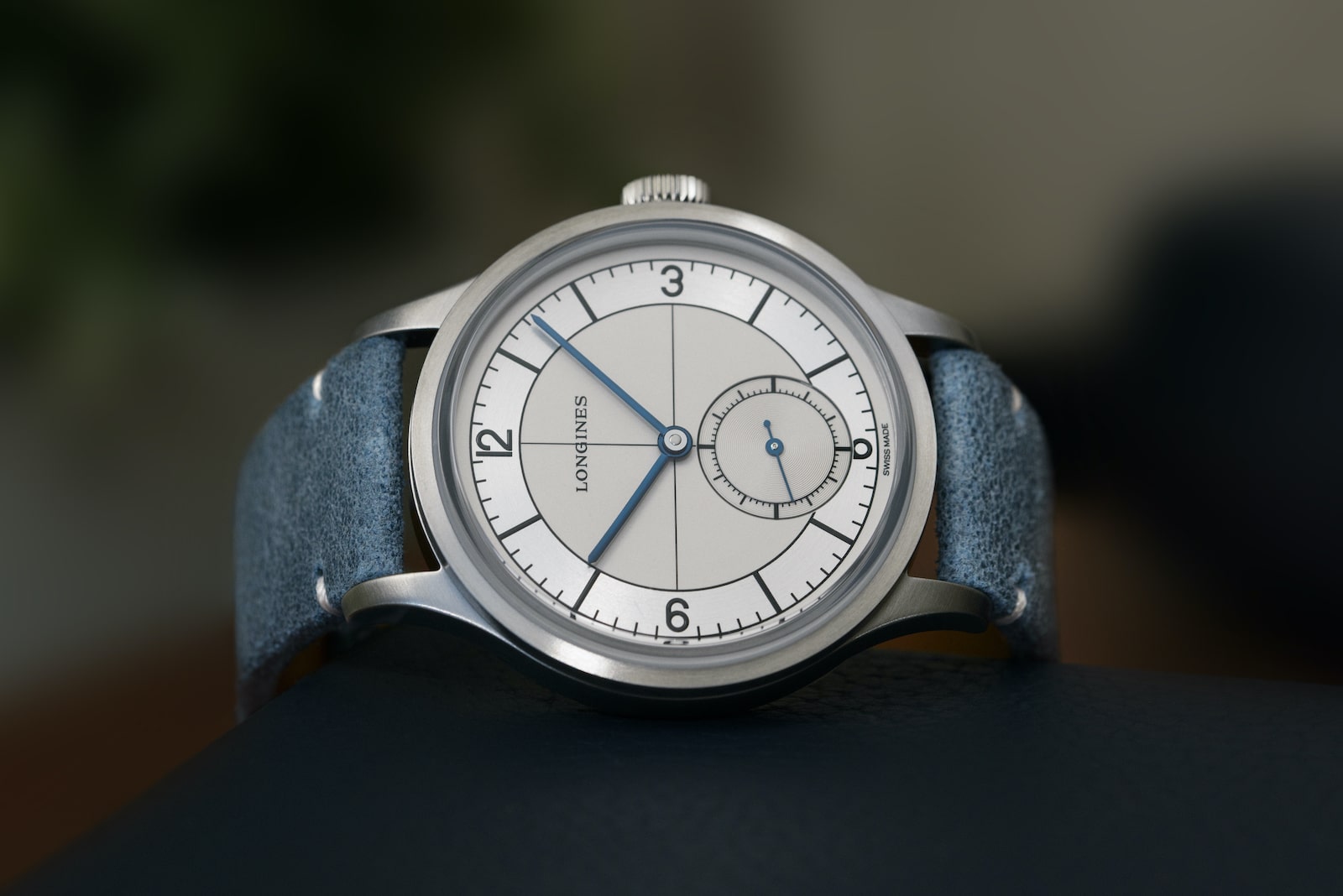 Hoy, Longines reinventa un modelo típico de los años 30 (famoso por la estética de su esfera por sectores) para crear The Longines Heritage Classic. La larga y rica historia de Longines se escribe gracias a los hitos de la marca. Cada pieza creada a lo largo de estos años forma parte de la identidad del relojero suizo, un trozo de historia que Longines siempre ha buscado preservar y poner en valor. De igual modo, le gusta recurrir a este patrimonio de manera regular para nutrir su línea Heritage.
Con su diseño depurado, esta nueva creación respeta a la perfección el espíritu de los años 30 de la pieza que lo inspira. En particular, recupera la estética de su esfera por sectores, consiguiendo un equilibrio sutil de colores y líneas. Un círculo plateado opalino cuyas finas agujas de acero azulado de sublime claridad destacan en el centro.
El círculo horario, decorado con números árabes e índices, aparece en un círculo plateado satinado. Por su parte, un borde fino, también plateado opalino, rodea las horas. Otro detalle significativo de la esfera: el segundero pequeño (plateado opalino estriado) se caracteriza por su tamaño y posición perfecta. Con ello se muestra la voluntad de permanecer fiel al modelo original.
Para ello, The Longines Heritage Classic incluye un nuevo calibre exclusivo (L893.5), dotado de un espiral de silicio. Este movimiento mecánico con cuerda automática, concebido para todas las piezas de la línea Heritage, no incluye fecha, y permite rebajar el segundero pequeño con respecto al eje central, consiguiendo así un diseño aún más parecido al de las piezas históricas. El reloj destaca también por el diámetro de su caja de acero inoxidable: 38,50 mm, un tamaño contemporáneo que se hace eco del de las elegantes piezas de los años 30.
Para que este modelo excepcional alcance la perfección, la caja se viste con una correa de cuero azul o negro semimate decorada con pespuntes beige. Estas dos versiones se completan respectivamente con una correa NATO de cuero efecto vaquero color antracita o azul. Con cada modelo se hace entrega de una herramienta para intercambiarlas fácilmente.
Con The Longines Heritage Classic, la marca del reloj de arena alado hace de nuevo gala de su capacidad para engrandecer su pasado y amplía la línea Heritage con un nuevo reloj que sabrá seducir a los enamorados de Longines.
Ficha técnica del The Longines Heritage Classic
NÚMEROS DE REFERENCIA
L2.828.4.73.0
L2.828.4.73.2
CALIBRE
Movimiento mecánico con cuerda automática
Calibre 893 (ETA A31.501)
111⁄2 líneas, 27 rubíes, 25'200 alternancias por hora
Reserva de marcha: 64 horas
FUNCIONES
Horas, minutos y pequeño segundero a las 6
CAJA
Redonda, ∅38.50 mm, de acero inoxidable
ESFERA
Plateada, 2 zonas
Números árabes e índices pintados
AGUJAS
Agujas de acero azulado
ESTANQUEIDAD
Hasta 3 bar (30 metros)
CRISTAL
Cristal de zafiro con varias capas de tratamiento antirreflejos
CORREA
Cuero negro y cuero efecto vaquero azul NATO, con hebilla
Cuero negro y cuero efecto vaquero antracita NATO, con hebilla
PVP RECOMENDADO
2.040€ (ambas versiones)