Pieza emblemática de la colección Héritage de la marca del reloj de arena alado, The Longines Legend Diver Watch ya está disponible en versiones de colores. Estas creaciones, vestidas de azul o marrón, consiguen un nuevo rostro para uno de los primeros relojes de buceo Longines, cuya historia está salpimentada de avances técnicos.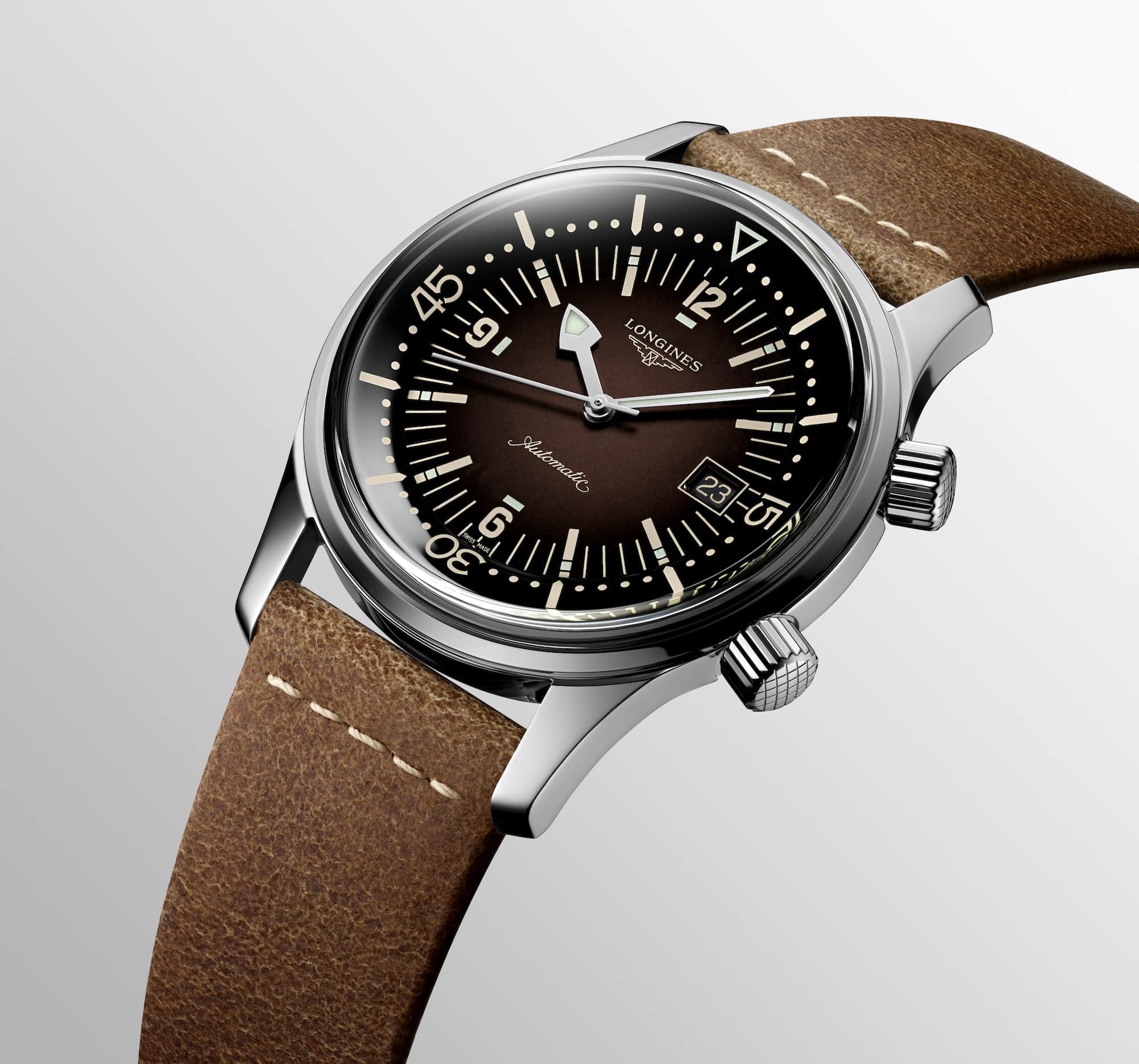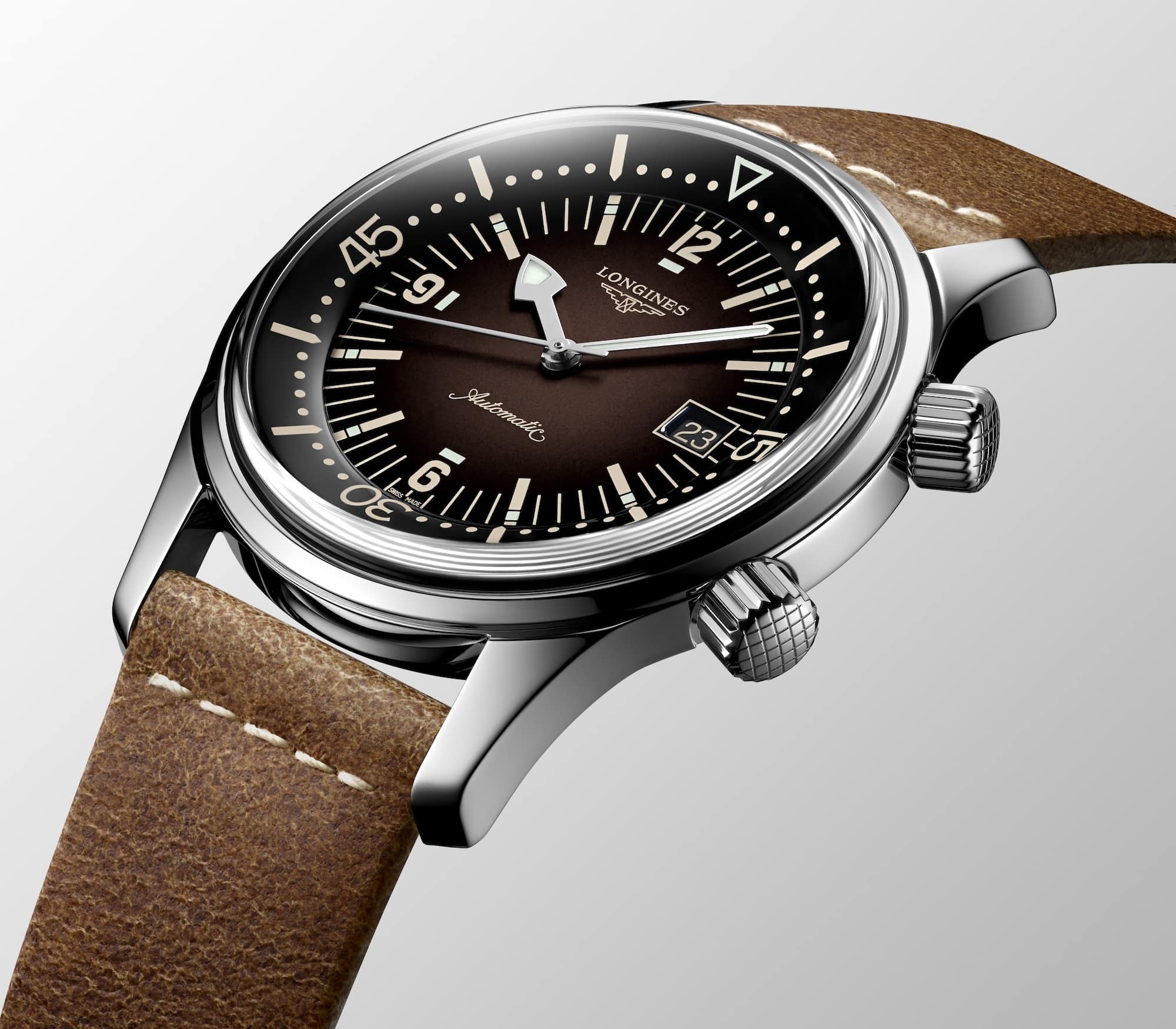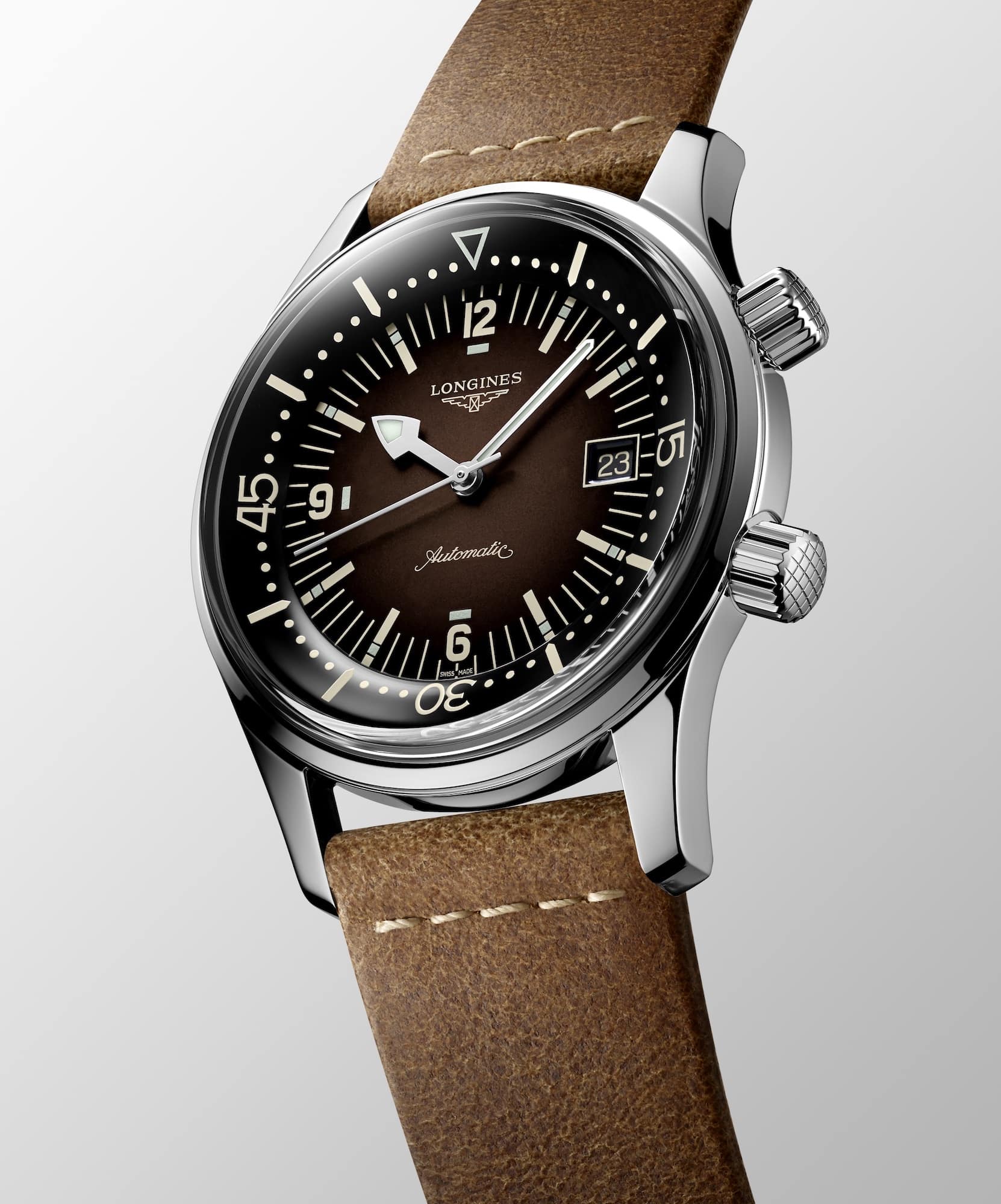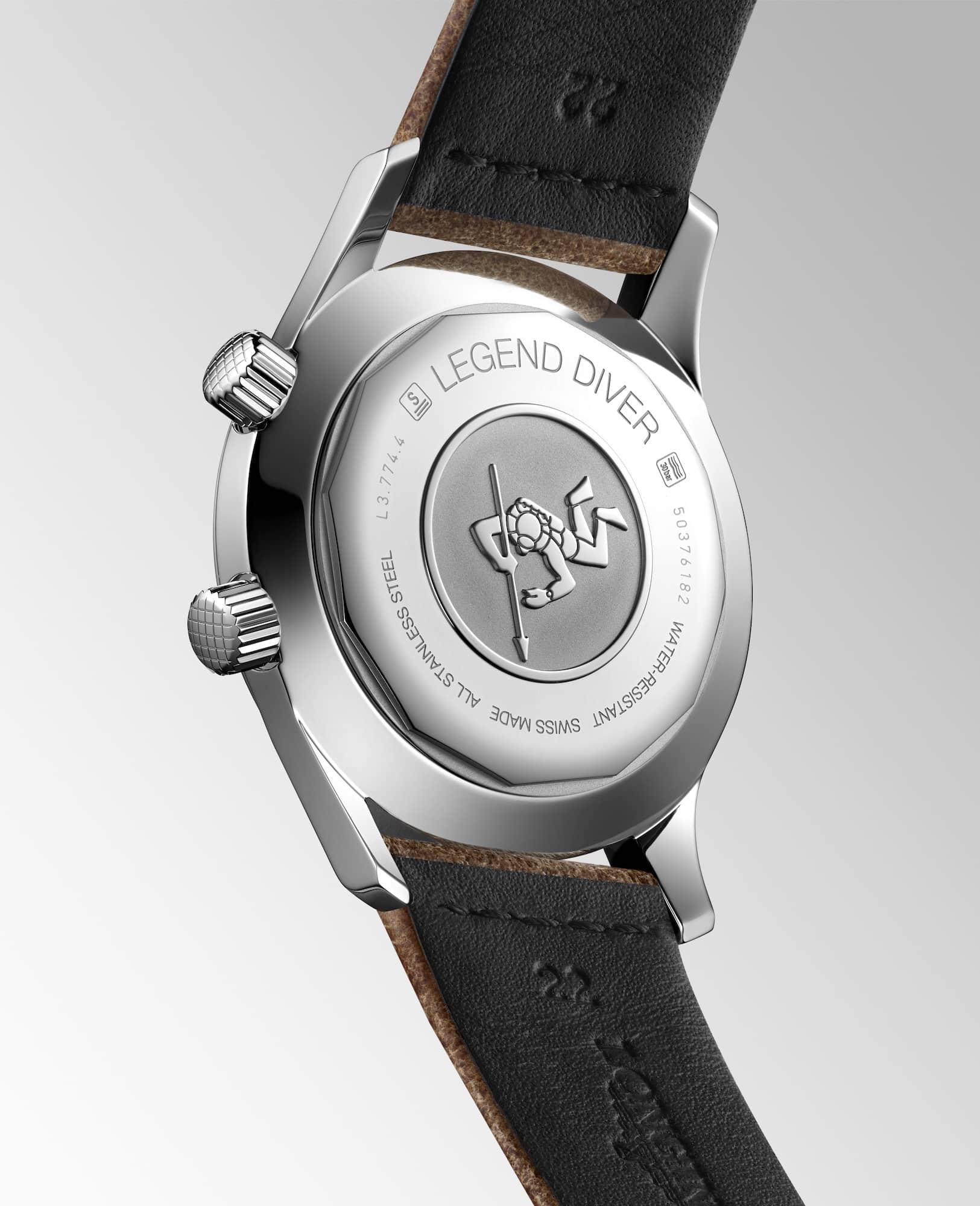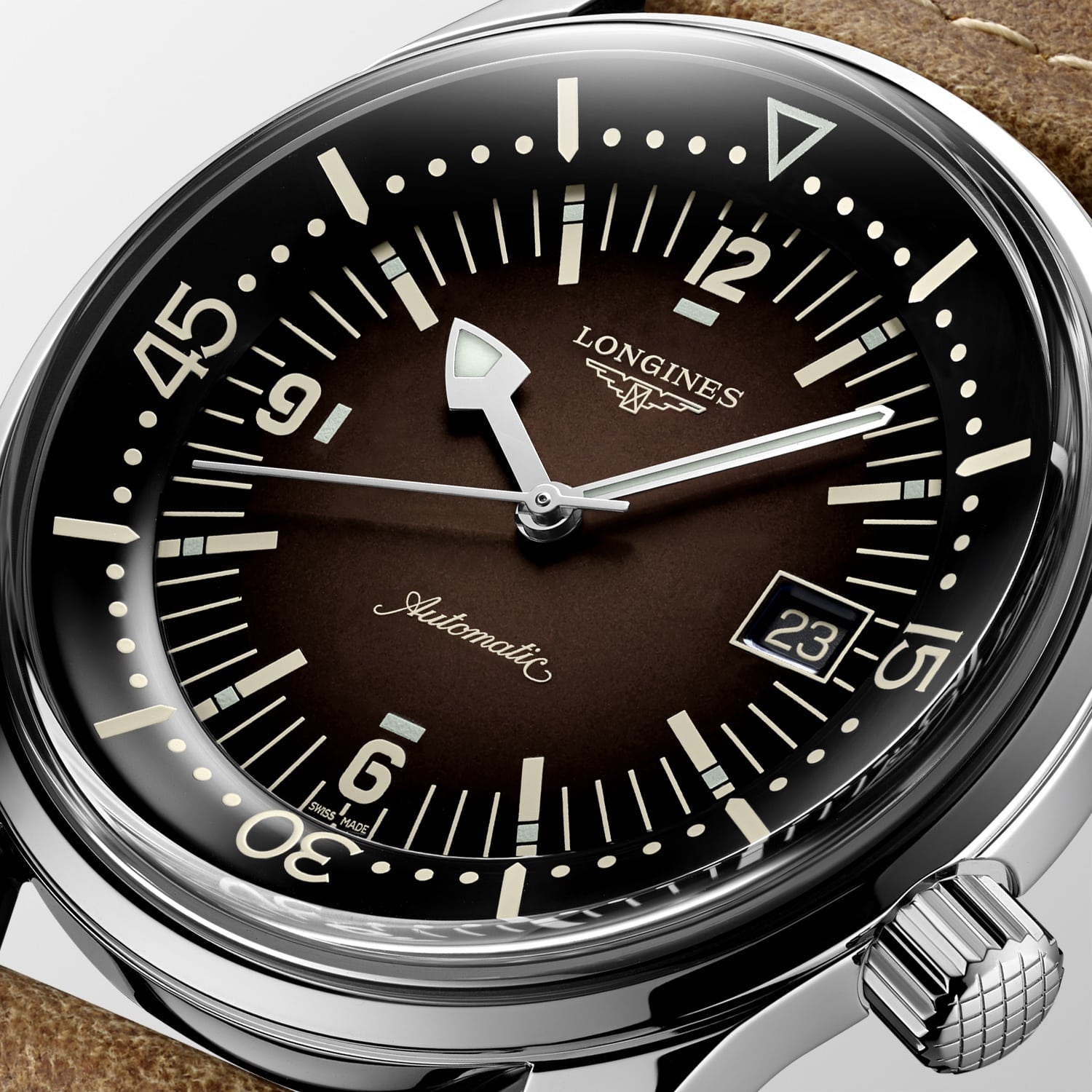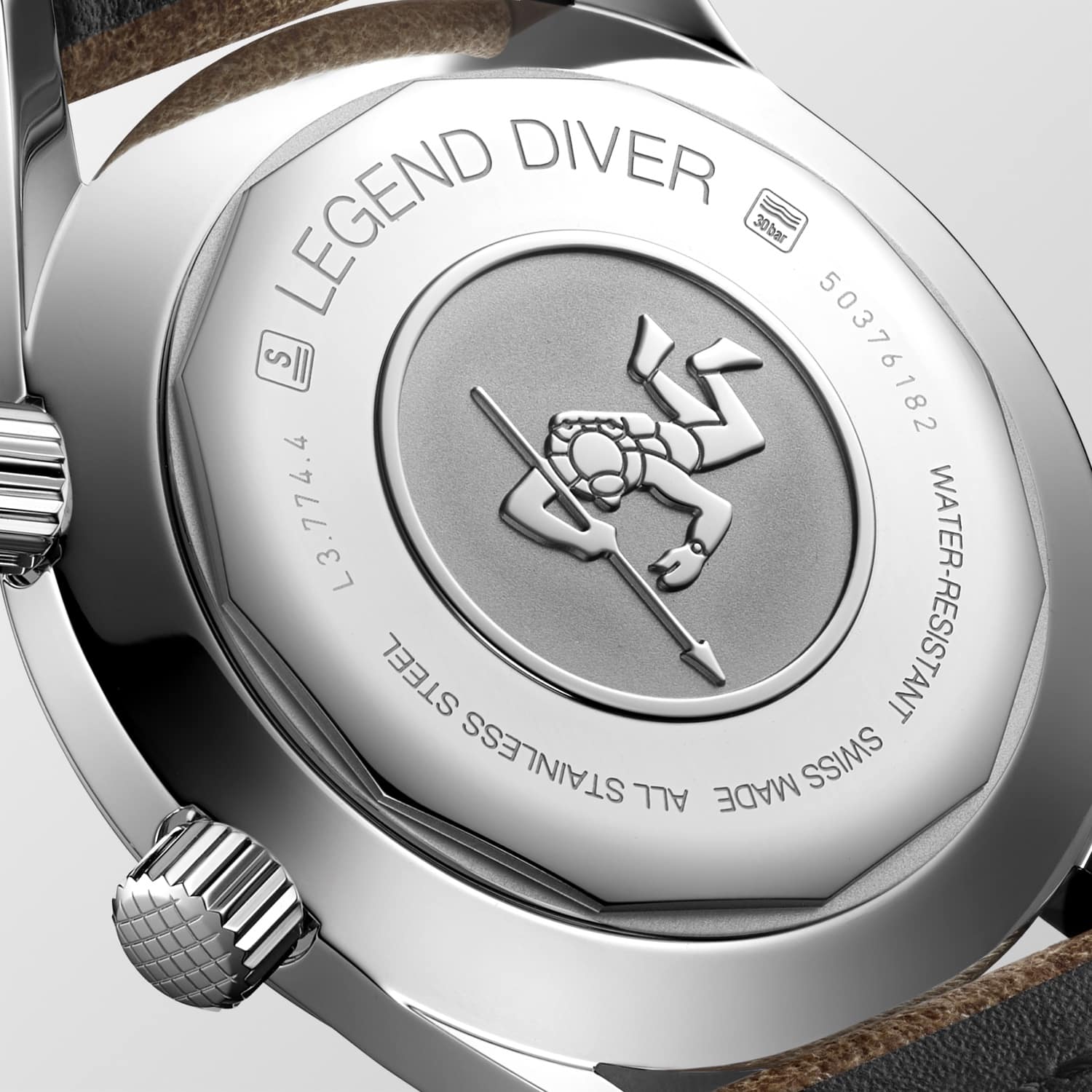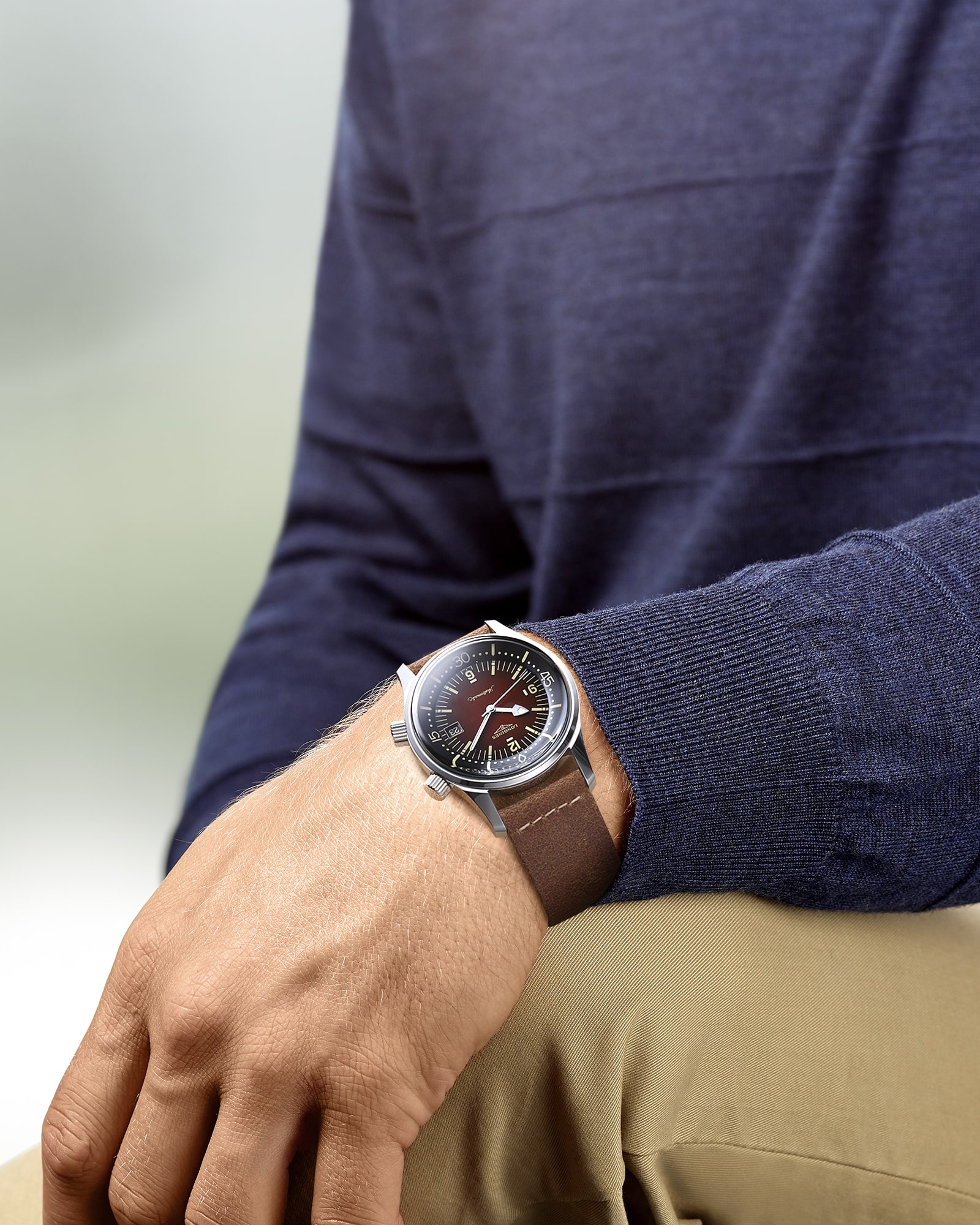 Longines siempre ha vinculado su nombre con el mundo del deporte. Por lo tanto, resulta natural que ponga su experiencia al servicio del buceo. Todo empieza en 1937, cuando la estanqueidad se convierte en un criterio de calidad. Entonces, Longines desarrolló una caja con pulsadores herméticos para su calibre legendario 13ZN, y se aseguró de patentar el diseño. A continuación, la marca del reloj de arena alado firmó varios desarrollos que le llevarían a presentar, en 1958, su primer reloj de buceo civil y, durante los años 60, varios modelos distintos de este tipo.
Algunas de estas piezas clave serán objeto de reediciones para «bucear en la herencia». De este modo, en 2007 se presenta The Longines Legend Diver Watch.
Icono del amplio patrimonio de la casa, esta línea aumentaba progresivamente con los años, y a día de hoy presenta nuevas versiones de acero con tintes azules o marrones.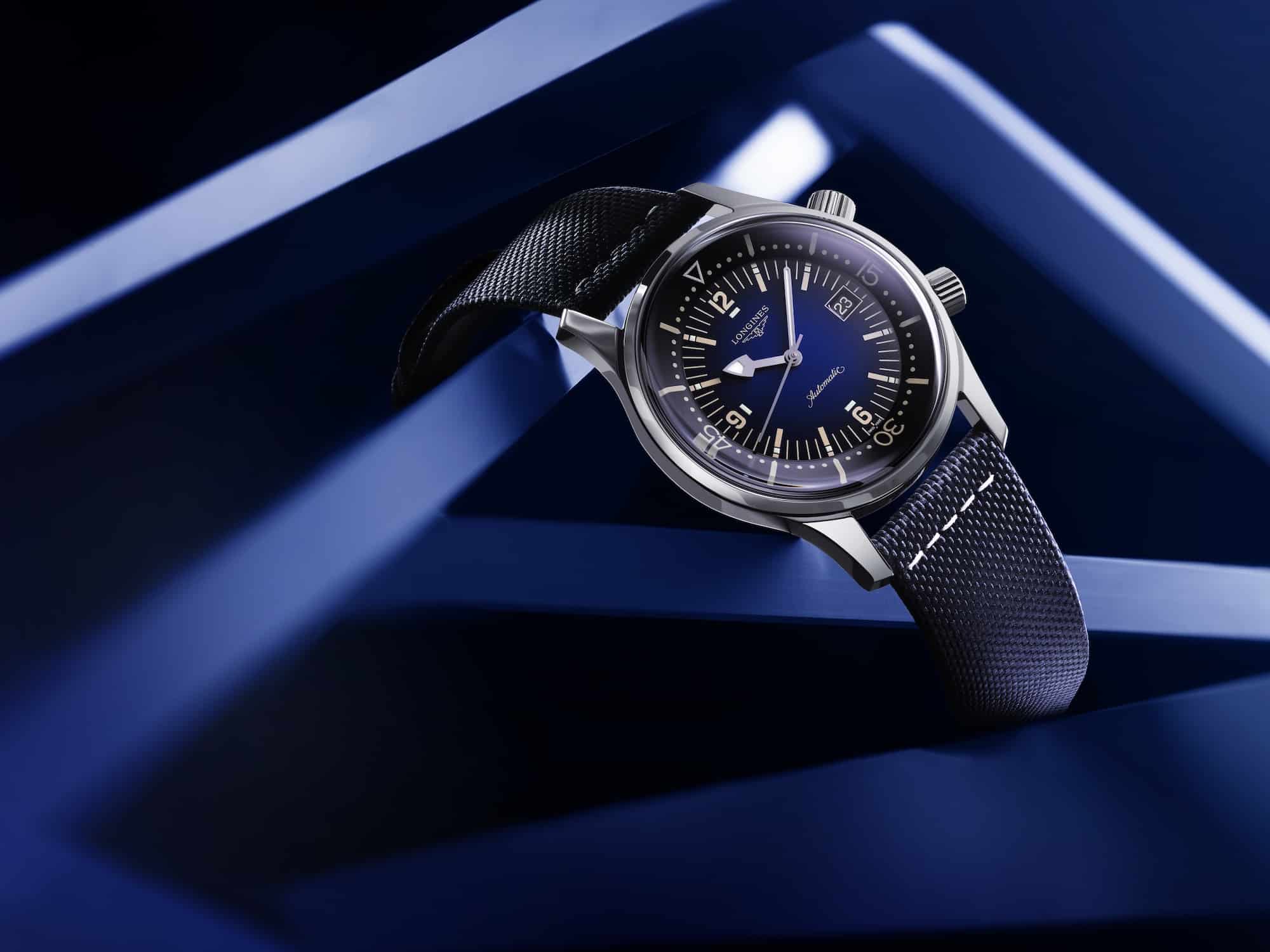 Las últimas adquisiciones de The Longines Legend Diver Watch conservan el espíritu y líneas depuradas del reloj original, al tiempo que aprovechan la experiencia relojera de la marca. Así consiguen características técnicas modernas, como cristal de zafiro, dos coronas y un fondo atornillado para conseguir estanqueidad a 300 metros o incluso un movimiento automático con espiral de silicio, fabricado en exclusiva para Longines.
Su esfera azul o marrón degradado presenta unas agujas luminosas, índices entrecortados con cuadros luminiscentes y números árabes realzados por rectángulos de Super-LumiNova® para garantizar una legibilidad óptima. Un recuerdo de los códigos de la disciplina para la que estaba destinado este reloj en primer lugar. A imagen del modelo original, la impresión de un buceador decora el fondo atornillado de 42 mm de esta pieza. La correa de cuero azul estructurado o marrón combina a la perfección con el color de la esfera. Estos nuevos modelos de The Longines Legend Diver Watch cuentan con una garantía de 5 años.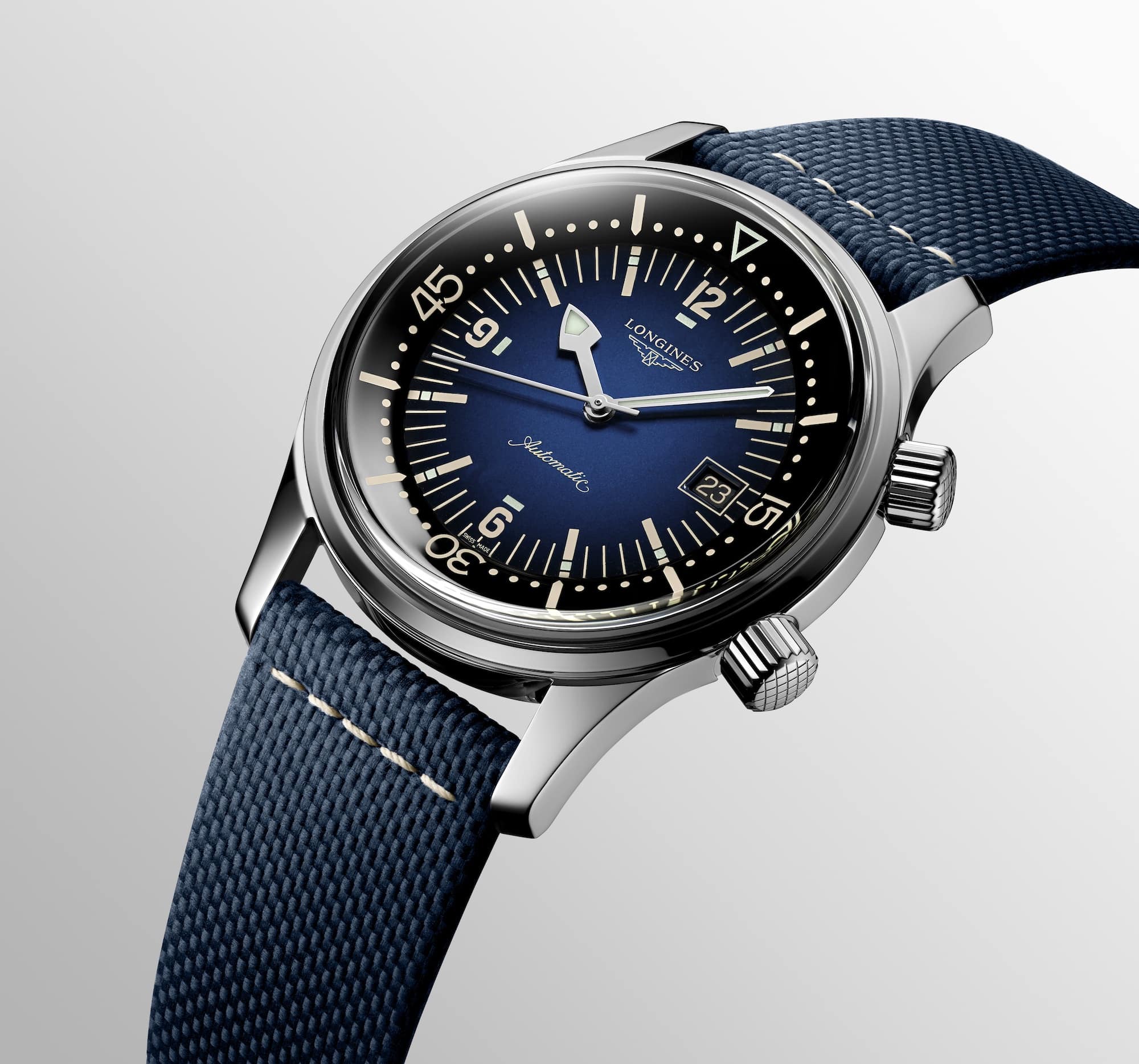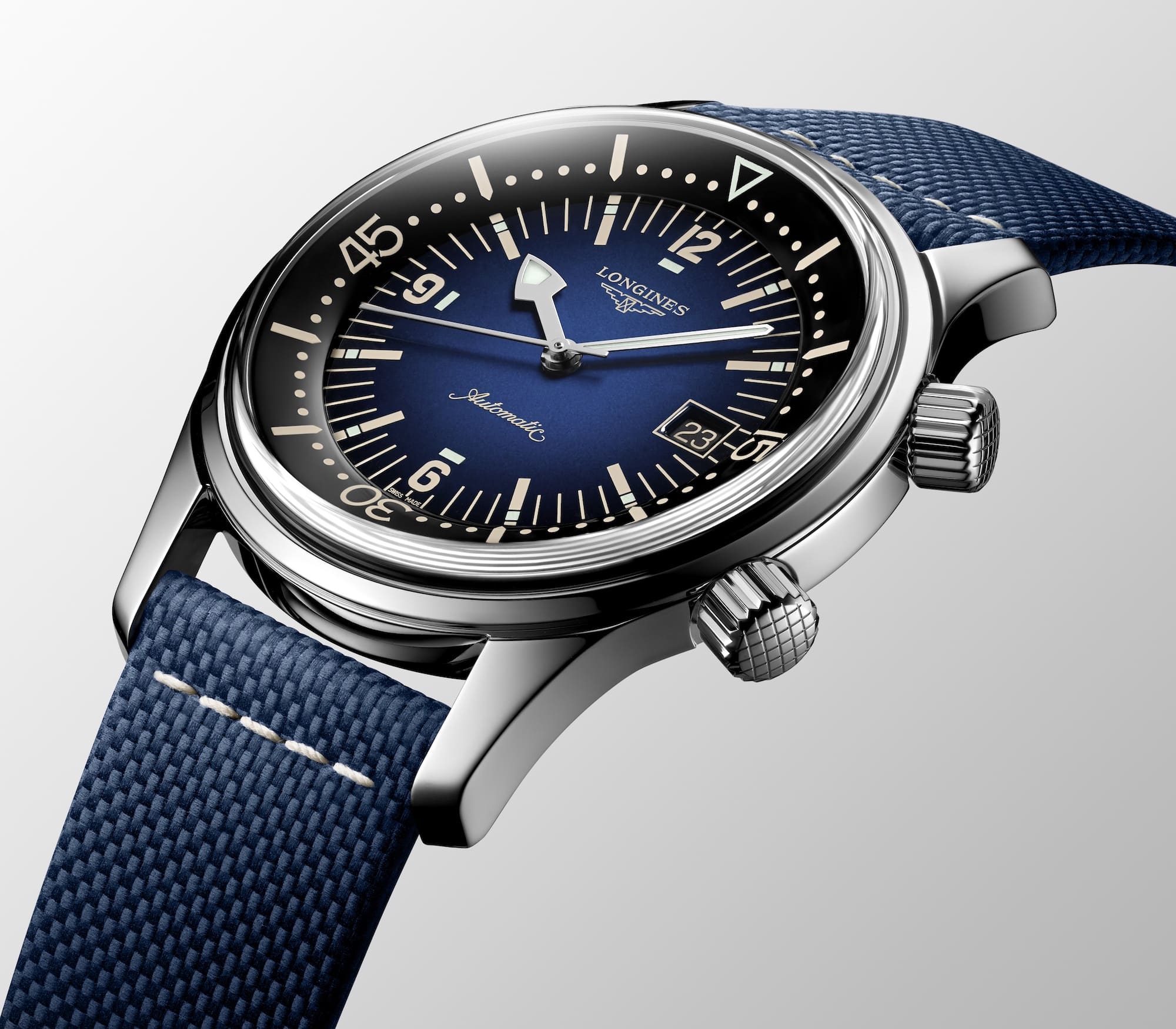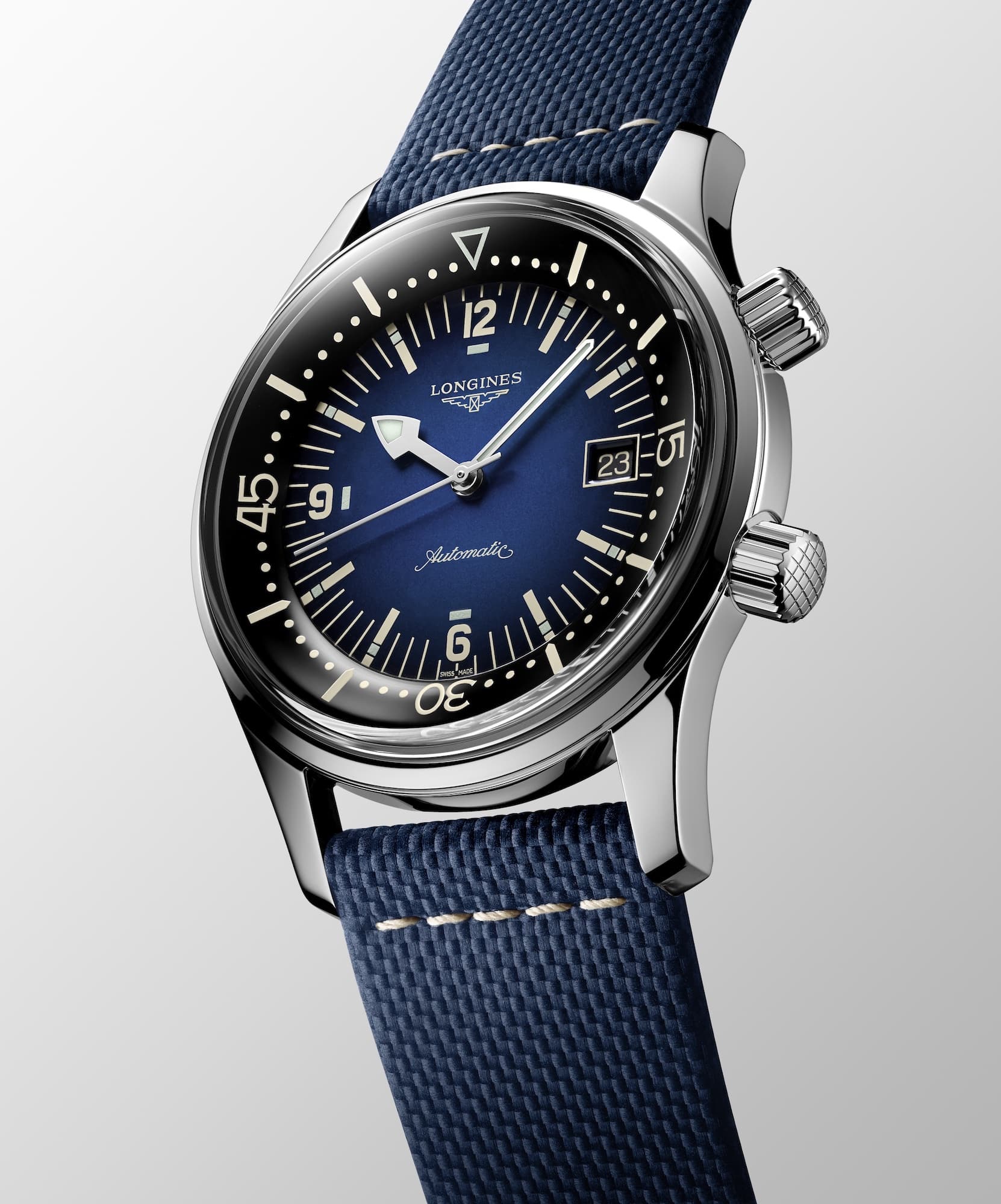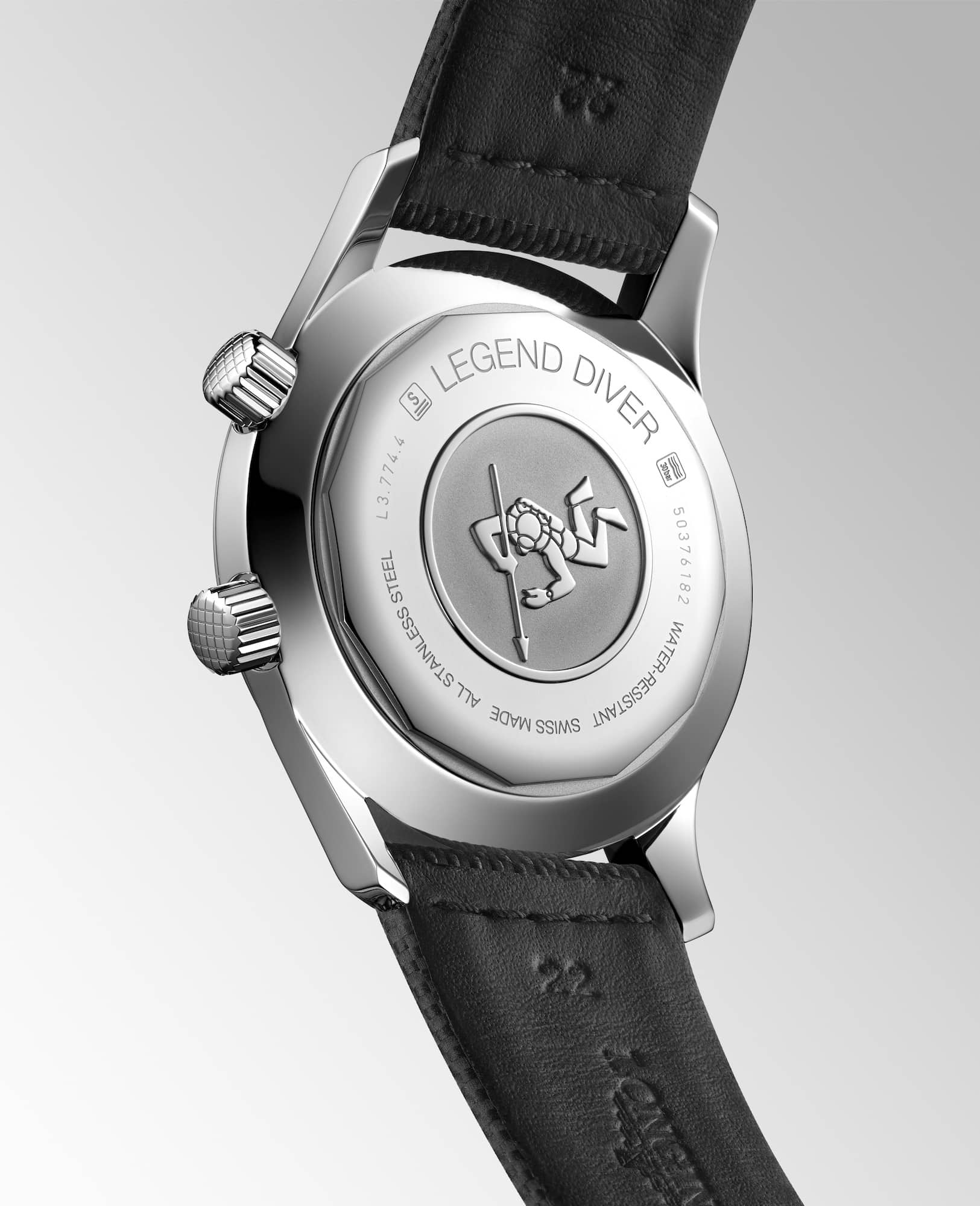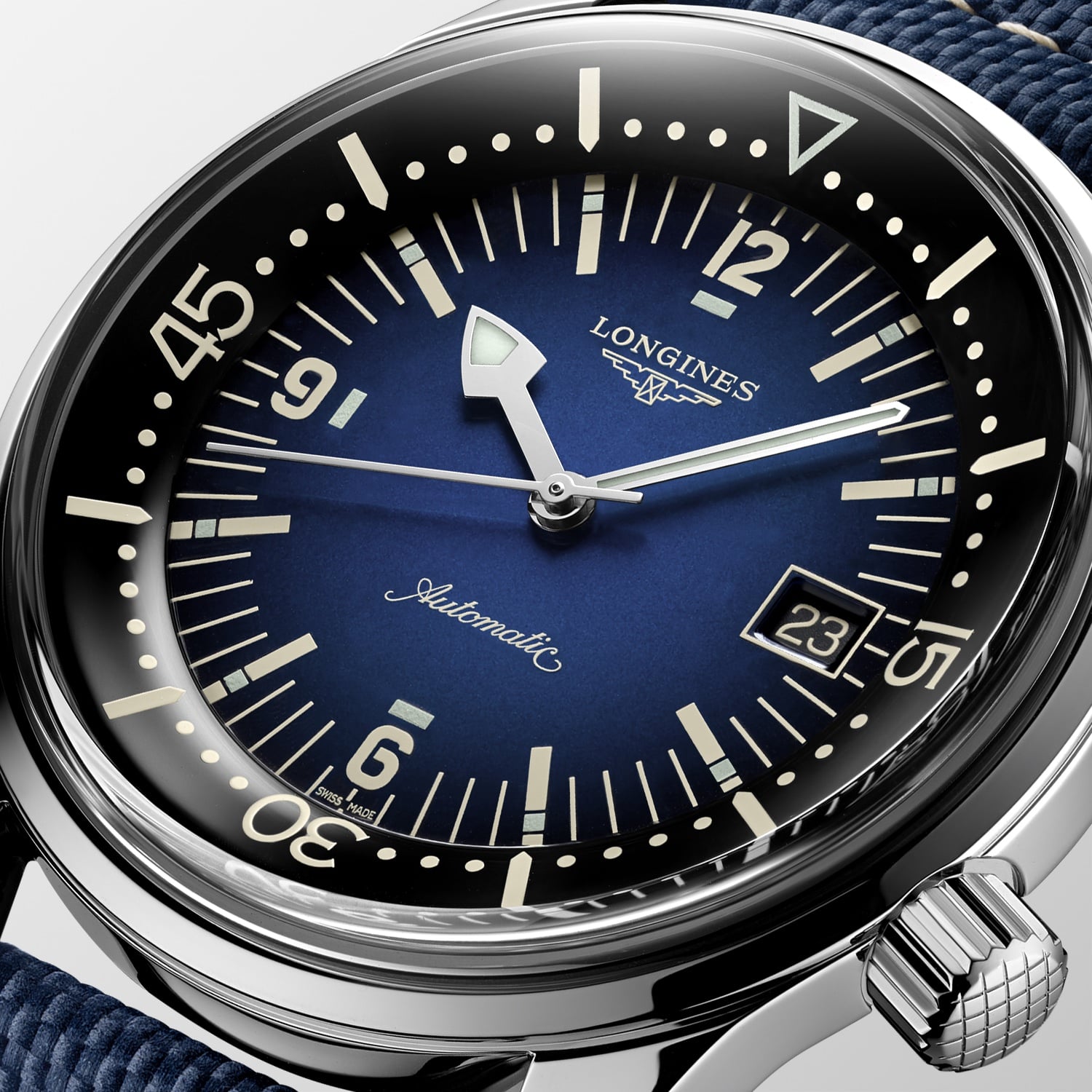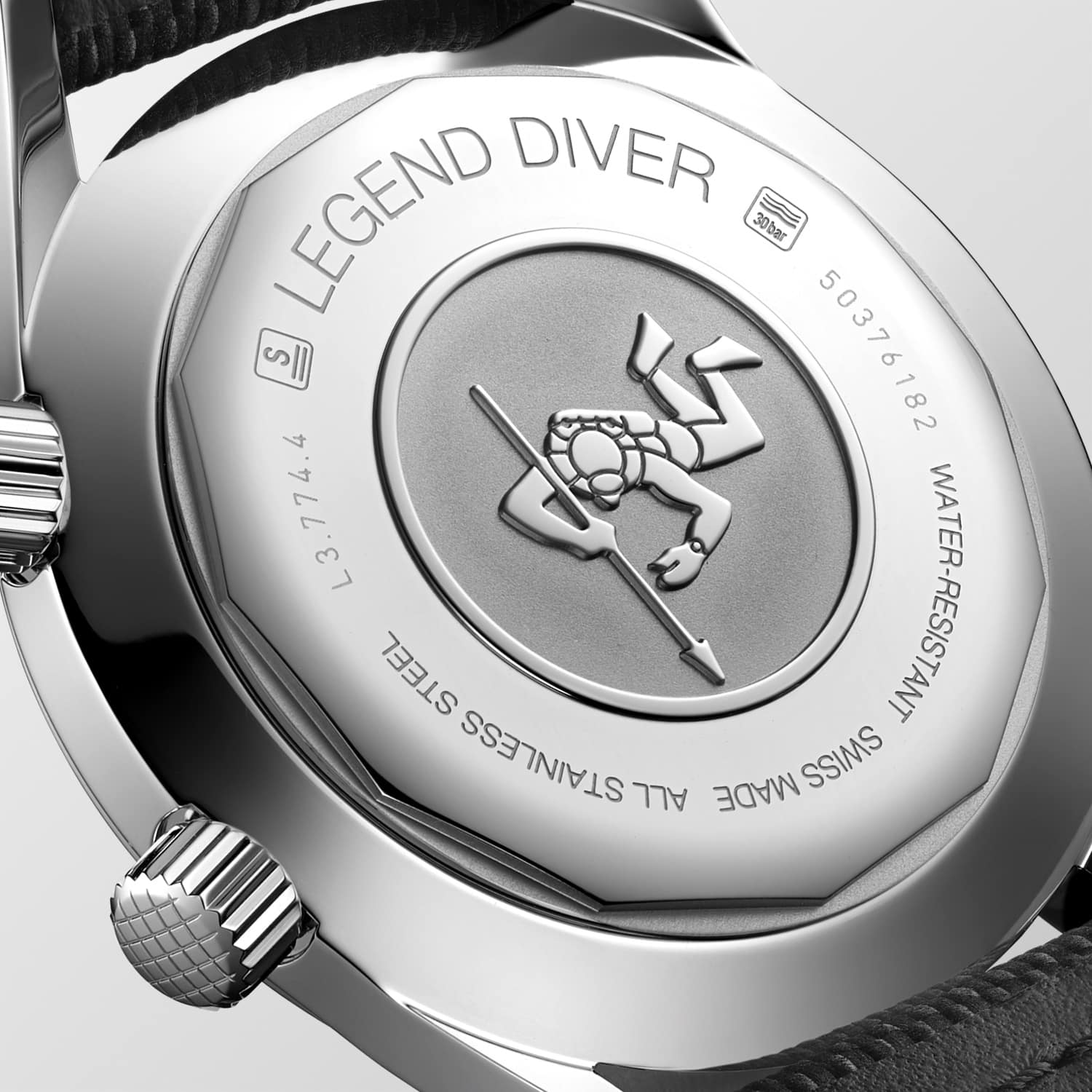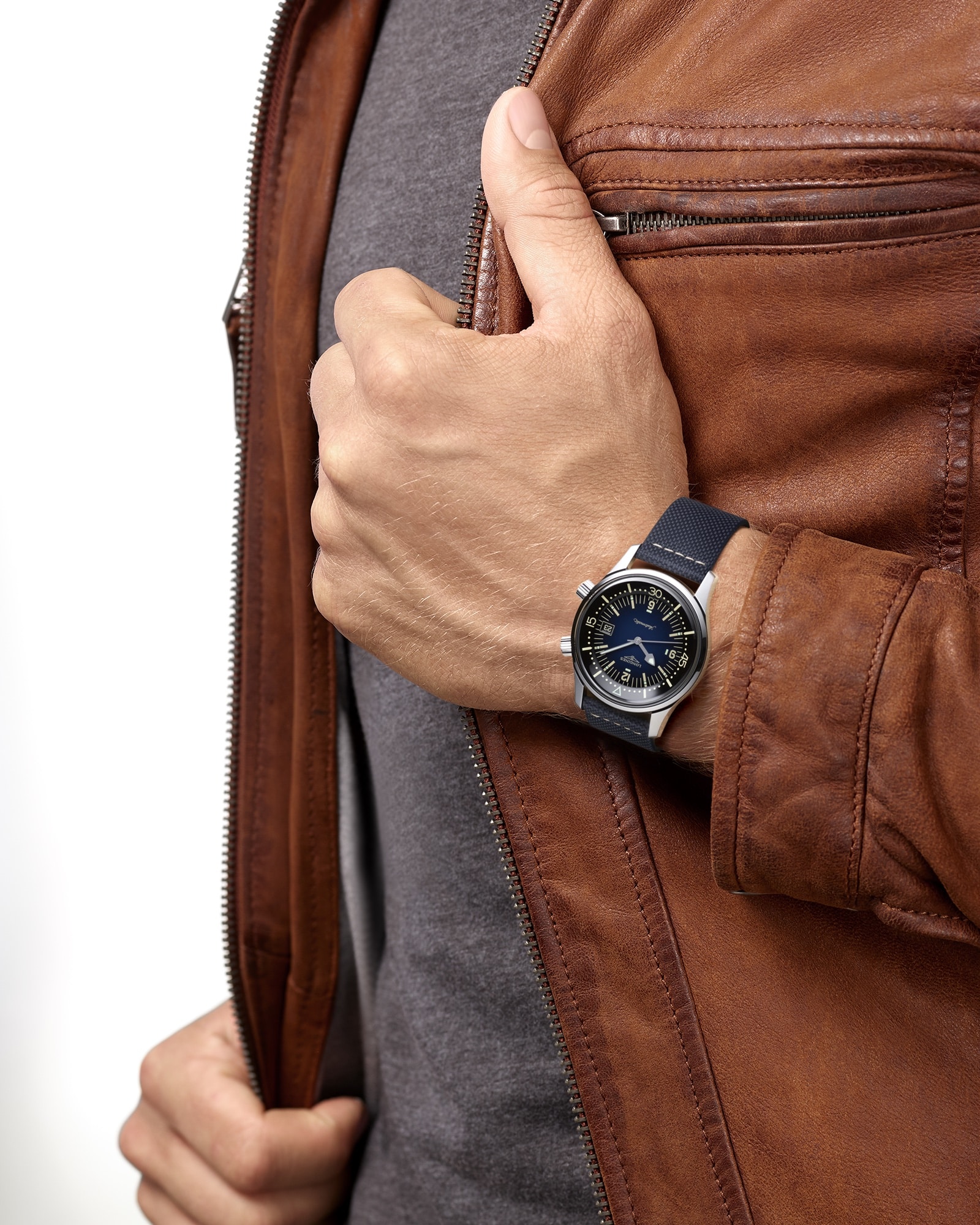 Datos técnicos del The Longines Legend Diver Watch ref. L3.774.4.90.2 y L3.774.4.60.2
NÚMEROS DE REFERENCIA
L3.774.4.90.2
L3.774.4.60.2
CALIBRE
Movimiento mecánico con cuerda automática
Calibre L888.5 (ETA A31.L11)
Espiral de silicio
111⁄2 líneas, 21 rubíes, 25'200 alternancias por hora
Reserva de marcha de 64 horas
FUNCIONES
Horas, minutos, segundos y fecha
CAJA
Redonda, Ø 42 mm
Acero
Con bisel giratorio interno para buceo
Dos coronas atornilladas y fondo atornillado
Símbolo de «buceador» en relieve sobre el fondo
ESFERAS
Azul o marrón degradado con índices entrecortados con cuadrados de Super-LumiNova®, y números árabes realzados con rectángulos luminiscentes
AGUJAS
Bañadas en rodio, pulidas con Super-LumiNova®
ESTANQUEIDAD
Hasta 30 bar (300 metros)
CRISTAL
Zafiro box con tratamiento de varias capas antirreflejos
CORREA
Cuero marrón con hebilla
Cuero azul estructurado con hebilla