Zenith y Revolution & The Rake se unen una vez más para crear una versión alternativa de uno de los modelos antiguos de El Primero más buscados, el A3818. Apodada «Airweight Cover Girl», esta edición especial del Chronomaster Revival A3818 combina la llamativa esfera azul del original con la primera caja y brazalete de escalera en titanio de la línea Chronomaster Revival.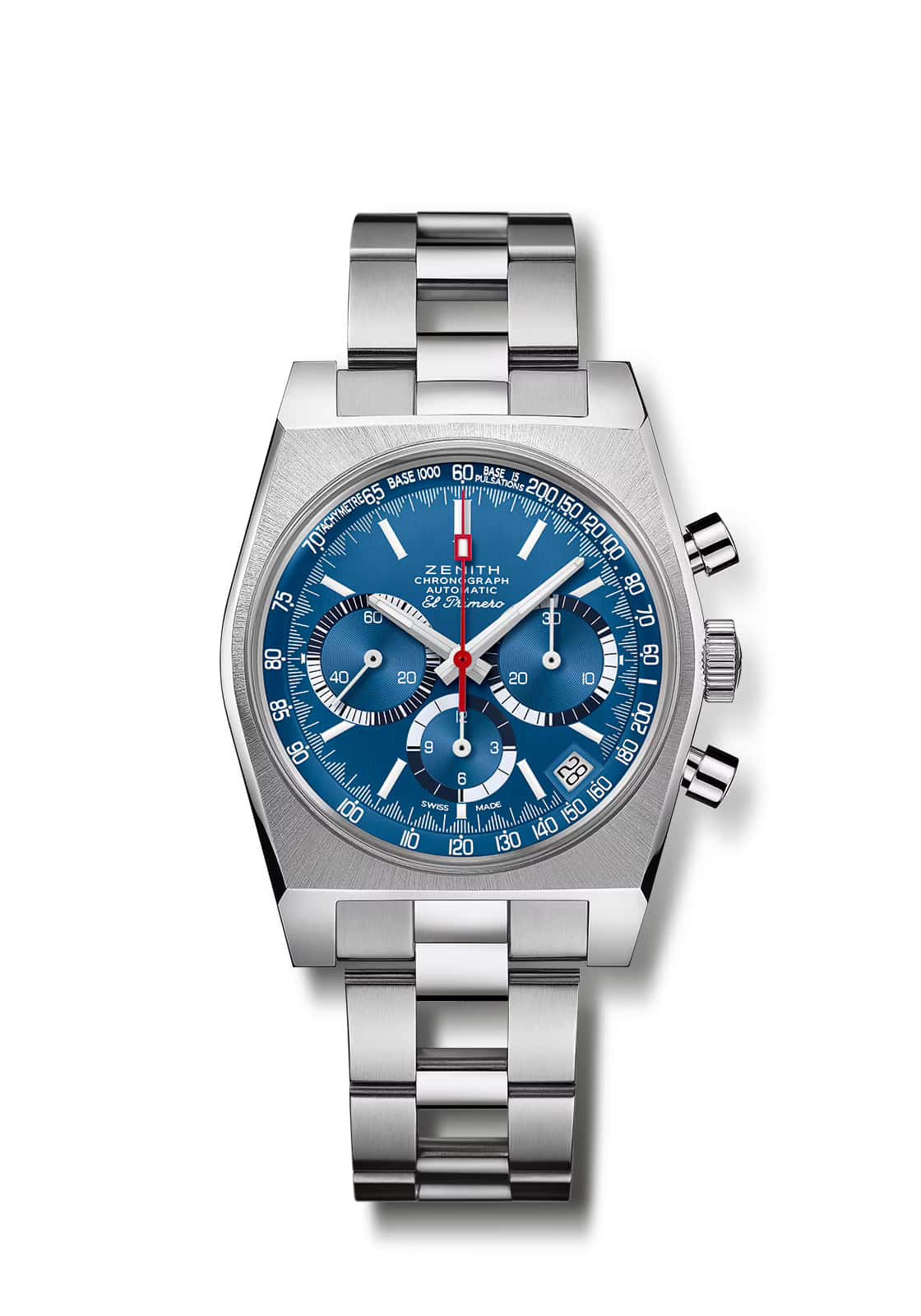 En 2020, Zenith colaboró con Revolution & The Rake para recuperar una de las referencias de El Primero más codiciadas jamás fabricadas, el A3818. Cariñosamente apodada «Cover Girl» por los coleccionistas de relojes antiguos y los aficionados a El Primero, tras su aparición en la portada del libro de Manfred Rossler «Zenith – Swiss Watchmaking Since 1865», el A3818 se presentó en 1971 y se produjo durante un breve periodo de tiempo en cantidades limitadas, llegando a convertirse en uno de los relojes vintage con calibre El Primero más escurridizos y buscados.
Zenith x Revolution & The Rake Chronomaster Revival A3818 «Airweight Cover Girl»
La versión moderna, el Zenith x Revolution Chronomaster Revival A3818 «Cover Girl», fue un éxito instantáneo entre los aficionados a los relojes antiguos y los fanáticos de Zenith, vendiéndose las 100 piezas en cuestión de horas. Ahora, Zenith se ha unido una vez más a Revolution & The Rake para traer de vuelta el «Cover Girl» con un toque moderno. Analizaremos a continuación el nuevo Chronomaster Revival A3818 «The Airweight Cover Girl».
De un simple vistazo, este reloj puede parecerse al «Cover Girl» anterior, sólo hasta tenerlo en la mano y observarlo con detenimiento. Ligerísimo, con un peso de solo 78,2 gramos con brazalete, el «Airweight Cover Girl» está fabricado íntegramente en titanio grado 5, la única calidad de titanio que se puede pulir en acabado a espejo. El cambio de acero a este ligero pero muy resistente titanio, manteniendo el mismo acabado general, ha sido un desafío para Zenith, necesitando un lago y arduo proceso de experimentación. Por vez primera para Zenith, el brazalete de tipo escalera, diseñado originalmente por la famosa compañía Gay Frères en la década de 1960, se ha elaborado en titanio, con el eslabón central pulido.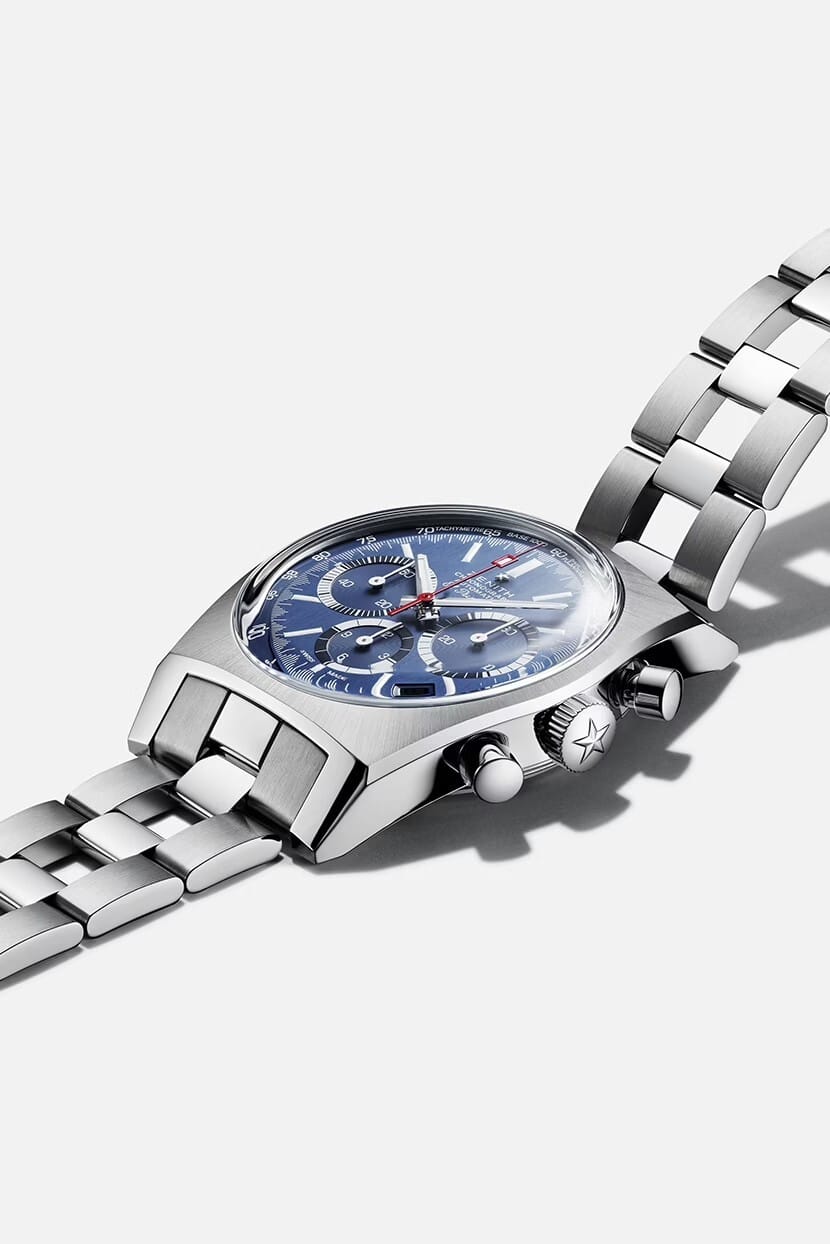 «La tradición de Zenith ha sido siempre superar los límites, como lo hicimos en 1969 con la introducción del primer movimiento de cronógrafo automático integrado del mundo. Habíamos usado titanio para algunas de nuestras cajas de estilo A386, como nuestro Chronomaster «Shadow» de edición limitada, pero, hasta ahora, todavía no en un brazalete. Pensamos que este sería el momento perfecto para probarlo, ya que nos encanta trabajar en ediciones limitadas que sean ambiciosas y aporten algo de valor real a los coleccionistas", compartió Julien Tornare sobre la utilización del titanio por parte de Zenith en este modelo.
Una de las características más llamativas del A3818 original es, sin duda, su esfera. Fielmente reproducida en esta serie especial, se han conservado el acabado cepillado vertical y el tono azul Superman de la esfera, mientras que la escala de dientes de tiburón, la escala taquimétrica, el logotipo y el texto han sido modernizados al ser íntegramente de SuperLuminova. En comparación con el primer Chronomaster Revival A3818 Cover Girl, la SuperLumiNova del Airweight está hecha en un color blanco «C1» más natural, en lugar del tono ligeramente verde «C3» de la edición del Revival anterior.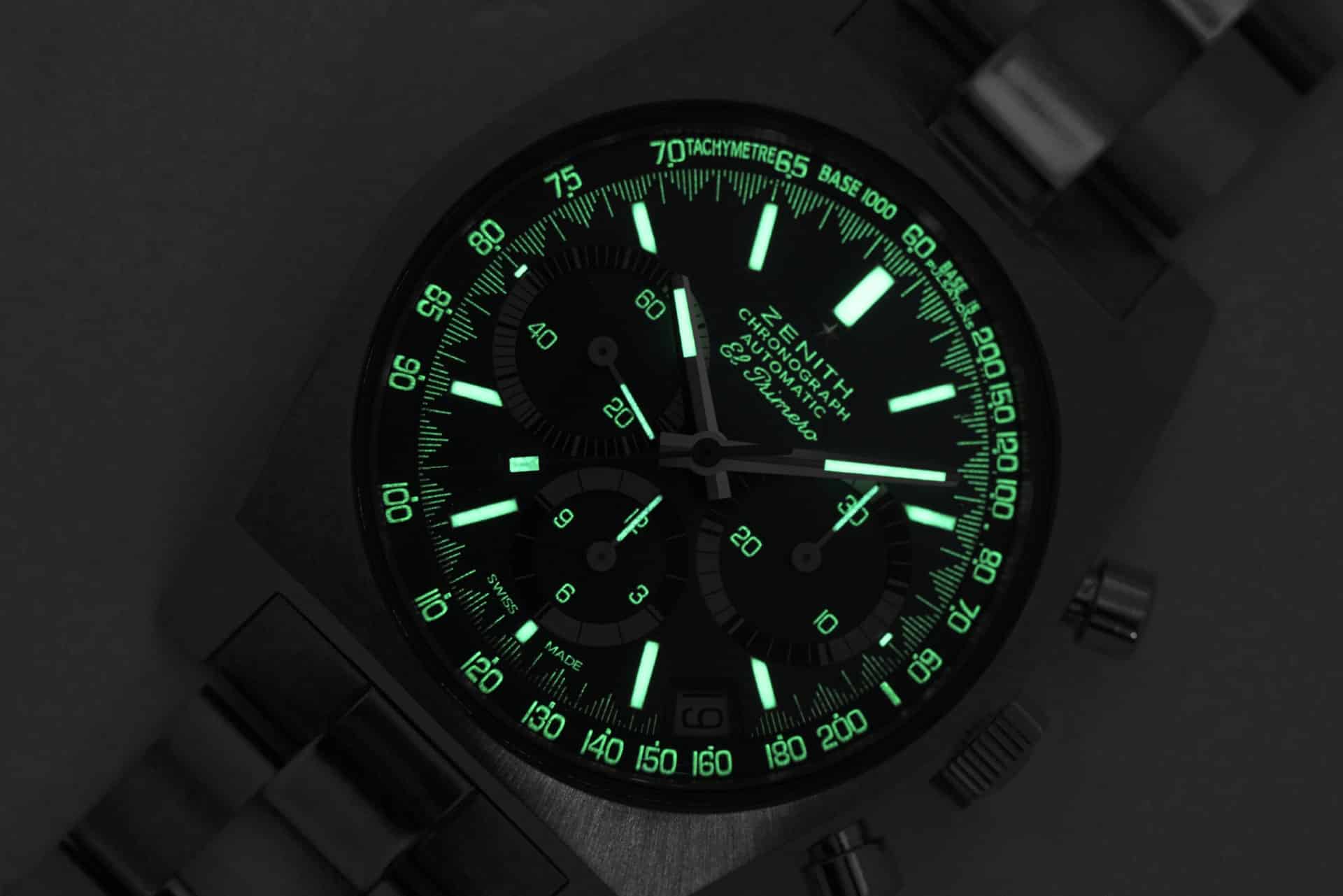 Visible a través de la parte posterior a través de un cristal de zafiro, el calibre El Primero 400, descendiente directo del movimiento cronógrafo automático de alta frecuencia original El Primero de 1969, late a una frecuencia de 5 Hz (36.000 Alternancias/hora).
El Zenith × Revolution & The Rake Chronomaster Revival A3818 «The Airweight Cover Girl» es una edición limitada a 250 ejemplares, disponible en Revolution & The Rake, así como en las boutiques Zenith de todo el mundo.
Características técnicas del Zenith x Revolution & The Rake Chronomaster Revival A3818 «Airweight Cover Girl»
Referencia: 95.A3818.400/51.M3818 – Precio: 9.700 euros
Esta original reedición de la Referencia A3818 del año 1971 monta un cronógrafo automático El Primero con rueda de pilares, el primer brazalete de tipo escalera en titanio. Edición limitada de 250 piezas.
Funciones
Horas y minutos centrales
Segundero pequeño a las nueve
Aguja central del cronógrafo, contador de 12 horas a las seis, contador de 30 minutos a las tres
Escalas taquimétricas y pulsométricas
Movimiento
El Primero 400. Masa oscilante con motivo "Côtes de Genève"
Frecuencia: 36.000 Alternancias/hora (5 Hz)
Reserva de marcha: mín. 50 horas
Caja
37 mm
Material: titanio grado 5
Resistencia al agua: 5 ATM
Fondo de caja: cristal de zafiro transparente
Esfera
Azul cepillado vertical «Superman»
Índices rodiados, facetados y recubiertos con Super-LumiNova®SLN
Agujas rodiadas, facetadas y recubiertas con Super-LumiNova®SLN C1
Indicación de fecha a las 4:30
Brazalete/Correa
Brazalete de escalera de titanio y correa de efecto "Cordura" azul con pespuntes blancos