Tras el enorme revuelo de los Omega X Swatch Bioceramic MoonSwatch Speedmaster presentados hace aproximadamente un año, aterriza ahora una sutil edición limitada que será parte de la colaboración entre Omega y Swatch, un reloj que a buen seguro será incluso más difícil de conseguir que cualquiera de sus predecesores en la línea MoonSwatch.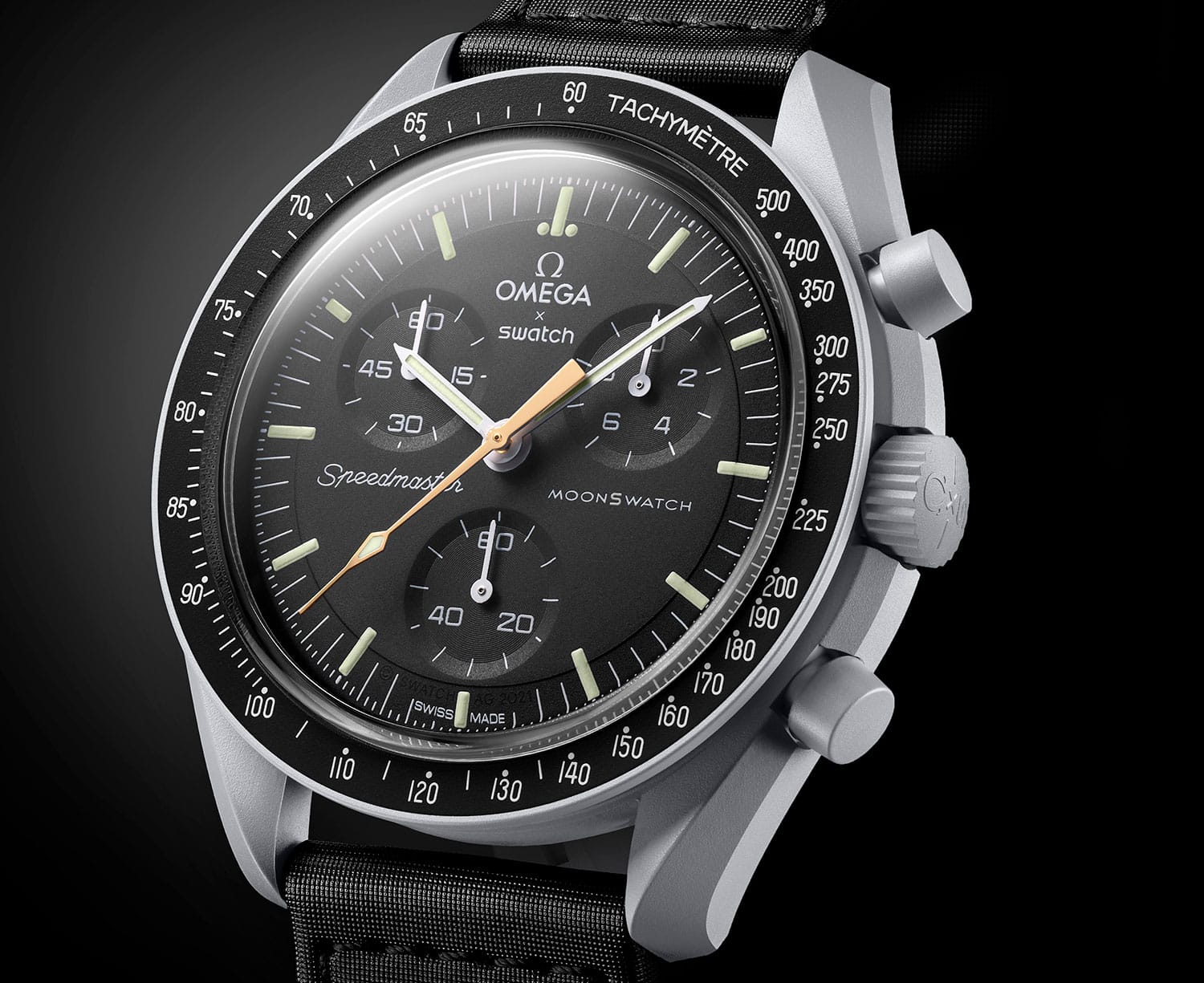 La locura desatada en torno a los Omega X Swatch MoonSwatch en 2022 superó cualquier expectativa, pillando a todos por sorpresa, con unos relojes que aún a día de hoy no están disponibles para la compra online, siendo todavía muy difícil conseguir uno en una de las escasas tiendas Swatch seleccionadas para vender estos modelos. El movimiento, una genialidad del márketing, creado con los MoonSwatch ha entusiasmado sobremanera, y la sed por poseer uno de estos «Speedmaster» sigue presente en los aficionados.
Según las cifras conocidas se han vendido ya más de 1 millón de MoonSwatch, un reloj que ahora se ve enriquecido con un ligerísimo toque de oro, un lanzamiento que nos evoca al Omega Speedmaster Apollo 11 50th Anniversary Edición Limitada elaborado en Moonshine Gold y a los más recientes Omega Speedmaster Moonwatch Moonshine Gold en verde y esfera panda, relojes extraordinariamente exclusivos de la marca.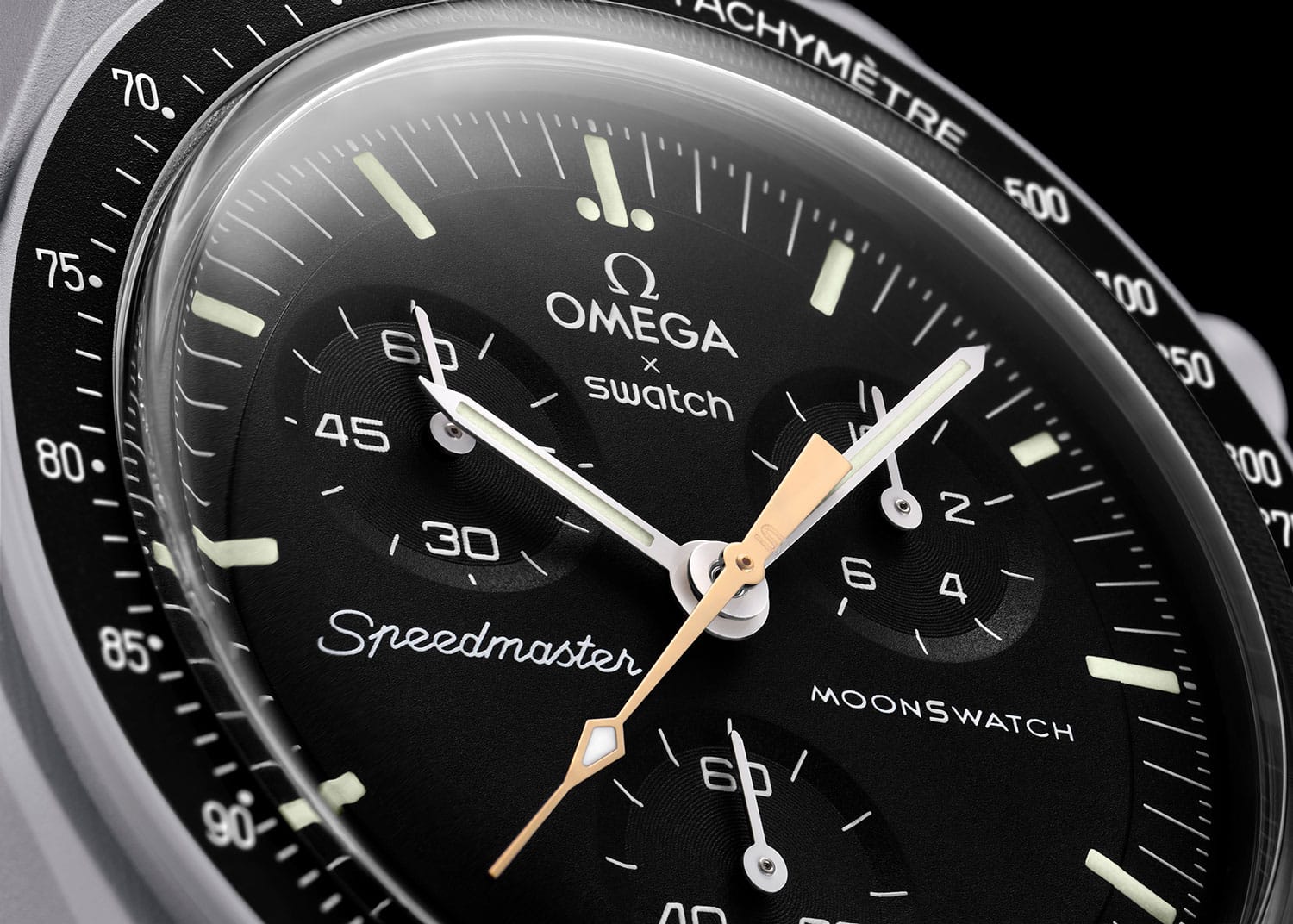 Una edición limitada producida durante la luna llena
El nuevo Omega X Swatch MoonSwatch Mission to Moonshine Gold es una edición limitada cuya producción en número no se ha conocido, aunque Swatch ha comunicado una curiosidad al respecto, y es que todas las agujas doradas de esta serie de relojes se produjeron durante la noche de luna llena de febrero de 2023, un dato que no revela gran cosa acerca de la cantidad.
En cuanto a los datos de diseño y técnicos de este reloj, la caja es la misma, con 42 mm de diámetro y 13,25 mm de grosor, asemejándose a la de un Speedmaster Moonwatch al menos en este aspecto. La corona y los pulsadores cuentan con la icónica protección en la carrura y las asas tienen la icónica forma del Omega. Es resistente al agua hasta 30 metros y monta un movimiento de cuarzo con cronógrafo en el que las esferas quedan bastante separadas. La diferencia respecto al MoonSwatch Mission to Moon es el segundero, recubierto de Moonshine Gold, la aleación de oro de Omega.
Disponibilidad, dotación y precio
La edición limitada MoonSwatch Mission To Moonshine Gold se venderá exclusivamente en Londres, Milán, Zürich y Tokio, en principio, y el precio es ligeramente superior al del resto de versiones, situándose en 275 francos suizos, lo que equivaldría seguramente a 275 euros.
Al tratarse de una edición especial se acompaña de un estuche especial y de un certificado que atestigua que fue producido el 5 de febrero de 2023 a partir de las 19.28 horas.